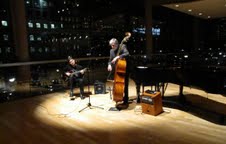 The word "privileged" kept going through my head as I stood in the Richard Bradshaw Amphitheatre in Toronto listening to a jazz concert last Wednesday evening. The word can have negative connotations, since opera and other "high brow" artistic endeavours are often perceived as being accessible only to the educated and wealthy. Certainly the Canadian Opera Company (COC) and the Four Seasons Centre, where the Richard Bradshaw Amphitheatre is located, would be familiar with such accusations. But as I enjoyed a free concert, being played by two of the finest jazz musicians in this country, in one of the most breathtaking performance spaces I've ever been in, "privilege" took on a whole new meaning.
The COC has been running a free concert series since the Four Seasons Centre opened in 2006. The concerts run the gamut of musical genres, but fall into the broad categories of world, jazz, chamber and vocal music. The Richard Bradshaw Amphitheatre, where they are held, is essentially in the third floor lobby. But the space – indeed the whole centre – is so cleverly designed that a couple of hundred people can fit in the area, mostly seated and not overly crowded. The wide staircase that sweeps up to the fourth floor serves as bench-like seating for the concerts, and the fourth-floor lobby overlooks the amphitheatre to provide even more seating and standing room.
Although the majority of the concerts are held at lunchtime, the one I attended was at 5:30
in the evening –
and this being January in Toronto, it was pitch black outside, which added to the magical atmosphere of the space. The
vast
west wall of the centre is made entirely of glass, allowing beautiful views of the city lights beyond, while the musicians
stood in a pool of light
holding the crowd in thrall.
In fact, it was one of the quietest, most reverent jazz audiences I've ever witnessed. Sure it was Don Thompson – who counts George Shearing and Paul Desmond among his colleagues – on piano and bass, and the equally adept Reg Schwager on guitar, but the audience was so quiet you could hear a pick drop! (Schwager dropped his guitar pick at one point and the sound echoed throughout the space.) Having an area made entirely of wood, glass and other hard surfaces and a wide open four-storey atrium accounts for the liveliness of the acoustics. The crowd barely breathed as the pair made their way though an hour of easy swinging standards. Perhaps they were feeling privileged, too.
The COC's free concert series continues until June 2010.