Just how would the theatrical dance company Red Sky present the music of a spectacular integrated dance theatre work, by itself?  I was curious to hear for myself at The Music Gallery on January 20.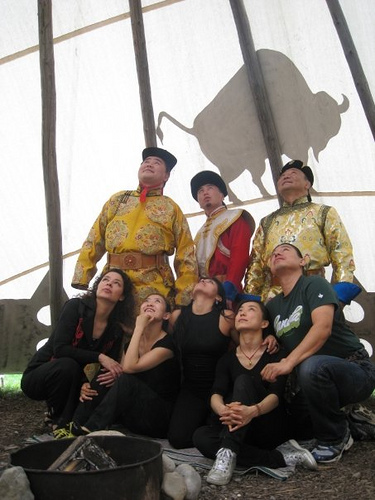 From its inception in 2000, this ambitious company founded by choreographer and Artistic Director, Sandra Laronde of the Teme-Augama-Anishnaabe (People of the Deep Water) in Temagami, Ontario, has had an ambitious vision: to create contemporary world of indigenous performance in dance, theatre and music. Her company Red Sky has achieved its success through touring its various family-friendly shows extensively across Canada, as well as internationally in North America, China and Mongolia.
The Red Sky concert at the Music Gallery invited us to "come hear the stunningly evocative music that connects the indigenous cultures of Canada and Mongolia." What we witnessed was the original musical score of Tono, its latest dance theatrical production, premiered at the 2009 Luminato Festival. Co-choreographed and co-directed by Laronde with Montreal choreographer Roger Sinha, its music was deftly arranged by Toronto percussionist and music director Rick Sacks, one of Toronto's busiest theatre and dance percussionists. Tono's storyline revolves around the theme of the horse, an animal central to the mythology, the material and spiritual life of the indigenous plains people of both North America and Central Asia.
Even with the dance, spectacle and much of the narrative impact removed, we were nevertheless treated to an evening of lyrical and dramatic music at the Music Gallery. It was masterfully performed by three virtuoso Mongolian musicians and singers Tuvshinjargal Damdinjav, Bat-Orshikh Bazarvaani and Batmend Baasankhuu, all robed in colourful silk traditional dress, and joined on stage by Rick Sacks. Sacks's dramatic score, an effective mix of synthesized and live music, was developed in close collaboration with the Mongolian singer/musicians.
These Mongolian musicians are masters of the urtyn duu "long song" (a style of ancient epic singing), and of what is sometimes called "throat singing" or "overtone singing"(khöömij), which actually covers several types of vocal production. Mongolian instruments also added textural contrast to the voices. These included the morin khuur, the "horse-head fiddle," yet another link to Tono's theme of the horse as the supreme animal in Mongolian culture. The hel khuur (jew's harp) and what appeared to be the tovshuur, a plucked lute provided traditional accompaniment to the voices.
Andrew Timar