To mark four decades of Canada-China diplomatic relations, the China Broadcasting Traditional Orchestra (CBTO) was invited to make their Canadian debut at the Roy Thomson Hall.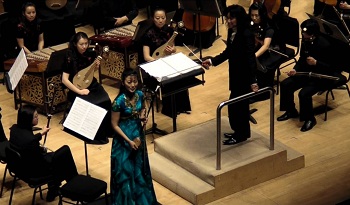 I was initially shocked by the half-full house at the performance on Friday night. Secondly, the ongoing camera flashes and the isolated chatter seriously called into question the concert etiquette of this audience. Yet despite these initial problems, the CBTO and its principal conductor, Pang Kapang, managed to win the audience over.
This was an evening that combined the best of both worlds – Chinese and Western. The Overture of Chinese New Year is a fanfare composed by Li Huanzhi that Chinese are acquainted with during the Spring Festival. Although Chinese New Year was celebrated four weeks ago, it brought back the festive spirit as if it never left. Following this was Pen Xiuwen's As The Moon Rises: its sensual ancient melody performed by the pipa soloist depicted the scenic settings of my home country that, for a moment, brought nostalgic reminiscences. Next on was the first of two Western compositions. Although I've heard Mozart's Eine Kleine Nachtmusik many times, it was a new and welcome experience to hear the first movement performed on Chinese instruments.
Likewise, Tan Dun's Northwest Suite was a vivid musical portrait in four movements. I was impressed by Pang's passionate and meticulous articulation on the podium – he brought out the velvety strings, the golden tone of the Chinese brasses, and the colourful timbre of the winds. In particular, the third and fourth movements were highlights: the bed of cellos and double basses echoed in harmonious dialogues with the Chinese gaohu, erhu, zhonghu, gehu and pipa.
The Chinese folk-song Dance of the Yao people, and J. Strauss Jr.'s Pizzicato Polka Op.234 started the second half of the programme – followed by Jasmine, a well-known Chinese folk melody that Puccini adopted in his opera Turandot. The CBTO gave it a wordless but lyrical rendition: the melody was championed by the bandi, xindi and dadi wind instruments.
The evening's highlight came with Hua Bangzi of Hebei, a banhu concerto that featured soloist Jiang Kemei. I was at the edge of my seat watching Jiang's effortless technique on the bandu during the Allegro section. The Adagio was represented by a cantabile melody in which her playing evolved into a dance, with almost vocal qualities – and the ensuing Allegro contained a thrilling cadenza. The last piece, Dragon Dancing, kept our adrenaline high from efforts by the percussionists, who were acoustically as stimulating as they were visually.
Pang and the CBTO began with a lukewarm welcome from the audience, but ended with an outpouring of enthusiasm. They returned with no less than three encores, including Puccini's Nessun Dorma.