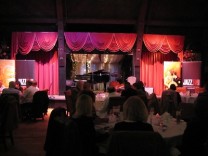 There's a new jazz room in town, and it's a very welcome addition to what has become a meagre choice of jazz venues, given Toronto's size and sophistication. When I say "new" I hasten to add that there have been jazz concerts going on at The Old Mill Inn for some time now via the Home Smith Bar. As well, Jazz.FM91 has been running its Sound of Jazz concert series there for the last couple of years. But the Old Mill has also recently added regular jazz concerts in their main dining room via the Thursday Night Jazz Club.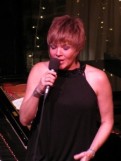 I was there this past Thursday for one of my favourite singers, Karrin Allyson. Allyson and her trio appeared as part of the "TDJ Presents" series, which will see international artists playing once a month, courtesy of the Toronto Downtown Jazz Festival. The first set starts at 7:30, making it possible for morning people to actually get out and see some live music, have a drink or a meal, and still make it home before their coach turns into a pumpkin. And seeing a singer of Allyson's calibre in an intimate setting like the Old Mill was a total treat.
Her appealing sandpaper-on-velvet voice sounded as good in person as it does on any of her 12 albums as she made her way through a range of styles like blues, swing and bossa nova. Always technically spot-on yet maintaining a relaxed, assured manner, she made that Brazilian tongue- and larynx-twister "O Pato" seem like a day at the beach. "Footprints," the gorgeous Wayne Shorter cover from her 2006 album of the same name, was a case study in ballad singing.
The next in the "TDJ Presents" series is New York piano master Bill Mays, with Terry Clarke and Neil Swainson, on April 22. The Thursday Night Jazz Club will include regular big band nights, which is also a welcome addition, since there are so few clubs that can comfortably handle bands of that size. The next one is the Bob DeAngelis Champagne Big Band on March 25.
While I'm on the topic of jazz venues, I want to mention Koerner Hall's phenomenal programming. Since it opened in the fall of '09, Koerner has showcased an outstanding line-up of local and international acts from a range of musical genres. So I was delighted to note that this year it will be a part of the TD Canada Trust Jazz Festival, hosting such greats as David Sanborn, Roy Hargrove and Dave Brubeck. The opening night act is Nikki Yanofsky, who is fresh off her massive success at the Vancouver Olympics. (She was the voice we all heard on that earworm of an anthem, "I Believe.") Yanofsky will be a fun way to start the festival off and to potentially introduce a new audience to the acoustical delights of Koerner Hall.
Cathy Riches
http://cathyriches.wordpress.com/