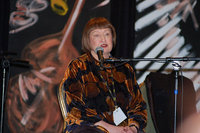 The Women in Jazz series, organized by Toronto singer Yvette Tollar, is closing with a concert by 81-year-old jazz legend Sheila Jordan.
Jordan's career stretches back to the early 50s when she studied with Charles Mingus in New York and became a huge follower of Charlie Parker (and married Parker's piano player Duke Jordan). Jordan has over 20 recordings under her belt and has performed with such heavies as Lee Konitz and Carla Bley.

Jordan will be performing with JUNO Award-nominated Tollar on Tuesday, September 14 at Hugh's Room, which is an ideal space to experience a singer of Jordan's subtlety. Whether delivering a poignant ballad or making up lyrics on the spot for a blues tune, audiences get caught up in her inventive story telling.
Dave Restivo and Kieran Overs will accompany on piano and bass respectively.
Jordan is also known for mentoring up-and-coming singers and her generosity as a teacher is renowned.

"Sheila is really an inspiration to me and so many other people," said Yvette Tollar. "She loves the music so much and is so sincere about how she delivers it to the world. Whether she's teaching master classes or on stage she is always giving and engaging."

Jordan's one-day workshop is on September 12 at Q Music at 401 Richmond Street in Toronto. Details can be found on the Facebook event page or by contacting Tollar at yvettetollar@hotmail.com.