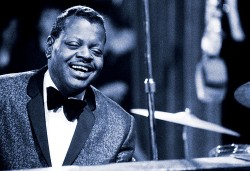 An intimidating soloist, a superb technician, a vivid improviser, an impressive accompanist, a formidable group leader, a master of swing, melody and harmony, the leading pianist of his generation – and without doubt the most important figure in Canada's jazz history. Who else but Oscar Peterson?
Millions of words have been etched about the life of the Montreal-born, Mississauga-based star who died three years ago at 82, but the latest testament to his greatness is a series of five live concerts that began October 30 at splendid Koerner Hall. Conceived by Mervon Mehta, the Royal Conservatory's executive director of performing arts, and with input from Oscar's widow Kelly, the series is titled Aspects Of Oscar.
One aspect of that very word means a feature or element, which gives Mehta great licence in choosing what part of OP's legacy is to be heralded and who's to perform. He says all the concerts' musicians had unique relationships with Peterson, but looking at the lineup it may be that in some cases the connection emphasized is one of style or achievement rather than of a personal nature. It's no surprise, however, that everyone asked jumped at the opportunity to join this extensive tribute.
Fittingly the opening show, dubbed "Oscar's Songbooks," had bassist extraordinaire Dave Young leading a top-flight band of Hogtown's best. He  played a key role in getting Peterson to play again after a 1993 stroke severely hampered the range and power of the legend's left hand. (The bassist elaborated modestly on this during an intermission on-stage chat with Mehta that also featured vocalist Carol Welsman.)
The band cruised through showbiz staples such as "Younger Than Springtime" and "Somewhere" plus the Charlie Chaplin-composed "Smile," with blistering runs by pianist Robi Botos clearly channeling Peterson and warm contributions from guitarist Reg Schwager and drummer Terry Clarke. The excellent playing of chameleon trumpeter Kevin Turcotte is usually of a more contemporary bent, but his work, especially with mute, was well-crafted and appropriate.
Post-intermission tempos and creative heat increased, with a fascinating stop at OP's little-known, three-piece Bach Suite composed for the 1986 album Oscar Peterson Live, on which Young played, plus a throbbing take on his "Cakewalk" and a pounding encore of Ellington's "Cotton Tail."
Up next (December 11) is "Oscar Solo," showcasing Coltrane alumnus McCoy Tyner and 23-year-old Cuban sensation Alfredo Rodriguez, now a New York resident. Oscar's Trios are on display January 29 with OP's official protégé Benny Green on the ivories backed by the unrelated Washingtons, bassist Peter and drummer Kenny, as well as Swedish guitarist Ulf Wakenius, long-time member of Peterson's last quartet (seen frequently in the GTA with bassist Niels-Henning Orsted Pedersen and drummer Martin Drew).
"Oscar Swings" on March 5 in the form of Jamaican-born pianoman Monty Alexander with tenor sax veteran Houston Person and guitarist Russell Malone in a programme that will include OP's majestic "Hymn To Freedom" while "Oscar's Blues" on April 2 will field fiery trumpeter Roy Hargrove and as yet unrevealed guests.
One aspect of all this is certain. The jazz to come will be thrilling.
OSCAR ALBUMS WORTH SEEKING



The Oscar Peterson Trio at the Stratford Shakespearean Festival 1956 (Verve)


Night Train 1962 (Verve)


Canadiana Suite 1964 (Limelight)


Live at Salle Pleyel, Paris 1975 (Pablo)


Live at the Blue Note 1989 (Telarc)