Time is one of life's greatest luxuries – and in timeless New York City, it flies by faster than the speed of lights! I initially planned to write a daily blog about my mid-December trip to NYC, but upon arriving I realized that I didn't want to waste a minute on the computer, so I saved the write-up for when I got home. Here I am, back in the big smoke – which now seems smaller and considerably less smoky!  In a mere five days I experienced glimpses of Harlem, Brooklyn, Manhattan, Soho and Greenwich Village. The purpose of my trip was to meet legendary vocalist Annie Ross and check out some jazz open mics along the way. Here are some of the highlights of my trip: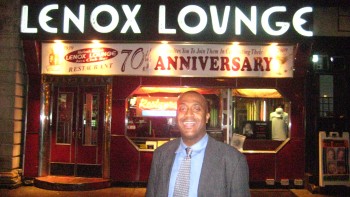 The Legacy of Lenox
My first stop was Lenox Lounge (www.lenoxlounge.com) in Harlem, which as is it turns out is THE oldest surviving jazz club in the United States of America! The front room seems ordinary enough, not unlike any sports bar to the naked eye. But beyond a set of doors is the famous "Zebra Room" which offers a timeless glimpse into jazz history, carefully preserved. This same room was once a venue for Billie Holiday, Miles Davis, John Coltrane and Dexter Gordon; their photos, along with funky mirrors and other vintage posters, grace the zebra-print wallpaper of this sacred Art Deco space.
Since the golden age of jazz, thousands of clubs much like the Lenox have folded like lawn chairs. Miraculously, there is still live music happening every single day of the week at the Lenox, including a great jazz open mic hosted every Sunday night by pianist LaFayette Harris Junior (www.lafayetteharrisjr.com) with Paul Beaudry on bass and Dion Parson on drums.
The night that I dropped in was a special event called "Billie meets Billy", a dual tribute to Billie Holiday and Billy Eckstine that was instigated by manager Sharron Cannon who was in house to celebrate the legacies of these two singers, on her day off, no less! It's very clear, Lenox Lounge is here to stay.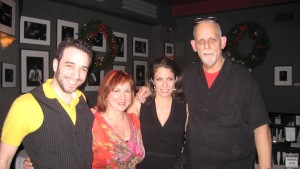 Rhapsody of Birdland
The jazz standard "Lullaby of Birdland" was inspired by Broadway's Birdland (www.birdlandjazz.com), which was in turn named after Charlie "Bird" Parker who coined it "the jazz corner of the world" when it was a fixture on 52nd street. Now in its third incarnation, Birdland lives on west 44th street between 8th and 9th avenue. The establishment prides itself not only on a dedication to jazz music of the highest caliber, but also, high quality entertainment. That's why Jim Caruso's Cast Party (www.castpartynyc.com) is a perfect fit for the room and has been a staple on Broadway every Monday night for the past 8 years. This self-professed "open mic, networking event and party" is a serious hoot thanks to its hilarious host & impersario Jim Caruso, the "Cast Party Symphony Orchestra" consisting of Tedd Firth on piano and Steve Doyle on bass, and the old adage, "you never know who's gonna drop by!"
Stars that appeared on stage on this particular Monday included Birdland regulars such as vocalist Hilary Kole and violinist Aaron Weinstein, as well as surprise appearances by Hollywood actor Gary Novikoff and prominent American jazz vocalist and educator Roseanna Vitro.
Here's a recent Cast Party performance by the incredible Marilyn Maye, who I am told often stops by Birdland on a Monday night: http://www.youtube.com/watch?v=Qgxps0Mb3oY
Annie Ross Live!
The highlight of my trip was a cabaret performance by jazz legend Annie Ross (www.annieross.net), who has been playing at The Metropolitan Room every Tuesday night for the last four years. If Ms. Ross were not one of the last surviving singers of jazz's golden age, one might know her as an accomplished actress (from "Presenting Lily Mars" opposite Judy Garland in 1943 to Robert Altman's "Short Cuts" in 1993) or a famed lyricist (most famously "Twisted", later recorded by Joni Mitchell and Bette Midler; she also penned lyrics to other bebop instrumentals like "Farmer's Market" and "Jackie"). Most notably, Annie Ross teamed up with Dave Lambert and Jon Hendricks to form Lambert, Hendricks & Ross (1955-62). LH&R is considered by most music historians the most groundbreaking vocal jazz group in history. It only took one album – "Sing a Song of Basie" (1957) – to completely redefine the possibilities of the jazz singing art form. The combination of charts by Lambert, lyrics by Hendricks and the exuberant flair of Ross was an irresistible recipe to be devoured by millions.
Annie Ross has always sung with an inspiring rhythmic drive, sparkling intelligence, dedicated diction and an understated sense of humour. Back in the 50's, these qualities were overshadowed by her astonishingly flexible vocal range and its ridiculously high end; her remarkable ability to mimic trumpets was an ear-opening signature.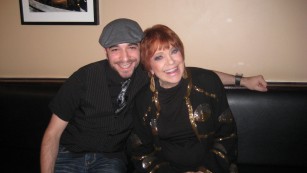 Going into Tuesday's performance, I wasn't sure what to expect, knowing that Annie recently turned 80 and hearing through the grapevine that her voice is far from what it used to be. I am thrilled to report that seeing Miss Ross was a wonderful experience. Despite the fact that her top end has vanished – she sounds more like a trombone rather than a trumpet – today the beauty in her art lies in the emotional command of her interpretations. On torch songs like "Where Do You Start" and "The Very Thought of You", I was reminded of a quote used to describe Billie Holiday - "an actress without an act." She was equally brilliant on the juicy "One Meatball" and the droll "When in Rome". Ross has lived every song she sings, resulting in a live performance that is steeped in the truth of life experience. She is happy to be playing with a sensitive group of musicians who obviously adore her every nuance: Tardo Hammer (piano), Neal Miner (bass), Tony Jefferson (drums) and trumpeter Warren Vache, with whom she shares a very magical musical rapport. Check out Warren and Annie singing a wonderful duet version of a Dizzy Gillespie classic: http://www.youtube.com/watch?v=m16LrMWxCuI
Diggin' the Vibe at Zeb's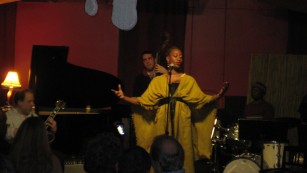 Given a hot tip from Roseanna Vitro, I checked out a weekly Wednesday jazz vocalists performance series and jam session. Inconspicuously located atop a plumber's supply in Chelsea is Zebulon Sound and Light, the brainchild of guitarist Saul "Zebulon" Rubin which is affectionately known as Zeb's (www.zebulonsoundandlight.com). It's not hard to tell that the space is artist-run; the 2,000 square foot room has an inviting vibe which can be described as simultaneously warm, artsy and unpretentious. Recently the launching pad of the inaugural NYC Jazz Guitar Festival, Zeb's is a recording studio and art facility that proudly provides musicians and artists with "a place to create, display and perform".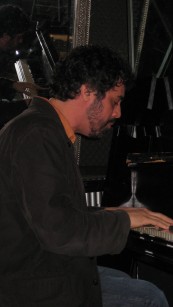 Each Wednesday night, a featured vocalist takes the stage for a first set, followed by a jam session focused on vocalists where instrumentalists are also welcome (much like Toronto's weekly vocalist-friendly jazz jam, Lisa Particelli's Girls Night Out: www.gnojazz.com). The first set was sung by Lezlie Harrison, a theatrical singer with an admirable instrument and exceptional stage presence. Highlights of her performance included a deep reading of Abbey Lincoln's "Throw it Away", an unhurried "What a Little Moonlight Can Do" and a tender tribute to recently departed jazz giant, James Moody, "Moody's Mood for Love".
The jam session that followed was very welcoming; when I said I was from Toronto, everyone cheered! It was great to see a genuinely supportive community of jazz vocalists.
Following the jam, nearly everyone continued the hang by venturing over to Small's, one of the Big Apple's most happening and intimate spots where cutting-edge jazz happens every night.  What's especially neat about Small's is that the club streams online for the whole world to see what happens every night from 7:30pm-3:30am, online at www.smallsjazzclub.com. The club is managed by a fantastic pianist, Spike Wilner, who maintains a busy schedule as a partner in the business but occasionally finds time to sit in after hours.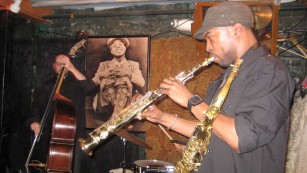 Everything in New York happens so fast – bebop fits right in to its birth place. Once I got back to Toronto, it took a few days to get back into the medium swing of things. Wishing all readers of The WholeNote a very happy new year in 2011!