Canadian poet, author, singer and songwriter Leonard Cohen was named as theninth recipient of the prestigious Glenn Gould Prize – known as "The Nobel Prizeof the Arts" – at a media event this morning. The announcement was met withwith delighted surprise by the 100+ invitees who were gathered in the The Leslie and Anna Dan Galleria at the Royal Conservatory, in Toronto.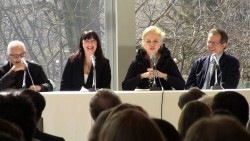 The prize was inaugurated in 1987 to commemorate Gould's creative spirit andartistic legacy; it is given out biennially to a living individual whose unique lifetime contribution to the arts has enriched the human condition and whose work manifests the values of innovation, inspiration and transformation.
Cohen, 76, who was informed of his win on Thursday evening, was not presentat the event, but issued this statement: "It is a great honour, sweetened by mylove of the work of Glenn Gould and our collective appreciation of his invigorating and enduring presence in the world of music and imagination."
In addition to receiving a $50,000 award, the winner also selects an outstanding younger artist to receive a City of Toronto Glenn Gould Protégé Prize, valuedat $15,000. Both Mr. Cohen and his protégé will receive their awards at a gala ceremony in Toronto to be scheduled for later this year.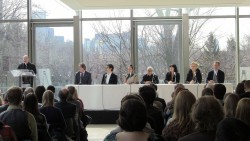 This year's international panel of jurors consisted of the following: UN Goodwill Ambassador Dadawa (China); screenwriter, film and opera director Atom Egoyan(Canada); actor, screenwriter, author and director Stephen Fry (UK); celebratedpianist, teacher, author and music administrator Gary Graffman (United States);film producer, founder and director of DHC/ART Foundation for Contemporary Art and PHI Group Phoebe Greenberg; singer, pianist, vocal coach and vocalproducer Elaine Overholt (Canada); and recording industry executive CostaPilavachi (Canada/UK/Greece).
This year's jury was unanimous in selecting Mr. Cohen, who in the pastdecade has received numerous honours including inductions into the Canadian Songwriters Hall of Fame and the Rock and Roll Hall of Fame. Following threeyears of extensive world touring, Cohen is expected to release an album of new material later this year.