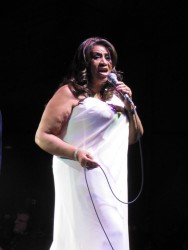 The great Aretha Franklin opened theTD Toronto Jazz Festival last night with a free concert in downtown Toronto. This was one of the first concerts she's given since recovering from a serious (undisclosed) illness for which she was hospitalized last year, so there were doubts about how she'd perform. But she showed the thousands of people who packed into the marquee and spilled into David Pecaut Square that she's not called the Queen of Soul for nothing.
In fact she could be the Queen of Blues, Gospel and Jazz too, as she appropriately opened the first set with the be bop classic "Cherokee" and later paid tribute to saxophonist James Moody, who had passed away late last year, with an impeccable version of "Moody's Mood for Love," a vocalese written by Eddie Jefferson set to Moody's solo over "I'm in the Mood for Love."
She treated us to a string of her classic hits like Carole King's "Natural Woman," "Think," and "Day Dreaming," as pretty much everyone in the audience filled in all the background parts along with her five singers.
Franklin took us to church as she sat at the piano for a meditative "Bridge Over Troubled Waters" that evolved into a double-time, down home testimony, before moving into a sweet and simple version of Sam Cooke's "You Send Me."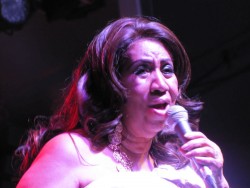 The 69-year-old Franklin was relaxed, gracious and in great voice, only showing some strain at the end of the over hour-and-a-half concert as she sent us off into the night with a heartfelt version of "Believe." We believed.