The TD Toronto Jazz Festival is about to wrap up another successful 10-day run and I managed to catch only a few of the 350 acts, and, as usual, not nearly as many as I'd have liked.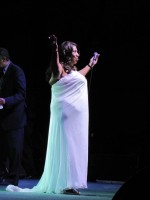 Without doubt, the highlight for me was the Aretha Franklin concert that opened the fest on Friday June 24. Given the Queen of Soul's recent health issues and her reputation for cancelling concerts, I wasn't holding my breath. Earlier in the evening I'd had dinner with some of the local horn players who were performing with her that night, and they weren't able to provide any clues as to how she was doing. It seems the rehearsals aren't attended by Ms. Franklin, but rather recorded for her to rehearse to later in the privacy of her hotel suite. So when she hit the stage looking great and sounding even better, it was a relief and joy to watch the 90-minute plus show.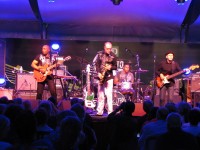 Next night I was psyched to hear my favourites from the disco era, Average White Band. The group still boasts two of its original members from the 70s--Alan Gorrie and Onnie McIntyre--so the risk that this would be a tired rehashing of old hits was there. But the band was tight and energetic and uber funky. Since they opened the two-band bill, they had the tough job of warming up the audience, who, though appreciative, stayed seated for most of the show. So it wasn't the off-the-hook dance party I had expected it to be.
It wasn't until much later in the night that the party broke out. The veteran Stax! outfit started their show by appearing on stage with literally no introduction, then eased their way through a solid Southern, low-key handful of tunes. Guitar player and founder of the band, Steve Cropper, was gracious and warm commenting "What the hell took us so long to get here?" It wasn't until the clock struck 11 and front man Eddie Floyd came on that the energy shot up and the crowd was on its feet dancing and singing along to hits like "Knock on Wood."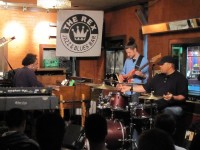 The next night I'd heard a rumour that a funky jazz trio was holding sway at The Rex hotel for two nights. I got to the packed bar to find a mostly young crowd lapping up the Bobby Sparks Trio. Sparks' has a modern yet throwback sound--more analog than digital--as Leslie, Hammond and Moog were the main sources for the lead man's extended grooves. Drummer Jason Thomas and bass player Michael League's considerable skills featured equally in the band's trippy, funky 70s-style show.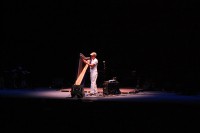 Monday was a tough choice with master singer Kurt Elling in town, but I instead opted for master guitarist Paco de Lucia at the newly refurbished Sony Centre. De Lucia's awe-inspiring guitar technique proved to be undiminished as he opened his show with a solo classical piece before gradually bringing his 7-piece band to the stage for a set of traditional and nuevo flamenco. Although all the elements were there - passionate singing, fierce dancing from Farruco and phenomenal performances from all the players - the show felt bloodless and impersonal. Then when the band finished its 90-minute show and refused to do an encore despite repeated exhortations from the devoted crowd, the show was ultimately a disappointment.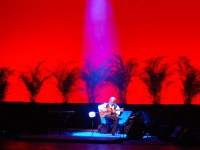 In sharp contrast was de Lucia's opening act - jazz harpist Edmar Castaneda. "Jazz harp?" I thought, "This will be weird." And although at first it was a little odd, Castaneda's skill and enthusiasm won us over, using elbows, fingers and arms to coax multilayered, percussive sounds out of the traditional Colombian instrument. More importantly, Castaneda was, despite a slight language barrier, funny, engaging and grateful to be able to be doing something he clearly loves to do.
The 2011 TD Toronto Jazz Festival continues until Sunday July 3 with lots of diverse acts including Bootsy Collins, Jayme Stone and culminating in a show by Canada's young jazz sweetheart, Nikky Yanofsky.