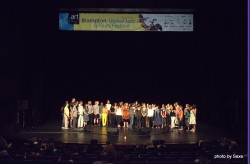 On Saturday August 13 at 11am, Brampton's Rose Theatre filled with an enthusiastic crowd, many of them educators and vocalists of various musical backgrounds, to attend a workshop by 10-time Grammy winning artist, Bobby McFerrin. Marty Starkman, the event's executive producer, was thrilled with turnout. "The workshop was supposed to hold 96 people in the studio, but demand moved it to the main stage as 150 people had signed up and paid entrance."
It's extremely difficult to describe McFerrin's priceless musical abilities, particularly his facility with vocal improvisation, without extreme hyperbole. Simply put, there is no one alive who compares to this 61-year-old master, who sings everything from Bach to bebop in the blink of an eye, effortlessly gliding through a miraculous four-octave range ("I started out with 3½ octaves and had to really work hard to get to four.") McFerrin's musical insights and demonstrations aside, what made this workshop particularly endearing was the man's humility.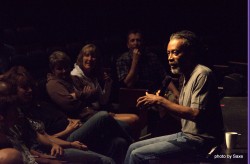 "Anyone can improvise," he began. "To improvise all you have to do is keep moving." To begin, he gave us some background about his life: being born to opera singing parents, learning to read music in church, and having his life changed when he saw the Miles Davis Quartet live in concert as a 21-year-old composition student. On that day he was inspired to become an improviser; to "rebel against that which is fixed."
McFerrin conducted the workshop much like one of his solos – there was much humour and very little pre-planning, except that he kept his promise to invite audience members up to sing with him. About a half dozen singers managed to make their way up on stage, some of whom sang standards such as "Smile" and "Black Coffee"; they were accompanied with some very inspiring bass lines, ever-so-effortlessly. Others chose to improvise freely, putting McFerrin on the spot, and he incredibly improvised in harmony with them! Pure magic.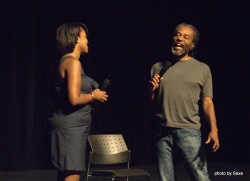 Finally, a memorable few moments were captured when all of the singers were invited (there were nearly 50 of us) up on stage to demonstrate the leader's concept of "circle singing." Upon dividing us to the four sections of Soprano-Alto-Tenor-Bass, McFerrin assigned each group a related vocal motif and conducted us in and out of time. For aspiring conductors, this concept would have made a great workshop on its own.
As expected, the 90 minutes passed far too quickly. Here are three additional pieces of McFerrin wisdom that I managed to jot down:
"If you're a singer, do yourself a favour and sing Bach. It's good for you!"
"The worst thing singers can do is freak out about anything."
"I truly believe that God gave us music to change people's hearts…your gift has been given to you for a positive reason."