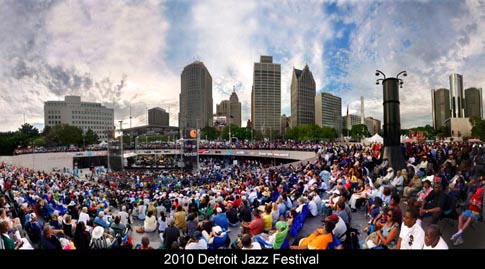 Jazz fans in the Toronto region shouldn't despair because the big local jazz festivals are over. There's still plenty of music within easy reach, especially if you enjoy a little drive or train ride.

The main festival that has caught my eye is the Detroit Jazz Festival on the Labour Day weekend. Although it's only three-and-a-half days long, the festival packs a huge and varied amount of music and events into that time, with performances on five stages in a relatively compact area. 

Being vocal- and world-musically inclined, a few of the acts that jumped off the schedule for me are:
- Angelique Kidjo, Dianne Reeves and Lizz Wright perform "Sing the Truth" a tribute to a range of pioneering singer-songwriters – Friday, September 2 @ 8:45 p.m.
- Brazilian-American singer Luciana Souza with guitarist Romero Lubambo (who also performs with Kidjo and company) – Saturday, September 3 @ 1:45
- New York-based neo-soul singer Rahsaan Patterson – Sunday, September 4 @ 3:45 p.m.
- The lilting African folk of Regina Carter's "Reverse Thread" should have a few people on their feet – Sunday, September 4 @ 4:00 p.m.

Other big jazz names include the Dave Holland Octet, Vijay Iyer Trio and Joe Lovano "Us Five."

All the performances are FREE, but there's a great VIP pass/hotel package on offer for those who want guaranteed access. The package provides special reserved seating, food and drink, and a good rate at the nearby host hotel, Detroit Marriott at the Renaissance Centre. The hotel package rate is time-limited and must be booked before August 25. Check the jazz festival website for details or the hotel website to book.

Later in September, and a little less urban, is the All Canadian Jazz Festival in historic Port Hope, Ontario. From September 23-25, up-and-coming Canadian jazzers share the stage with more experienced players in what's been called one of the prettiest jazz festivals around.