US Tour Blog #1, by Tafelmusik Cellist Allen Whear
Thursday, November 16, 2011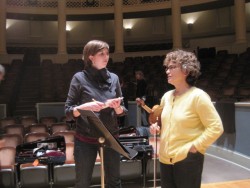 Tafelmusik began its US tour in the historic college town of Charlottesville, Virginia, beautifully situated amid forests and hills of the Blue Ridge. Thomas Jefferson, president, diplomat, architect, author of the Declaration of Independence, and violinist, made his home here. One can't help but wonder what he would have thought of our program of Bach, Lully, Vivaldi, and Fasch – all "ancient" music in his day. He was known to like Corelli and did have Vivaldi in his famous music library. Jefferson once wrote, "Music…is the favorite Passion of my soul..." This signifies two things: not only that Jefferson was a kindred spirit to us musicians, but even in this small way was declaring independence from England by spelling favorite without a "u". 

The venue for our first concert, Old Cabell Hall, is situated on the campus of the University of Virginia, opposite Jefferson's Palladian-style Rotunda.  Designed by Stanford White in 1898, the auditorium seems inspired by Palladio's Teatro Olimpico, with the audience rising in semi-circular tiers above the stage. Adding to the sense of antiquity is a mural-sized reproduction of Raphael's School of Athens behind us. More kindred spirits, perhaps?

At the rehearsal, the director of Charlottesville's Tuesday Evening Concert Series, Karen Pellón, welcomed us enthusiastically and said that people had been stopping her in the street to express their excitement and anticipation of Tafelmusik's coming. She also hoped that we were not worried about our previous experience in Charlottesville. (In 2004, two different buses broke down, delaying both our arrival and departure from their fair city and causing us to nearly miss a flight. We had begun to suspect that there was a Charlottesville curse…)

When I asked her later why people in Charlottesville were so pumped about our coming,  she replied that our reputation preceded us and there was a real love for baroque music on period instruments here in Charlottesville, and that our previous visits in 1995 and 2004 were fondly remembered. How about that?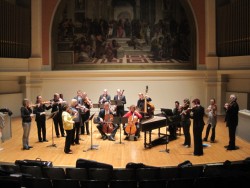 Last night, a full house of nearly 1,000 fulfilled the expectations, and the applause was warm and sustained; maybe Tafelmusik played a role in their "Pursuit of happiness."
Early this morning we played for another thousand, but of quite a different demographic. An orange armada of school buses delivered grade and middle school kids from all over the city and surrounding county to the Martin Luther King Performing Arts Center to hear an abridged version of our program. Jeanne was MC and kid wrangler, and soon had thousands of hands clapping along to Marais' Tambourin.

Later, as our bus headed up the Shenandoah Valley towards Winchester, it was safe to conclude that there is no Charlottesville curse. In fact, we can't wait to come back. Jefferson would have loved us.