Here we are; fall has begun. Normally, by now we would have heard of all of the plans for the coming season including concerts, rehearsals and maybe some new member recruitment. This fall the focus is on closures. The most drastic one that we have heard of so far is the notice from the Toronto District School Board. Since the pandemic problems began, the board has locked the doors for all outside organizations. Now, the board has sent notices to outside organizations like bands, choirs and other renters of board facilities that they will remain locked out for the balance of the calendar year, and perhaps longer.
So how are community music groups coping? Most are actively seeking alternative rehearsal spaces; some have given up temporarily. A few are trying to maintain some form of Zoom rehearsal, or at least social gatherings. One of the more interesting activities I heard about is that Resa's Pieces in cooperation with New Horizons Band Toronto (two ensembles I have written about frequently in the past) were in discussions with Long & McQuade Music to plan a few online Zoom sessions of advice from specialists at L & M. Stay tuned on that one!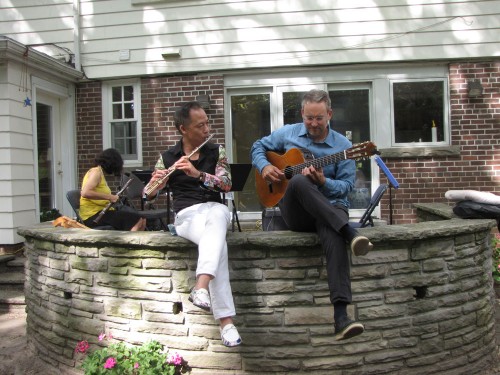 How are groups adapting?
While concert bands and similar large groups are basically shut down, smaller groups are adapting and new small groups are being formed. While most are simply rehearsing to maintain their skills and their social contacts, some are exploring small ensemble work for the first time. Rather than restrict their playing to in-house rehearsals, some have expanded their horizons and are performing on porches, on lawns, in driveways and even in cul-de-sacs where available. While some are simply impromptu events for the enjoyment of the players, others have been well organized to raise funds to assist professional musicians who have few, it any, paid gigs during the pandemic. In some cases, listeners are charged an admission fee, in others, donations are collected.