Over the past several years Toronto's new music season had been starting later and later, sometimes pushing into November. Thankfully, several ensembles have since seen the benefit of getting a jump start. As a result, we have a handful of companies launching exciting series this September. In fact, 2009/2010 looks so exciting for new music that it's next to impossible to pick out the highlights. Caught between Tapestry's 30th anniversary season, Soundstreams' international powerhouse programming and Esprit Orchestra's stellar selection of soloists and repertoire, I already feel like a kid in a candy shop! So, I'll keep my selections within the next several weeks. Even here, it's a challenging calendar for those intrigued by new sounds.
New Pärt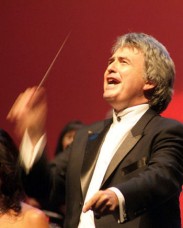 The Toronto Philharmonia gives the season's first big event on September 24 at the Toronto Centre for the Arts. Conductor Kerry Stratton has programmed a new-music-heavy opener with the Canadian premiere of Arvo Pärt's Symphony No. 4.
As a young composer in the 1960s, Pärt wrote three symphonies that chronicled his struggle with the musical language of his day, a struggle that would eventually help create his world-renowned style of spiritual minimalism. The orchestral and instrumental pieces that followed tend to be brief. But now, 38 years after the Third Symphony Pärt offers his fourth, subtitled "Los Angeles" (perhaps in recognition of the orchestra that premiered the work this year.) Pärt explained in the programme notes that he is reaching out in this work to "all those imprisoned without rights in Russia." For the composer, the symphony is meant as "carrier pigeon" that he hopes might reach faraway Siberia one day. Its sparse textures for strings, harp and percussion, slow pace and lengthy duration (37 minutes) make for a long, open and what has been described as an "extremely beautiful" journey.
Also on the programme is the world premiere of Artemis, a symphonic overture by Kevin Lau. This Toronto-based composer seems to be quickly making his mark. Since the completion of Lau's first professional composition in 1999 he has received commissions from the Hamilton Philharmonic, the Mississauga Symphony, the Esprit Orchestra, the Cecilia String Quartet and the Toronto Symphony Youth Orchestra, among others. Lau is currently completing doctoral studies at the University of Toronto while he continues to attract other projects, including a 2010 commission from Via Salzburg. In discussing his most recent work, Lau describes it as a musical portrait of the Greek goddess of wilderness, inspired by Gustav Holst's symphonic suite The Planets.
For more information about the Toronto Philharmonia's 2009/2010 season, visit www.torontophil.on.ca.
New Hall
On September 25 – what would have been Glenn Gould's 77th birthday – the Royal Conservatory of Music will open the doors to Koerner Hall and its long-awaited inaugural concert season. A special feature of the evening will be the world premiere of R. Murray Schafer's Spirits of the House. The work has been commissioned by philanthropist Michael Koerner to showcase the hall's acoustics. The programme will feature Royal Conservatory's very own ARC Ensemble, as well as the Royal Conservatory Orchestra with celebrated pianist Anton Kuerti, all conducted by Jean-Philippe Tremblay. This evening is just the start to Koerner Hall's Grand Opening Weekend. Full details may be found at www.rcmusic.ca.
Marathon
For something completely different, head downtown to Yonge-Dundas Square on September 26 for the Toronto (new music) Marathon. This eight-hour endurance event, organized by Contact Contemporary Music, pulls together some of the best local performers and ensembles for a season-opening showcase of contemporary, experimental and improvisational music. This year's marathon features music of Alan Bloor, Kyle Brenders, John Cage, Donnacha Dennehy, Philip Glass, Jim Harley, Brent Lee, Chad Martin, Stephen Montague, Jordan Nobles, Steven Reich, Ann Southam, Julia Wolfe and possibly even more, performed by Wallace Halladay, Jim Harley, JunctQin, Kyle Brender's Large Ensemble, Rob McDonald, Christina Petrowska Quilico, Pholde, Quartetto Graphica, Allison Wiebe and the Contact Ensemble. The mix of established artists alongside emerging voices and new discoveries is bound to make this an exciting event. For more details, visit www.contactcontemporarymusic.ca.
Tapestry at 30
Running throughout much of the same weekend is Opera Briefs, the launch to Tapestry New Opera Work's 30th Anniversary season. While every presentation of Opera Briefs yields great musical treats, this year's crop of 5-minute operas will be especially intriguing as Tapestry will unveil the results of its first International Composer-Librettist Laboratory. Two composers and two writers from the UK will cross the pond to work with three returning LibLab alumni: composers Omar Daniel and Stephen Andrew Taylor, and writer Anna Chatterton. Add renowned playwright Judith Thompson to the mix and you have quite the team. Tapestry's excellent New Works Studio Company will bring this ninth edition of Opera Briefs to life from September 25-27 in the intimacy of the Ernest Balmer Studio. For more information, visit www.tapestrynewopera.com
Nuit Blanche
Finally, starting at sundown on October 3, new music will resonate throughout Scotiabank Nuit Blanche – Toronto's overwhelming, all-night contemporary art extravaganza.
Two projects will inhabit the Canadian Music Centre. Sky Harp: Ice Storm by Kingston-based Kristi Allik and Rob Mulder will occupy the CMC's front garden. The Sky Harp series creates electronic soundscapes triggered by movements in the natural environment. For Ice Storm, video footage documents the effects of a 1998 disaster on Sky Harp's star "performer" – a 90-year old elm tree. Recorded improvisations by dancer Holly Small, who interacts with the resulting soundscape, serve as a simultaneous artistic interpretation. Inside, Juliet Palmer and Josh Lacey's Miasma offers a false haven from climate change. Overheard conversations reflect the unpredictability of our relationship to the elements. Is global warming a storm in a tea-cup? Can we divine the future in the dregs of a coffee cup? Music drifts in and out of the room, creating an alternately soothing and unsettling effect. Musicians perform within the installation at 10pm and midnight. Meanwhile, up the street at the the Telus Centre for Education and Performance, composer Brian Current directs the 12-hour installation In a large open space (Berlin 1994), based on a composition by James Tenney. The piece involves hundreds of singers and musicians positioned throughout the building, whose performances will envelop listeners in Tenney's complex overtones. For full details, visit www.scotiabanknuitblanche.com.
2009/2010 is truly in with the new!