I prefer to set this column's tone with anecdotes or insights; this time round I'm obliged to start with apologies for two errors in last month's column. First, the final concert in the TSO's New Creations Festival took place March 11, not 12 as was written. Second, the Opera to Go concert slated for the Living Arts Centre March 26 took place at the Enwave Theatre at Harbourfront Centre. My sincere apologies for any confusion or complications that may have been caused.
From a new music perspective, March was a real contender for the title of opera month, with Queen of Puddings wrapping up its premiere of James Rolfe's Inês, Tapestry offering a quartet of new creations for Opera to Go, and Opera in Concert premiering Charles Wilson's re-worked Kamouraska. However, in scanning the April and early May listings, there are a few events that still fit the bill, even if occasionally from an oblique angle.
On April 2nd, Continuum and the Images Festival close out the SHIFT Festival at the Isabel Bader Theatre with a partnered program called "Notes on Composing: five collaborations in film and music." Five Canadian filmmakers were commissioned to create new works, each scored by a Dutch or Canadian composer. Rather than laying down a soundtrack, however, the music will be performed live by the Continuum ensemble (with the exception of one piece created and performed by violinist Malcolm Goldstein). The result is a marriage of moving image and live sound as one single discipline – a modern parallel to the operatic tradition. The most operatic in tone is Glorious by Canadian filmmaker Guy Maddin and British/Dutch composer Richard Ayres. Set amidst a lingerie fashion show held in the stairwells of a derelict apartment block, it tells the story of an aging crime-family patriarch, visited by his dead father's ghost. The film is described as "an orgy of paranoia, bursting ammo shells, rackety disarmaments and oral gratification from beyond the grave."
Full information, including artist bios and project descriptions, may be found at www.shift-festival.ca. Tickets may be purchased online at www.imagesfestival.com/2009/, at Soundscapes or Pages Books and Magazines, or in person at the venue.
Soundstreams Canada and Luminato recently announced the dates for their co-commission of R. Murray Schafer's latest opera, The Children's Crusade. In typical Schafer tradition, this dynamic, full-length work calls for over 100 performers, both amateur and professional, including the Canadian Children's Opera Company, the haunting voice of Maryem Tollar, the crystalline tones of boy soprano Jacob Abrahamse and early music specialists the Toronto Consort. The performance site - an industrial warehouse on Dufferin Street in Toronto - will allow for the movement of audiences and cast from scene to scene. Performances are scheduled for June 5-11, but this month you can catch a glimpse of what to expect at Soundstreams' free Salon 21 on April 29 starting at 7pm at the Bata Shoe Museum. For more information, visit www.soundstreams.ca or call 416-504-1282.
Stretching the opera theme a bit further, Esprit Orchestra's "Demon" concert at the Jane Mallett Theatre May 1 includes Douglas Schmidt's Discouraged Love for chorale and orchestra. Discouraged Love is described as "quirky with a comedic twist, brilliantly delivered". The choral parts, which will be performed by the Nathaniel Dett Chorale, are based on Portuguese lyrics from 1900 that tell the story of a man forced to break up with his girlfriend because of the grief he gets from her parents. The father makes him tremble and suffer and the mother is a fierce viper from Hell... . For full details visit www.espritorchestra.com. For tickets visit www.stlc.com or call 416-366-7723.
There is a wealth of other new music concerts worthy of mention, many from beyond the usual culprits. Yes, The Element Choir and CONTACT Contemporary Music are pairing up for an event on April 3 at the Music Gallery, and Array is launching its season with concerts on April 24 and 26 in various locations, but the Scarborough Philharmonic will also premiere Alex Eddington's new work Tow Hill April 18, and the Vancouver Symphony brings Jeffrey Ryan's Linearity of Light (which you can hear online through CentreStreams) to Roy Thomson Hall May 2. So, be sure to delve into the WholeNote online listings and search out what else is going on in your neighbourhood. There's plenty for your calendar and budget.
A Tribute to Talivaldis Kenins
Talivaldis Kenins wrote some 200 works in just about all genres, from his self-proclaimed "Opus 1" for string quartet to his viola concerto of 1998. Combined, his complete opus would take over 20 concerts to perform. However, his final years until his passing in January 2008 at age 88 were not prolific, so the impact of this Canadian composer of Latvian heritage and French schooling has become less and less felt. A tribute concert slated for the middle of this month will break this silence and place Kenins deservedly among a growing pantheon of pioneering Canadian composers.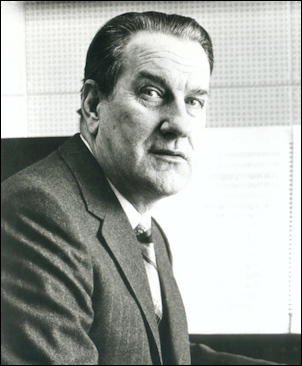 In his early years, Kenins was an amazing talent. Nadia Boulanger, George Enescu, Arthur Honneger, Jacques Ibert and Francis Poulenc collectively gave him the "premiere prix" of the Paris Conservatory in 1950 for his Cello Sonata. He went on to travel in the same circles as Henri Dutilleux, legendary film composer Michel Legrand, and Pulitzer Prize-winner Karel Husa.
It was these early achievements and influences that opened the door to teaching at the University of Toronto in 1952, only a year after his arrival in Canada. At U of T he groomed outstanding Canadian musicians such as Edward Laufer, Bruce Mather, Imant Raminsh, Arthur Ozolins, James Rolfe and Ronald Bruce Smith, among many others.
The Toronto Latvian Concert Association will pay tribute to Talivadis Kenins April 19 at 7pm in the Glenn Gould Studio. (Like the Canadian Music Centre, where Kenins is represented as an Associate Composer, the TLCA is celebrating its 50th anniversary in 2009.) The April 19 program spans over 45 years of the composer's music, from the career-launching Cello Sonata to the Piano Quintet (1994). Performers include rising stars of Latvian heritage (mezzo Vilma Vitols, violinist Una Tone), past students (pianist Arthur Ozolins, cellist David Hetherington) and colleagues to whom works were dedicated (flautist Robert Aitken and pianist William Aide).
For full details visit www.torontolatvianconcerts.com/whatson.html. For tickets, visit www.masseyhall.com and click on the "Buy Tickets" link, or call 416-872-4255.