More often than not these days I can hear the sounds of new musical ideas coming through my walls, coaxed from the keys of my next-door neighbour's grand piano. Living next to a composer is one of those curious joys of living in a big city like Toronto. If I'm patient, eventually I can hear those kernels of melody and harmony form into exciting new works that open brand new musical perspectives. But it's not only my neighbour who's been busy this winter, as March seems to be packed full with world premieres from local composers.
The month launches off with the TSO's fifth New Creations Festival, which is focusing on music for string instruments and Far East influences (an odd connection, perhaps, but one that seems to work). This year's special guest is Tan Dun, one of the world's most accomplished living composers and perhaps most known for his Grammy Award-winning film score for Crouching Tiger, Hidden Dragon. The first two dates of this three-concert festival (March 5, 7 and 12) will feature several of Tan's concerti and large ensemble works, which marry together music of Eastern and Western heritage with avant-garde techniques to explore cultural and spiritual themes. While more concerti from Toru Takemitsu and Toronto-based Gary Kulesha will add to the overall experience, I'm most keen to hear the results of Alexina Louie's latest commission, a concerto for string quartet and orchestra.
I had the chance to chat briefly with Alexina about her motivations for tackling such a big commission. Her inspiration, she explained, came from the opportunity to write for the renowned Tokyo Quartet, which will premiere the work with the TSO on March 7th, and specifically to work again with quartet violinist (and Canadian) Martin Beaver. Louie and Beaver met back in 1991, when he gave what she credits as the best performance of her Thunder gate concerto at the Montreal International Musical Competition. Her new concerto, though, isn't about one instrument. Rather, it tries to find a soloist's virtuosity in the voice of the quartet. More info about the New Creations Festival can be found online at www.newcreationsfestival.com.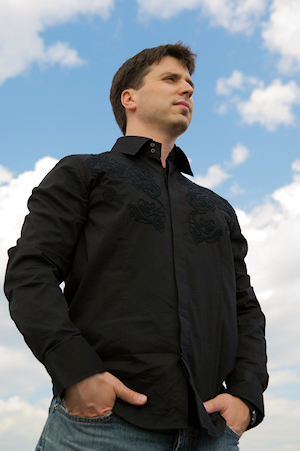 Skipping way ahead in the month, the Esprit Orchestra concert on March 26 promises to blend the brand new with the pre-loved. The local composer commission on this program comes from Andrew Staniland, who was recently named a finalist in CBC's Evolution young composers' competition. Big Bang! is the title of the work, a percussion concerto for the extremely talented Aiyun Huang.
In corresponding with Andrew about his inspirations for the piece, he wrote "Big Bang generally refers to the idea that the universe has expanded from a primordial condition at some finite time in the past and continues to expand to this day. This idea has long captured my creative imagination. I thought a percussion concerto to be the perfect place to experiment with this idea. The first movement of the work is the big bang – loud, heterophonic cacophony. This gives way to a second movement, Cadenza, featuring virtuoso multi-percussion. The third movement, Credo, is soft and slowly undulating. It slowly fades away – an homage to the 'big chill,' a theory that postulates the fading, cooling fate of the universe."
It's a shame that Andrew won't get to hear the premiere of Big Bang! (he will still be in Banff competing for the Evolution prize) but you can certainly catch it, alongside works by Bruce Mather, Omar Daniel and Dutch composer Mayke Nas (now known to Torontonians through February's Shift festival) at the Jane Mallett Theatre. Further details are available through www.espritorchestra.com.
Directly on Esprit's heels falls the fifth incarnation of Tapestry New Opera Works' Opera to Go program. Starting on March 26 at Mississauga's Living Art Centre, and continuing from March 27-29 at the Enwave Theatre, Tapestry will offer a menu of bit-sized operas on subjects ranging from the darkly comedic and farcical, to the dramatically suspenseful and mechanically melodramatic. The evening will culminate in the world premiere of The Perfect Screw, a new one-act opera from composer Abigail Richardson and librettist Alexis Diamond – a comic allegory for Canadian-American trade relations that follows the race between Robertson and Phillips to have their own brand of screwdriver become the industry standard. For full Opera to Go details, including info about the stellar cast and creative team, visit www.tapestrynewopera.com.
If time allows, my last stop for the month will be at the Music Gallery on March 28 to hear the Attar Project – a collaborative effort between composer/improviser/performer Parmela Attariwala and tabla player Shawn Mativeksy. Parmela and have happily crossed paths since 2005, and I recently had the chance to ask her about how the project, which she formed back in the 1990s, was reborn. "Subsequent to our first performance together," she replied, "Shawn expressed a desire to continue working with me and we have since resurrected the Attar project – a moniker reserved for material I performed, commissioned and created that crossed genre and discipline boundaries. Over the past year, I have begun the process of commissioning and creating a new series of works for violin and tabla. It is these new works – alongside Shawn's solo repertoire and new solo choreographies for me by Gitanjali Kolanad – that I will present to Toronto audiences."
On the program are recently commissioned works by Andrew Staniland (with whom Parmela improvises in The Human Remains – a free-improv band that meets weekly) and Toronto-based film and TV composer Meiro Stamm. Rounding out the concert will be recent commissions from Hamilton-based Christien Ledroit (his Never the Twain Shall Meet for violin, tabla and electronics was premiered by the Attar Project as part of the New Music in New Places series in 2008) and jazz composer Nicole Rampersaud. Full details are available through www.musicgallery.org. The Attar Project can be heard online on MySpace.
From Motion Ensemble to Continuum SHIFT'
by Jason van Eyk
Even in these sharply cold months, Toronto's new music community offers some incredibly enticing events that encourage us to venture out into the frost and snow.

First up, I'm eager to hear the New Brunswick-based Motion Ensemble at the Music Gallery on February 21st. This post-classical sextet hasn't performed in Toronto since 2004, when they passed through on a cross-country tour. Motion is best known for presenting new, experimental music that on occasion merges electronics and visual media with live performance. They also have a penchant for new Canadian works, especially those by their Atlantic colleagues. This time around, they are bringing a mix of Canadian music from composers stationed across the country, and even south of the border, in pieces specifically written for the ensemble. Many of these works have never been heard outside of Atlantic Canada and all are receiving their Toronto premiere.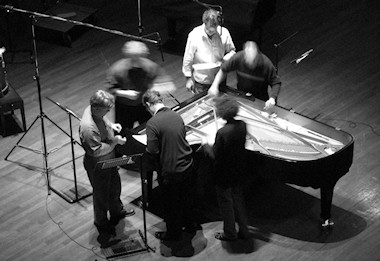 The Continuum Ensemble gives the North American premiere of Mayke Nas's Douze Mains on February 28th. All six performers explore the sonic possibilities of a single piano. Photo: Josh Grossman

The concert will lead off with Martin Arnold's Water Lens; Water Limbus. Arnold was the toast of the Amsterdam leg of the SHIFT Festival (more on that later), so now is the time to catch more of this Toronto-based talent. Also on the program are recent works by Montreal's Michael Oesterle and Sackville's W.L. Altman. Closing out the concert will be Mnemosyne by Los Angeles-based Canadian Veronika Krausas, which was developed as a collaborative project with writer André Alexis and photographer Thaddeus Holownia.

If you want to prepare your ears for this concert, you can listen to other works by Oesterle and Krausas online at the Canadian Music Centre's CentreStreams audio service (visit www.musiccentre.ca). In fact, there is an alternate performance of Mnemosyne there, which you can use for preparation or comparison's sake.

I am a sucker for all things Dutch, and so the arrival of SHIFT certainly is going to have me on the move from February 25th to March 3rd. Curated by Continuum Ensemble's Jennifer Waring, this ambitious festival of Canadian and Dutch music, film and literature arrives from Amsterdam, where all reports assure us that the hard work has paid off. The name says it all: SHIFT follows centuries of migration from Europe to North America and the resulting transformations that have taken place. It also creates a platform for contemporary shifts in understanding between the Netherlands and Canada, challenging old clichés and offering fresh insights. SHIFT gets going with readings by Dutch authors and film screenings at Harbourfront Centre; the music gets going on February 27th at the Music Gallery in a Canadian/Dutch mixed program by new music mavericks Toca Loca, titled e1gh+¥ 31gh7. No, it's not a typo. The concert brings together new works by Canadians Aaron Gervais and Chris Paul Harman, as well as existing pieces by crossover artists Laura Barrett and Myra Davies, with their transatlantic counterparts Hanna Kulenty, Guus Jansen and Mayke Nas. Toca Locans Simon Docking and Gregory Oh will tackle keyboards of all shapes and sizes alongside collaborators on banjo, tape recorder, saxophone, bass, drumset and voice.

While I'm a Toca Loca fan, SHIFT's true musical treats will be local repeat performances of the critically acclaimed joint Ives Ensemble/Continuum concert (Feb 28), and the Bozzini Quartet at Harbourfront Centre's Brigantine Room (Mar 1). On February 28th, Continuum and the Ives Ensemble will combine in works by Linda Bouchard and Guus Janssen (Ex Tempore for mirrored ensembles), while also each performing "solo" in new works by Mayke Nas (Douze Mains, in which Continuum's musicians play inside a single piano) and Gyula Csapo. According to Festival Director Jennifer Waring, this concert program embodies SHIFT's spirit: two ensembles from different musical cultures coming together - not always easily but with huge good will, determination and commitment - to make something new. The result of their hard work was proclaimed "dazzling" in the Dutch premiere, for which we will all hope for a repeat in Toronto. The original concert was broadcast live on VPRO radio and can still be found online at http://www.vpro.nl/programma/avondconcert/afleveringen/40045256/.
Quatuor Bozzini will perform their well-received program, which includes premieres of two Dutch works by Hanna Kulenty and Richard Ayres, the latter of which admittedly has had a previous partial performance. The Bozzini's are the first quartet to handle the whole work to date, including its difficult middle movement. Other string quartets on the program include those by Martijn Voorvelt, Michael Oesterle and Martin Arnold. The prize of the concert in Amsterdam was Arnold's contact;vault, which Jarko Aikens (Artistic Coordinator of the Muziekgebouw) declared he would have Dutch string quartets performing before the end of the year.
Finally, if I can sneak into the Ives Ensemble composer workshop on March 3rd at the Music Gallery, you know I will. This unique ensemble, instrumental to the development of so many composers and aesthetic movements, has much to offer music creators. To be able to witness their creative process at work would be a great experience.

In between Motion and SHIFT, I hope to catch a performance of Inês, the new opera project from Queen of Puddings. It has a five-show run February 22nd to March 1st at the Enwave Theatre. Inês is based on the famous medieval Portuguese story of Inês de Castro, but adapted to depict life within Toronto's Portuguese community in the 1960's. Composer James Rolfe, known for his excellent operas (Beatrice Chancey, Rosa, Swoon), takes influences from Portuguese Fado for this project - a living form of urban folk music for solo voice. A deeply emotional genre, Fado matches well with the expressiveness of opera and intimacy of theatre. Portuguese singer Inês de Santos and opera singers Shannon Mercer, Beth Turnbull, Giles Tomkins, and Tom Goerz perform Rolfe's setting of librettist Paul Bentley's text. Director Jennifer Tarver rounds out a high-powered creative team.
And on those nights when it is absolutely too cold to go out, I'll most likely be curling up with Paul Steenhuisen's new book Sonic Mosaics: Conversations with Composers. Beyond being a highly accomplished composer in his own right, Steenhuisen is also a recognized interviewer of his creative colleagues. Over numerous years, he has conducted and recorded dozens of one-on-one conversations with some of our country's leading composers (many of which appeared in these pages between 2001 and 2005). Now, after much anticipation, these insightful interviews are available in one volume. Paul's well-documented conversations offer the reader entry into the creative process and ways of listening to new musical works. He calls on his own experience as a composer to lend these 32 interviews a colleague's openness, understanding and expertise. Sonic Mosaics: Conversations with Composers will be officially released on February 18th by the University of Alberta Press. It is available for purchase through the Canadian Music Centre, the U of A Press website at www.uap.ualberta.ca, and through Amazon and Indigo online stores. 50% of the royalties generated from sales of the book will be donated to the Canadian Music Centre, in celebration of its 50th Anniversary.