June is an important time of transition. This is true not only for the seasons (the 21st marks the summer solstice and a promise of consistently better weather) but also for the live music scene, where the closing concert season makes way for a flourishing of summer music festivals.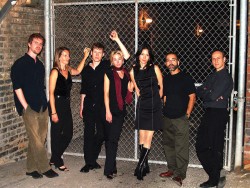 It is also true for me: I am making a transition away from the music field to take up new challenges in the arena of arts and learning. This means that I will also be stepping away from writing this column, which has given me endless opportunity to explore how Toronto's new music community has made its own remarkable transitions over time. The most noticeable of these is in the sheer range of appropriations, influences, inspirations and collaborations new music makers employ to create and showcase exciting new work.
We can look to a handful of this month's concerts to see this notion at play.
One group that has been constantly pushing at the boundaries of what it means to be "new music" is CONTACT Contem-porary Music. Their multidisciplinary approach crosses between live and electronic, traditional and site specific, popular and avant-garde, audiovisual and interactive, in ways that many other ensembles would be too timid to try. If that weren't enough, the content of each CONTACT show treads into touchy territory – from transexualism to transcendentalism, popular music to electro-eroticism, and just about everything in between. Ultimately, CONTACT seeks to unlock the power of artists, leveraged through music-based collaborations, to create situations that eliminate barriers, open new dialogues, find new perspectives and advance new understandings of current, contemporary challenges. It would be absentminded not to mention their "Electronica Unplugged" lunchtime concert on June 8 at the Richard Bradshaw Amphitheatre, which features original electronic works by David Bowie, Brian Eno, Robert Fripp, Gavin Bryars and Philip Glass arranged for the unique forces of the CONTACT ensemble. You can learn more at www.contactcontemproarymusic.ca
Another case in point is the deliriously eclectic Adventures of the Smoid, a creative concoction from the ever-adventurous percussionist/composer/artistic director Rick Sacks for the Evergreen Club Contemporary Gamelan. Drawing on the growing popularity of visual story telling through comic books and graphic novels, Sacks inventively connects a diverse series of dots to link this world to the tradition of gamelan and Indonesian shadow puppetry. Sacks asks the Club to do double duty as musicians and puppeteers to tell a humorous tale about an astronaut's adventures in space. Adventures of the Smoid is prefaced by a song cycle from iNSiDEaMiND, the wildly experimental turntable duo. New music crossover eclecticism doesn't get much better than this. The boundaries are definitely pushed once again for these June 13 and 14 events at the Music Gallery.
Tapestry New Opera Works has long been exploring new paths to collaboration between composers, writers and musicians in the creation of the highest of musical forms: opera. Over the last quarter century and beyond, this hallmark company has expanded beyond its Canadian roots to provide a haven for an increasingly international network of creators to develop some of the most promising new work in the field. Tapestry's season-closing New Opera Showcase will no doubt be another exhilarating adventure through a collection of shorter pieces in development, ranging from those by veteran creative partners to new collaborations. The inspirations range just as far, from Ancient Greek tragedies to modern-day Irish pub love stories, from Icelandic mythology to Canadian immigrant stories filtered through Old Testament morality tales. Be sure to visit www.tapestrynewopera.com to get full details for the June 14 and 15 performances at the Ernest Balmer Studio in the Distillery District.
These three events are just the tip of an iceberg of musical innovation at work in our local music community; I hope to find such radical minds and creative connections in my future work. Don't miss your chance to catch such new sounds while they are still summer fresh! Be sure to get in with the new via The WholeNote concert listings here and online at www.thewholenote.com.
Jason van Eyk, The WholeNote's longtime New Music beat writer is stepping down from this column and from his position as Ontario Regional Director of the Canadian Music Centre.