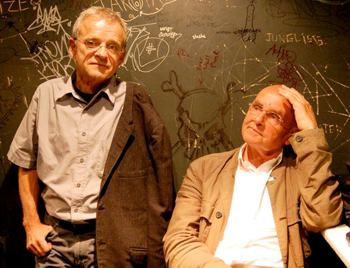 October's main attraction in the new music community will no doubt be the fourth edition of the Music Gallery's X Avant festival.
Past attempts at creating a steady new music festival in Toronto have met with challenges: NuMuFest disappeared in 2001 when its key organizer could no longer offer its support and the exciting soundaXis festival barely got off the ground before going on hiatus after its 2008 edition. Both festivals were built on rich but fragile networks that challenged their stability. In light of what remains – the TSO's continuing but contained New Creations Festival – X Avant stands out as a sustainable model for the celebration of new music in Toronto.
This year's X Avant theme of "convergence and collaboration" is very a propos, given the importance of networks and partnerships to making such a large event a success. It is also a theme that the Music Gallery practices itself, with artistic director Jonathan Bunce working alongside guest curators Gregory Oh and Andrew Timar to deliver both this festival and the season's programming. Inspired by Brian Eno's idea of "scenius" – the communal form of genius created by harnessing the intelligence and intuition of a whole cultural scene – X Avant celebrates the notion of co-operation in contemporary music making. It's a timely return to the topic, given the growing discussions around the influences and impact that networks have on the intentions, ideas and actions of artists.
Given the Music Gallery's desire to celebrate innovation and experimentation throughout the full continuum of the creative music scene, X Avant not only spans four days, eight concerts and various workshops and symposia, but also numerous genres and generations of music exploration.
The festival opens on October 21 with one of the world's oldest electronic collaborations. The German duo Cluster, which set many landmarks for modern-day electronic music, has re-formed after a decade-long hiatus to release their 2009 album Qua (their first in 14 years), and now to make their Canadian live debut. Cluster members Dieter Mobius and Hans-Joachim Roedelius have been collaborating since the 1960s. Their influence predates other electronic music pioneers like Kraftwerk, and extended well into the 1990s, sometimes in partnerships with talent like Brian Eno. Sharing the concert bill is relative newcomer Hauschka, the alias of German pianist/composer Volker Bertlemann, who has built a reputation with his miniature sound vignettes composed for prepared piano. In this second engagement with the Music Gallery (Hauschka paired up with John Kameel Farah for a local show in 2007), he will partner with a local string quartet to explore new musical territory.
Some of the youngest partnerships at X Avant are those suggested by the festival curators as part of a musical laboratory they are calling "Beats, Notes and Loops: A Hip-Hop/New Music Summit." Take, for example, the three-way improv between the Evergreen Club Contemporary Gamelan, emcee Abdominal and DJ duo iNSiDEaMiND slated for October 23. Experimental turntable music will meet rap in a new music frame filtered through traditional Indonesian gamelan. What will emerge remains to be heard, but this curious combination offers interesting possibilities. Sharing the summit is the emerging yet already consummate crossover composer Nicole Lizée with DJ P-Love and chamber ensemble. Nicole has made her name in part as a member of Montréal's indie-rock band Besnard Lakes, but more so as a music creator who crosses the boundaries between popular musical tropes and contemporary musical language. For X Avant she will present works that explore both the continuing karaoke phenomenon and the integration of turntablism into contemporary chamber music.
Other collaborations are looser, such as Czech violinist/singer Iva Bittova's occasional creative collisions with British art-rock percussionist Chris Cutler. The two will meet again on October 24 at the Polish Combatants Hall. Still others are more regular, like the Phantom Orchard project of downtown New Yorkers Zeena Parkins and Ikue Mori. The combination of Mori's laptop artistry and Parkins' extended techniques on electric harp started coming together as Phantom Orchard around 2004, although the two have been friends and colleagues since 1988. The duo will perform on October 22 at the Music Gallery on a double bill with Ken Aldcroft's Convergence Ensemble, which provides a vehicle for this improvising guitarist, bandleader, composer, producer and organizer to explore more nuanced contexts for his compositions and ensemble-based ideas. The Convergence Ensemble, which has been recording together since 2006, will take its X Avant opportunity to release a new CD.
Rounding out the festival are two very different presentations by local, long-standing new music outfits. On October 24, Arraymusic offers a new way of hearing in collaboration with the Sound, Music, Auditory Research and Technology (SMART) Lab based at Ryerson University. The auditory research at work in this concert involves a new device called the emoti-chair – a sensory substitution technology that converts sound into a dispersion of vibrotactile information and, therefore, provides greater access to music for all people, including the hearing impaired. The chairs will be test-driven through new music by percussionist and composer Rick Sacks, alongside Arraymusic standards by Jo Kondo, Michael J. Baker and Claude Vivier.
On the festival's closing night, Continuum will converge on a set of musical works that explore the push and pull between past and present, convention and disruption, start and stop. Compositions by Chris Paul Harman, Samuel Andreyev and Lucas Franesconi play with notions of continual inception, dissolution, truncation and perpetuation by exploiting the customs of classical music construction. As well, the concert will feature the subtly shifting colours of Fuhong Shi's Emanations and the driving rhythms of Juan Trigos's Pulsacion y Resonancias.
In total, X Avant asserts the Music Gallery as the central hub of Toronto's creative music scene, and offers an intense concentration of what we can expect to find expanding across the course of the season ahead. For more information about X Avant and the Music Gallery's 2009-2010 season visit www.musicgallery.org. For tickets visit www.ticketweb.ca, call 416-204-1080, or go to Soundscapes or Rotate This.
Jason van Eyk is the Ontario Regional Director of the Canadian Music Centre. He can be contacted at: newmusic@thewholenote.com.