Contemporary music concerts are springing up in bunches this month, with a trio of themes each containing a quartet of events.
Quartet 1: Celebrations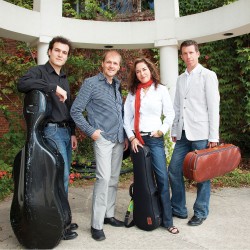 April's sense of celebration flows into May, with a greater emphasis on new musical voices.
On May 15, the Esprit Orchestra will reach the peak of its five-day New Wave Composers Festival, exploring a range of musical inspirations from Bach's A Musical Offering to the cosmic "music of the spheres" and the mythological Phoenix. This Koerner Hall concert also offers three other reasons to celebrate: it features the world premiere of composer Chris Paul Harman's Coyote Soul for orchestra; it recognizes the 60th anniversary of the venerable Canadian League of Composers; and it trumpets the return of the Toronto Emerging Composer Award by announcing its first winner in five years. For more details about Esprit and its New Wave Composers Festival, visit www.espritorchestra.com and follow the links.
Array will celebrate in its own way on May 29 with its Young Composers' Workshop Concert. [See "The ETCeteras" section of listings.] This afternoon event is the culmination of a month's intensive work completed by a carefully selected foursome of emerging music creators. The resulting pieces will receive their world premiere in the very urban Array Space at 60 Atlantic Avenue. For more info, visit www.arraymusic.com.
The Toronto music community will come together on June 1 at Walter Hall to celebrate the 80th birthday of musical polymath Derek Holman. The concert will feature a variety of Holman's music for choir, strings, clarinet, voice and pianos, in performances by the Talisker Players, Choir 21, Canadian Children's Opera Company, pianists Bruce Ubukata and Stephen Ralls, and clarinetist Peter Stoll. A special treat will be the world premiere of Holman's latest work for tenor and harp, featuring Lawrence Wiliford as soloist. Stay on after the concert for a big, belated birthday party!
Pushing into June, we'll find the Penderecki String Quartet celebrating its 25th anniversary. To mark the occasion, the PSQ has commissioned seven new works from a cross-section of Canadian composers. We'll get to hear some of the early results with world premieres from Michael Matthews and Norbert Palej during the Penderecki's annual QuartetFest (co-produced with the Kitchener-Waterloo Chamber Music Society) – an intensive string quartet training and performance program that runs June 1-7 at several locations throughout Kitchener-Waterloo. For more info about Quartetfest and this year's invited ensembles, visit www.quartetfest.ca. To buy tickets, call 519-886-1673.
Quartet 2: Intersections
The connection of new music to other genres and art forms has been sprouting up more often in Toronto, with this month offering four interesting examples.
On May 3 and 4, the Talisker Players continue their explorations into words and music with their season-closing concert "Façade." Alongside the title-bearing work by William Walton, and others by Harry Freedman and Alex Eddington, is a world premiere from Toronto's Alexander Rapoport based on the poem "Jabberwocky." Soprano Xin Wang and tenor James McLennan join the Taliskers in this program that explores how we look for coherence in words that sometimes hold no meaning. Visit www.taliskerplayers.ca.
The Music Gallery's Emergents Series will explore a totally different type of intersection, that of genres and styles which collide. The Dupuis/Clark Duo combines harpsichord and electric bass to bridge the distance between four centuries of musical creation. The stretch between these two worlds is not as far as we think, if we conceive of a rock rhythm section as the modern baroque continuo. Sharing the program is GREX, a vocal ensemble that claims to defy easy description. Their set of Meredith Monk, Ned Rorem, R. Murray Schafer and traditional Georgian folk songs makes the claim clear. Visit www.musicgallery.org.
The Canadian Opera Company's Chamber Music Series unites music and dance in a short, free concert of Beethoven and Golijov, on May 17. Toronto's celebrated Tokai Quartet will perform the String Quartet Op.131 alongside Golijov's bittersweet Tenebrae in its original version for soprano and clarinet. Jacqueline Woodley and Kornel Wolak join the Tokai's as guest performers. Toronto-based dance maverick, Matjash Mrozewski, offers new choreography for four dancers to illuminate the music's intentions.
Near the end of the month, on May 28, the Music Gallery presents "From Eye to Ear," an exploration of visual influences in contemporary music, tracing a re-emerging movement towards non-conventional notation and graphic representation. New "scores" by the mercurial John Oswald and the more minimalist Chiyoko Szlavnics are works of art whether sounded or not. Live video will allow the audience to view each piece as it is performed by pianist Eve Egoyan and Quartetto Graphica. More Szlavnics scores, part of the Intimate Music exhibition on loan from the Canadian Music Centre, will be on display.
Quartet 3: Globalization
From Finland to Malaysia, Toronto regularly welcomes the global flow of contemporary music creation. This quartet of concerts demonstrates the range of international ideas on our local stages.
Paris-based Finnish composer, Kaija Saariaho, seems to be popping up everywhere in Toronto classical concert calendars. On May 6, a set of her solo works will appear at the Music Gallery, including her From the Grammar of Dreams for two female voices set to texts of Sylvia Plath, NoaNoa for flute and electronics, Sept Papillons for solo cello and Six Japanese Gardens for percussion and electronics. Singers Carla Huhtanen and Marion Newman, percussionist Aiyun Huang, cellist Rachel Mercer and flautist Camille Watts bring a powerhouse of talent to these demanding and beautiful works.
On May 8, New Music Concerts continues its exploration of music from the Far East in a concert titled "Malaysian Voices." The program has been curated by Kee-Yong Chong, currently Malaysia's leading composer. He is credited with a rare musical talent, expressing a highly innovative yet deeply spiritual style. The programming hinges on several pieces by Chong, including a new flute concerto for NMC Artistic Director Robert Aitken. The remaining works by Chow Jun Yi, Yii Kah Hoe, Tazul Izan Tajuddin and Neo Nai Wen will bring a mix of Canadian and world premieres to a portrait of new music from an underrepresented community. Visit www.newmusicconcerts.com.
A little further afield, but also on May 8, the Elora Festival Singers will demonstrate the diversity of voices that makes up the Canadian multicultural mosaic. Simply titled "Oh! Canada," this program of recent works by Mark Sirrett, Gary Kulesha, Derek Holman and Leonard Enns will bring us some of the best voices in Canadian choral writing as performed by one of our leading choirs. For more information about this afternoon event, and to buy tickets, visit www.elorafestival.com.
Our global tour will end at Roy Thomson Hall on May 26, when the Toronto Symphony Orchestra performs Chinese composer Tan Dun's Water Concerto and Paper Concerto. Both works reflect the composer's ideas of an organic music, which embodies sounds of nature and the mind. He claims, "The environment is related to our lives, and spiritually, everything germinates from one seed of creativity." Tan Dun made a great splash in Toronto with his appearance during the 2009 New Creations Festival. He returns to conduct the TSO in his own imaginative works for unconventional solo instruments. For more info and tickets, visit www.tso.ca.
This is a larger list than I normally offer, but May is a month of many new sounds. But there's still plenty more music to be discovered, so be sure to get in with the new via The WholeNote concert listings here and online at www.thewholenote.com.
Jason van Eyk is the Ontario Regional Director of the Canadian Music Centre. He can be contacted at newmusic@thewholenote.com.