What a heavenly time to be a club owner, jazz musician or music lover! Although it's impossible to attend absolutely everything you read about in the summer festival season, the mood remains festive so long as snow is impossible (knock on wood!). But seriously, whether or not it rains, there's a decidedly warm buzz in the air these days.

Great News!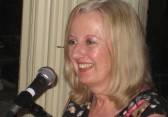 Fans of Anne Marie Leonard's Open Mic (formerly held at the defunct Statlers on Church) will be pleased to know that she is now holding it in the same vibrant neighbourhood Thursday nights at Fuzion, (www.fuzionexperience.com) located at 580 Church Street just north of Wellesley. Charismatic Leonard currently coaches dozens of performers and accompanies three choirs in the Greater Toronto Area. Listen to her masterful way with the ivories at www.annemarieleonard.com, and be sure to check out the Thursday night open mic from 9-midnight. All styles welcome. Arrive early to catch entertaining vocalist Mark Cassius with lovely Ken Lindsay on keys from 6-9pm.

Two Much Fun

Speaking of duos, every Torontonian needs to experience Robert Scott and drummer Great Bob Scott, who come across as marvelously mad geniuses. The pair never fails to enchant an audience with their energetic delivery of a diverse repertoire. Scott (www.robertscottmusic.com) and Scott (www.myspace.com/greatbobscott) are thankfully easy to catch, appearing regularly three times a week: down at the Novotel at 45 The Esplanade every Wednesday from 7-11pm and Saturdays from 8:30-midnight, as well as Friday nights starting at 9:30pm at the Pantages Martini Lounge located at 200 Victoria Street. Real pianos, no cover!

Attention Piano Lovers



Speaking of real pianos, there are two very exciting series to report about: Merriam Music (www.merriamlive.com) in Oakville is launching a monthly piano series on Sunday June 6 featuring Robi Botos, Adrean Farrugia and Stu Harrison showcasing three state-of-the-art pianos. Limited to 100 seats, the series features divine acoustics, wines, cheeses, scotches and an interactive audience component with your questions. Also, Gallery 345 (www.gallery345.com) at 345 Sorauren Avenue has a nine-foot Baldwin and a seven-foot Steinway, this month featuring a "Piano Jazz Masters" series June 13 with the Matthew Shipp Trio, June 20 with the Mario Roman Quartet and June 27 with the Hilario Duran Trio. Check the website for times and ticket prices.  

Jazz Festival Pride

The TD Canada Trust Toronto Jazz Festival will be proudly presented simultaneously with Pride Toronto and the G20 summit! Looks like the world will be in our city, so here's hoping this helps. In terms of programming, there are dozens of noteworthy choices.

The Headliner

Harry Connick Jr. and Orchestra: consummate entertainer, the famed and photographable New Orleans native makes a welcome return to Toronto, backed by full orchestra at the Canon Theatre on June 27, 8pm, tickets $50-150. www.harryconnickjr.com.

Welcome Returns

Herbie Hancock Imagine Project: the highly influential and critically acclaimed pianist will be featuring songs from his most recent triumph, River: The Joni Mitchell Letters with the Imagine Project, completed by Vinnie Colaiuta, drums, Lionel Loueke, guitar, Greg Phillinganes, keyboards, Tal Wilkenfeld, bass, and vocalists to be announced. Opening set by Juno-winning bassist/composer Brandi Disterheft. Mainstage Concert Series, June 26, 8pm, tickets $55. www.herbiehancock.com.  

Dave Brubeck: with a legendary career that spans over six decades, his compositional experiments in odd time signatures, improvised counterpoint, polyrhythm and polytonality still turn heads. At 89-and-a-half years young, the consummate entertainer is a marvel to behold. Don't miss Brubeck's Quartet as part of the Koerner Hall Jazz Series on June 29, 8pm, tickets $50-75. www.davebrubeck.com.
Keith Jarrett, Gary Peacock and Jack DeJohnette: this consistently imaginative piano-bass-drums trio continues to set standards and is aptly known as the Standards Trio. Now in their third decade of collectively breathtaking, mind-boggling, heartfelt musical creativity, these are three grand masters you don't want to miss. June 30 at the Four Seasons Centre, tickets $47.50-127.50.

It Ain't Necessarily Jazz!

With hopes of drawing from outside of the jazz pool, the festival has invited pop acts set to make a splash, including Esthero (June 27 at the Lee's Palace, $24.50), Serena Ryder (June 29 at Harbourfront's Sirius Stage, $34.50) and Chaka Khan and Macy Gray (July 3 at Dundas Square, free). In contrast, the "Next Wave Series" at the Music Gallery (www.musicgallery.org) will be a magnet for lovers of experimental, envelope-pushing music. One such show will be Christine Duncan's haunting Element Choir (June 29 at the Music Gallery, $20). Fearlessly conducted, this diverse group of musicians weaves unforgettable webs of improvised vocal textures.

Tribute To A Legend

The jazz world recently lost a genuine legend with the passing of Rob McConnell (February 14, 1935 – May 1, 2010). McConnell was a true renaissance man who wore many hats, earned many accolades and will not be forgotten. The Old Mill's Dining Room will house a tribute to Rob McConnell's legacy on June 24.

One, Two, A-One, Two, Free!

As always, the festival offers free-admission shows. The 12-noon lunchtime show on June 30 will be a particularly special performance, for it will be a CD launch by Ricochet, the brainchild of Adrean Farrugia, one of our city's most creative pianists. When Farrugia takes a solo on any old standard, it's hard not to be engaged by his playful approach to the familiar; his own compositions tend to be rich with flowing emotion, drawing from varied sources.

"The music is inspired by a need to try and cohesively combine all the things I love in music," says Farrugia. "The music attempts to fuse jazz, classical, Indian, South African, pop and film-music textures and rhythms into a unified sound, while being equally appealing to both lay listeners and highly trained ears. Creating music that has a wide appeal without making sacrifices is very important to me."
For everything from fabulous freebies to genuine grandmasters, visit the TD Canada Trust Toronto Jazz Festival website: www.torontojazz.com.

Ori Dagan is a Toronto-based jazz vocalist, voice actor and entertainment journalist. He can best be contacted at jazz@thewholenote.com.