Live music is the red thread that ties the club listings together, but the ever-expanding list contains everything from extravagant to unpretentious, from dance hall to pool hall. To help plan your next outing, in the spotlight this month are places where dancing and dining are ideal.
Feet first
Dovercourt House: Dancing is the main attraction at the Dovercourt, where Swing Toronto (aka "Odd Socks") gives happy feet a chance to dance every Saturday! Sensational swing bands set the scene every Saturday from 9:30pm-1am, preceded by two beginner dance classes at 7pm. $13 for unlimited dancing, $15 including one class, $18 includes both classes. On Saturday May 29, a non-profit tribute to influential American dancer, instructor and choreographer Frankie Manning (1914-2009), one of the founding fathers of Lindy Hop. www.odd-socks.org
The Reservoir Lounge: The charming "Res" is one of Toronto's historic jazz venues, and the only one with a dance floor to boot. Known for being Michael Buble's old stomping ground back in the day, this club is where you can find great jazz, jump blues, and boogie woogie including endearing acts like Sophia Perlman and the Vipers on Monday nights, Bradley & the Bouncers on Wednesdays and Tyler Yarema every Tuesday and Saturday Night. The fantastic fusion menu is very much worth mentioning and so is the mouth-watering martini selection! www.reservoirlounge.com
Lula Lounge: Lovers of world music will embrace the Lula World festival from May 5 to 30. If your mom likes to dance, don't miss Mother's Day brunch on May 9 with the incomparable Luis Mario Ochoa and his Cuban Sextet, followed that evening by a passionate concert with vocalist Eliana Cuevas featuring Luanda Jones. A double bill on May 12 unites eclectic vocalist Yvette Tollar and Serbian saxophonist Jasna Jovicevic. On May 22 musical director Sean Bellaviti presents Viva Celia: a tribute to the Queen of Salsa, Celia Cruz. Full details on this extraordinary multicultural extravaganza at www.lula.ca
Hungry? Famished? Pregnant? Craving?  Hear live music here
Aquila Restaurant: Passionate about good food, owner and Chef Jose Corniellis smokes meat the old fashioned way using natural wood, and sticks to organically grown produce. Entrees on the extensive menu include bison striploin ($19.95), naturally smoked salmon ($18.95) and Australia rack of lamb ($25.50); plenty of lunch specials and weekend brunch. Stay for live jazz every Saturday night including "Bari'd Alive" with Anthony Terpstra and Phil Skladowski on the last Saturday of every month. www.torontorestaurants.com/aquila
Ten Feet Tall: This east side eatery is a significant source of good times, thanks largely to its tastefully creative menu. Savoury items include Chicken Imperial ($14), Pad Thai ($14), make your own pizza and the popular new, Mac 'n' Cheese Boutique! Live music fits well with the funky décor in this vibrant Danforth spot; Saturday night cabarets go from 8-10pm and Sunday afternoon jazz matinees go 3:30-6:30, no cover charge, reservations encouraged.
Plum 226: Formerly the Anabella Lounge, this charming new Cabbagetown room is under new management and has recently reopened after renovations. Below the restaurant, the intimate 30-seat lounge has much to boast: an appetizing Italian menu, friendly service, stellar atmosphere and priceless live music. Romantic, elegant and reasonably priced, this is a great date destination! Exquisite tapas, pizzas and pastas, and mains including Atlantic Salmon ($20) and Sea Bass ($23). Catch the Lisa Particelli Trio on Friday May 21, No Cover, 8-11pm. Norman Marshall Villeneuve plays the last Friday of every month.
www.plum226.com
Happy Birthday To NMV: Speaking of Norman Marshall Villeneuve, the veteran jazz drummer celebrates his 72 birthday at The Pilot Tavern on Saturday May 29th from 3:30-6:30pm.
www.thepilot.ca
Rarities & Reservations
Funny how some patrons seem to have reservations about making them. Or perhaps, they forget. In any case, to avoid disappointment, be sure to buy your tickets or book your seats in advance. The following rare appearances are definitely worth reserving for: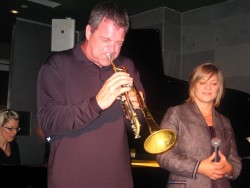 The Old Mill: Thursday May 13, 7:30-10:30pm, experience the world-renowned talents of the Peter Appleyard Quintet in the Old Mill's Dining Room. British by birth, Appleyard made Canada his home in 1951 and has since enjoyed a glorious career as studio musician and television personality. At 82, he still swings like nobody's business. Joining Appleyard in concert will be four fine gentlemen of jazz: guitarist Reg Schwager, pianist John Sherwood, bassist Neil Swainson and drummer Terry Clarke. $35 Cover. Also at the Old Mill this month, on May 7 and 8, a two-night stint with gifted pianist, vocalist and composer Laila Biali at the Home Smith Bar with bassist Jordan O'Connor and drummer Ben Wittman. www.oldmilltoronto.com
Chalkers Pub: Saturday May 15 from 6-9pm, don't miss a rare club appearance by seasoned vocalist Lisa Martinelli, an expert jazz educator at Humber College, The University of Toronto and formerly York University. She'll be accompanied by Adrean Farrugia on piano, Pat Collins on bass and featuring Kevin Turcotte on trumpet. $10 Cover. Also at Chalkers Pub, don't miss two Donny Hathaway Tributes this month starring the sensational Michael Dunston Sundays May 2 and 16 from 7-10pm, $20 cover, available online at ticketweb.ca or by calling 1-888-222-6608. www.chalkerspub.com
Hugh's Room: Tuesday May 18 starting at 8:30pm soulful vocalist Sacha Williamson showcases her heartfelt music heard all too rarely in this city. Tickets are $15 in advance, $18 at the door…you know the drill! www.hughsroom.com
Speaking of buying your tickets in advance, the TD Canada Trust Jazz Festival has announced the lineup for this year's edition, and certain shows are bound to sell out. Headliners include: Nikki Yanofsky (June 25), Herbie Hancock Imagine Project plus Brandi Disterheft (June 26), Harry Connick Jr. (June 27), Stanley Clarke Band featuring Hiromi (June 28), Dave Brubeck Quartet (June 29) and Keith Jarrett with Gary Peacock and Jack DeJohnette (June 30). Full details available at www.torontojazz.com
jazz@thewholenote.com.