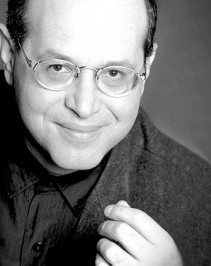 Key www.jazzpiano.com into your browser and you'll be in youtube heaven. By clicking backspace twice and adding an "eh" to produce www.jazzpiano.ca, you'll be linked to one of Canada's most treasured jazz pianists, Mark Eisenman. The New York native has been Toronto-based since 1972, and has previously worked with Lew Tabackin, Barney Kessell, Ed Bickert, Rob McConnell and Pat LaBarbera. A top-notch vocal accompanist and long time jazz educator at York University, he's often found "in any situation where taste, feel, and a jazz sensibility are important."
The cruelest month finds Eisenman fairly busy: on April 9 he accompanies vocalist Arlene Smith at the Old Mill; on the 11th he's part of a tribute to Louis Armstrong at Christ Church Deer Park; on the 15th he plays solo piano at the Palais Royal Ballroom for the Houselink charity Auction; on the 17th his trio headlines the Piano Masters Series at The Old Mill; on the 24th his trio plays Roy Thomson Hall as part of the "Spirit of Toronto Whiskey Show"; and on the 25th his trio is back at Christ Church Deer Park. See our concert listings and jazz club listings for more details.
Being busy is good for the uncompromising Eisenman, a pianistic purist who won't settle for electronic keyboards. His passion for the acoustic pervades Pianos are Orphans, a spirited rant he wrote and sent to us about "the problem with pianos." At the root of the problem, he says, is having to hire "highly trained crafts-people to even tune the instrument." He also details the neglect the instrument suffers: "Drinks have been spilled on it, it has been sitting near a heat source, without climate control … it has been treated like a piece of furniture, not a highly complex musical instrument. No one is responsible to it, and for it. The only people who can speak to its condition have a great incentive to keep their respective mouths shut. After all, managers don't want to hear about something that will just cost them money, especially when they can't hear the difference." (You can read Eisenman's entire text online at www.thewholenote.com.)
The following excerpt from Pianos are Orphans has haunted me for weeks now: "You can see the problem. A piano in a public venue is an orphan. It's not just an orphan. It's a poor, neglected, abused, fetal alcohol syndrome, crack baby that grows into one pathetic old beast that can break your heart."
Is Eisenman overdramatizing just a little? The sad truth is, not much. To echo Jim Galloway, Toronto today is not what it used to be, and this is certainly true in terms of piano rooms. It is sad to note that in the entire WholeNote jazz club directory which has now surpassed 60 locations in Toronto where you can regularly find live jazz, it's hard to come up with a dozen of them that offer an acoustic piano that's even remotely in tune.
Here then are ten recommended live music venues where you can find jazz played on an acoustic piano, accompanied by April highlights:
Lula Lounge: Artist, musician, actor, and spectacular poet Don Francks (www.donfrancks.com) will wow with pianist Steve Hunter on Thursday April 15 starting at 8:00 pm. Priceless Francks will be followed by Word Jazz: original poetry set to music, performed by Dale Percy, Chris Hercules and Jaymz Bee. $20 general, $10 for students.
Hugh's Room: Legendary Danish harmonica player and manufacturer Lee Oskar (www.leeoskar.com) is showcased with the David Rotundo Band on Wednesday, April 21 starting at 8:30pm. Oskar is heralded as one of the world's greatest rock-blues-soul harmonica players. This show will likely sell out at $25 in advance, $30 at the door.
The Old Mill: "Mays at the Movies" starring legendary New York pianist Bill Mays (www.billmays.net) with bassist Neil Swainson and drummer Terry Clarke, as part of the new Thursday Night Jazz Club series at The Old Mill. April 22 at 7:30pm, $30 Cover, no minimum.
Chalkers Pub, Billiards & Bistro: Shannon Gunn Quartet on Saturday, April 10, 6:00-9:00pm, featuring Brian Dickinson (piano), Neil Swainson (bass), Ethan Ardelli (drums), with the leader on voice. Originally from the West Coast, Gunn is a highly sought-after educator who understands and feels jazz in a profoundly deep manner. $10 Cover.
Axis Gallery & Grill: Located in the Junction, this art hub is where you can find Juno-winning Blues singer/pianist Julian Fauth (www.julianfauth.com) with bassist James Thompson every Saturday and Sunday from 12:00-3:00pm. The piano's far from faultless, but Fauth's magic touch is formidable.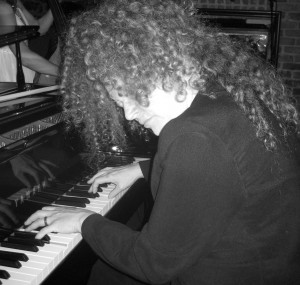 N'Awlins: Live jazz nightly in this cozy, elegant King West spot where magnificent Stacey McGregor (www.staciemcgregor.com) plays solo piano every Tuesday from 7:00-11:00pm.
The Rex Hotel, Jazz & Blues Bar: The Richard Whiteman Trio (www.myspace.com/therichardwhitemantrio) plays every Wednesday this month, 6:30pm. Whiteman is a great player who always solos with gusto. He's also one of the charming Hogtown Syncopators who lighten up the Rex every Friday from 4:00-6:00pm. Pay what you can, generous people!
The Pantages Martini Bar & Lounge: Fridays at the Pantages Hotel find the always impressive Robert Scott (www.robertscottmusic.com) paired with positively outrageous Great Bob Scott (www.myspace.com/greatbobscott). Now that's entertainment!
Gate 403: Dazzling songstress Gillian Margot (www.gillianmargot.com) delivers the goods at the Gate on Sunday April 11 at 9:00pm with Stu Harrison on piano and Jordan O'Connor on bass.
Ellington's Music & Café: Good mornings with Ben D'Cunha (www.bendcunha.com) playing piano and singing at this artsy St. Clair West hang, weekdays from 9:00-10:00am. Yup, you read right.
Have I left out a grand piano room? Send me a note by emailing jazz@thewholenote.com and I'll do my best to mention it next time.
Finally, still speaking of pianos, don't miss out on what Jane Bunnett calls her "most important and exciting concert in 20 years" when Art of Jazz presents a very special event at Koerner Hall, April 17 at 8:00pm. Flutist and soprano saxophonist Bunnett will be joined by three generations of Cuban Piano Masters: Hilario Duran, Elio Villafranca and 83-years-young Guillermo Rubalcaba. Tickets range from $20-50 and are available at www.rcmusic.ca. For what promises to be a harmonious evening you can rest assured that those pianos will be in tune!