The tragic earthquake in Haiti inspired three highly spirited full houses at Hugh's Room, thanks to the fundraiser's organizer, three-time Juno Award winning jazz artist, Jane Bunnett. The January 12 disaster came just days shy of what would have been Haiti's 4th Annual Jazz Festival, an event which would have brought Bunnett's band Spirits of Havana to the country for concerts on stages and workshops in schools. Heartbroken over the devastating disaster, she worked prestissimo to arrange the fundraiser.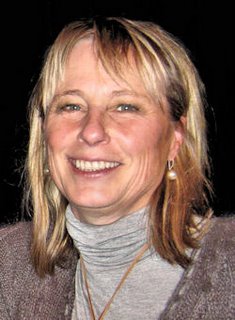 "January 28 was available, so we took it, and it sold out quickly, so we booked January 31 and when that sold out we got February 1. It was so fast - the poster never even went out! I felt funny asking the musicians if they were available for a third night."
Artists who donated their talent include Don Thompson, Hilario Duran, Molly Johnson, Laura Hubert, Amanda Martinez, Telmary Diaz, Dionne Brand, Madagascar Slim, Bill King, Sophie Berkal-Sarbit, Big Rude Jake, Chris McKool, and Bunnett's own Spirits of Havana.
"I was truly amazed by the generosity of the people. We raised $40,722 and when the Canadian government matched it, the total was over $80,000." Notably, Mario Romano made a remarkable $25,000 contribution and several people wrote thousand-dollar cheques, all funds going to Doctors Without Borders.
Three days prior to these happenings, "Curtain Down for Haiti" was a tremendous success at the Pantages Hotel. The January 25th fundraiser raised over $2000 for the Red Cross, most of it coming from the thin pockets of young musical theatre artists. The evening was co-produced by Jennifer Walls, Amy Smith and the multi-talented host of "Curtains Down", Jenni Burke.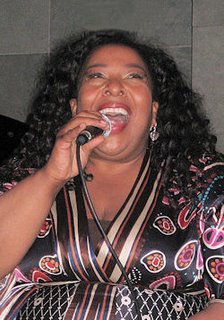 Affectionately nicknamed Jenni B, Miss Burke is a contagiously warm, funny and versatile stage presence. Her open mic "Curtains Down" is a weekly Monday night geared to singers of musical theatre, pop, jazz and cabaret, all of whom owe much to accompanist Michael Barber on the piano. By turns hilarious, dramatic, sweet, tragic and generally flamboyant, "Curtains Down" is an impromptu variety show that is consistently entertaining. Now held in the Pantages Hotel lobby, which is steps from Dundas subway station, and for a limited time every Monday: $5 martinis and wine! The latest updates about this event can be found on the "Curtains Down" Facebook Group or atwww.curtainsdown.com.
Speaking of open mics and community, one of the highlights at Lisa Particelli's Girls Night Out vocalist-friendly jazz jam 5th anniversary show at Chalkers (www.gnojazz.com) was a performance by popular television personality Fred Penner, who delighted everyone present with "The Cat Came Back". The beloved Mr. Penner comes back to Hugh's Room on March 18th. Kids of all ages absolutely must check out his website! www.fredpenner.com.
At 19 years of age, prodigious drummer Adam Arruda is set to take the jazz world by storm. Awarded the Zildjian Outstanding Young Drummer Award eight years in a row, he is reportedly working on relocating to New York City. While he's still in town, check out astounding Arruda's anticipated tributes to groundbreaking jazz composer and pianist Thelonious Monk, "The High Priest of Bop", on the nights of March 4 at The Rex Hotel and March 25 at Tequila Bookworm. If anyone deserves two tributes in one month, it's the man who was the opposite of square and whose middle name was Sphere! The two evenings will inevitably be very different, not only venue-wise but also in terms of instrumentation. Joining Arruda at the Rex will be none other than Dave Restivo on piano, Michael Davidson on vibes and Pat Reid on bass; at TB he's hired Trevor Giancola on guitar, Michael Davidson on vibes and a pair of bass players: Dan Fortin and Devon Henderson. To sample Adam Arruda check out www.myspace.com/adamarrudamusic.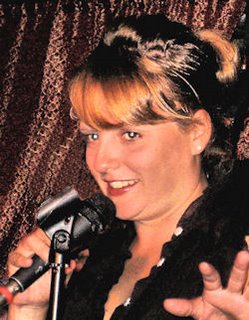 Seeking inspiration? Canada's "Sweetheart of Swing" is a walking, singing miracle that sweetly swings from her great big heart. After years of fiercely battling cystic fibrosis, Alex Pangman recently underwent a successful double-lung transplant and is now singing with more air than ever before. Her musical style is rooted in the "trad" jazz singing of the 1920s and 30s, all her own but reminiscent of Mildred Bailey, Annette Hanshaw and Connee Boswell. Catch the tantalizing jazz of Alex & her Alleycats – Dr. Peter Hill on piano, Ross Wooldridge on clarinet, Chris Banks on bass and Chris Lamont on drums – at The Rex Hotel on Saturday, March 20 starting at 9:45pm. Pangman can also be heard every Sunday 7-9pm with hubby Tom Parker's tasty country band Lickin' Good Fried at the Dakota Tavern. www.alexpangman.com
On to a new and noteworthy house gig on the Danforth: Roberto Occhipinti's trio now holds down a weekly Saturday matinee from 4-7pm at the Dora Keogh Irish Pub, just steps from the Broadview subway station at 141 Danforth Avenue. Occhipinti's on bass, Hilario Duran on keys, Mark Kelso on drums and weekly special guests such as star saxophonist Pat LaBarbera. Priceless music, no cover charge, and no you can't get a better deal than that! www.robertoocchipinti.com
The Brampton community has a brand new opportunity to embrace live jazz, with the fancy Fireside Jazz Series Brampton, Friday and Saturday nights at Aria Bistro & Lounge. This certainly isn't a No Cover situation, but if you can treat yourself plus one to a romantic evening out, the menu and venue both look promising. Reservations are "a must" with seating limited to 40 patrons and "Dinner & Show" packages that start at $75: www.queen-b-events.com. Playing at Aria on March 5 and 6 is this reporter's current favourite singer Laura Hubert with dependable Dr. Peter Hill on keys. Hubert's band can also be found at the Rex Hotel on March 13 for their monthly Saturday matinee 3:30-6:30pm as well as every Monday night at the Cameron House for a 10-midnightish nightcap. www.laurahubert.com.
Ori Dagan (www.oridagan.com) is a Toronto-based jazz vocalist, voice actor and entertainment journalist. He can best be reached by email at jazz@thewholenote.com