To celebrate the breath of spring, the three breathtaking LaBarbera brothers will play a concert at the Humber College Lakeshore Auditorium. All born in upstate New York in the 1940's, saxophonist Pat, drummer Joe and trumpeter John have each enjoyed a lucrative career and rarely have the opportunity to perform together. This highly anticipated event takes place on April 8th at 8:00pm, with general tickets at $20 and $10 for seniors.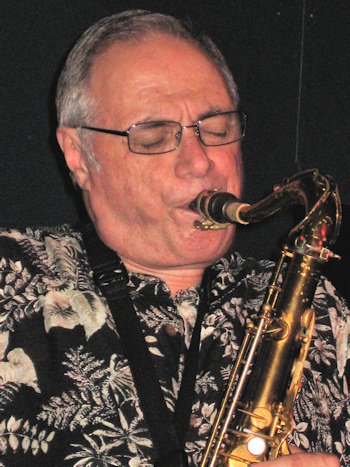 A noteworthy CD release this month is that of contagiously groovy guitarist, Dr. Andrew Scott. His third record, Nostalgia, is devoted to bebop heads derived from hits of the American Songbook. Americans Dan Block on tenor sax/clarinet and Jon-Erik Kellso on trumpet are featured alongside Dr. Scott, with the rhythm section rounded up by Canadian all-stars: pianist Mark Eisenman, bassist Pat Collins and drummer Joel Haynes. Arrive early at The Pilot Tavern on April 11th from 3:30 to 6:30.
This month The Rex Hotel Jazz & Blues Bar welcomes a plethora of out-of-towners, including New York City's Rudder, Oren Neiman and Dan McCarthy; Rochester's Madeline Forster; Snarky Puppy from Texas; San Francisco's Transit Collective; Montréal's Viva Nova, Bharath Rajamkur and Joel Miller and Frenchman Phillipe Lejeune. Dates and details are available at www.therex.ca.
Financial perils cannot be good for fundraisers, making benefactors all the more treasured. Jazz For Herbie (www.jazzforherbie .org) is dedicated to granting life-saving or life-altering surgeries to the world's children by bringing them to Toronto's Hospital for Sick Children. The 8th annual benefit will feature venerable vocalist Jackie Richardson, eternal hipsters The Shuffle Demons and rising star Laila Biali. The Old Mill houses Herbie on April 18th from noon to 3:00pm, with single tickets at $50. If you cannot afford this but still wish to contribute to a good cause, vocalist Amy Noubarian is holding a fundraiser for The Ride to Conquer Cancer at Gate 403 on April 26th from 2:00-8:00pm.
Ori Dagan