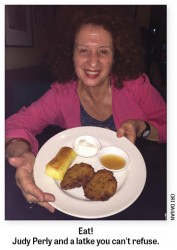 Toronto musicians have been cutting their teeth at Free Times Cafe for 35 years. That's how long owner Judy Perly, a local hero to Toronto musicians and audiences alike, has been booking: since the early 1980s, over 12,000 evenings of music, more than 400 poetry readings, 500 nights of comedy and improv, 100 original art shows and nearly 1000 concerts of klezmer and Yiddish music.
Located just seconds from Kensington Market at 320 College Street, Free Times is a casual, inviting, warm restaurant and music venue. The live music is presented in the cozy back room, seating approximately 50. According to Perly, the much buzzed-about "Bella, Did Ya Eat?" Sunday brunch literally keeps her business alive. "It's not unusual that we will do in sales more at the brunch than in the back room the entire week. The brunch averages 100 to 200 people a week. The reason it works is because there is nothing else like it – in the world!" Indeed this might be the only place on earth that has weekly klezmer and Yiddish music accompanied by an all-you-can-eat buffet, serving 50 items from smoked salmon and potato latkes to gefilte fish and blintzes. Bella's Bistro, the front room where the Brunch is served, is sentimentally decorated with a variety of art including a large portrait of Perly's mother, painted by Judy herself.
"I wanted to do something for my mother after she passed away. And the more connected I got with my mother, the better things got. My mother would always get the right ingredients – she worked very hard all the time. People say I work hard, but I say she worked way harder. She had a husband and three children."
Growing up, the Perly family's record collection contained everything from the blues and reggae to folk icons like Ian and Sylvia, Joan Baez and Buffy Sainte-Marie, as well as classic jazz from Holiday to Sinatra.
"The other connection I have to jazz is that late in their lives, my parents started following Dixieland jazz. My mother even made up this crazy dance! (laughs). In fact Jim Galloway played for free at my parents' 32nd anniversary because he loved them so much …"
I pause to tell Judy about Galloway's work for The WholeNote and his support for the Toronto jazz community, and she reminisces about the great jazz musicians that walked through her doors, especially in the early days.
"I would say the music started on a regular basis in 1982. The very first time was a year earlier, at an art opening. I was going out with a man who was a part-time bass player [in the] Sam Miya Trio – Sam and Roy Miya who were Japanese Canadians – and I was going with Sam. He played bass and Roy played piano. Then Sam's nephew was studying at York University and he asked me, 'Can we play on Saturday night?' We had a very small room in the back in those days. So he started on Saturdays, and we gave him some food, and then other people asked. So many great musicians.
"If you scrape the surface of the Toronto music scene you will find a lot of people who started out at Free Times. We didn't even have a stage. It was a lot of folk singers at that time. Tex Konig, Mose Scarlet. Ian Tamblyn, who is coming back here in September, he's from Ottawa. Sneezy Waters is another icon. David Rea who played guitar with Ian and Sylvia. And then I hired a gentleman by the name of Michael Katz who used to bring all these musicians from the great folk festivals. Soon we were packed every night. We were one of the only places as there weren't a lot of clubs like ours. George Koller was here all the time. Micah Barnes, Fern Lindzon, Brian Katz, Rob Piltch. We had a poetry series with major poets …
"But I have to tell you, the economics of jazz are hard. This is a small room and jazz audiences don't spend a lot of money. They sit on a drink, it's not a party night, it's a little bit more serious, right? So I never really sought it out, but of course I always welcomed it, and the first time we had music it was jazz."
But it wasn't always easy, to say the least:
"It was a real struggle. And the downside to all of this where the music was concerned was that for quite a few years – five years I would say – I didn't even enjoy the music. I just wished that it would go away! I was mean, I was nasty, I never was here at night. After I started the brunch I realized I could do $2000 to $3000 in five hours and the whole night of live music was $300. From a business point of view sometimes it feels like banging your head against the wall. But I didn't have a choice – I tried to kill it and it wouldn't die! (laughs) Isn't that interesting that it just wouldn't die. And of course, it's because of the music that I've been able to go on, because as you know music is a healer. It makes you feel so good about everything, and you have those moments. Like any relationship there are the ups and the downs … and I realized that I had to change my attitude. I had to go through a spiritual evolution in order to do this because things weren't going to go my way, and I had to deal with it. I'm happy that I was able to get out of that."
Speaking of healing music, one of the series that Perly is most excited about presenting these days happens on the third Wednesday of every month called "Where Have All the Folk Songs Gone" hosted by folk duo Sue and Dwight. Covering classics by Dylan, Seeger, Peter Paul and Mary and many more, this is a popular series in its fourth year that often sells out.
"People are practically in tears and they keep coming back! A lot of my brunch customers heard about it on the newsletter and once they come once, they are hooked!"
After all these years of hard work and determination, does she consider herself a success?
"I've lasted. I guess I'm sort of successful now, but I worked for nothing for years, and I cried for ten years straight! (laughs). Nobody helped me. They'd say, too bad, so sorry! I used to want to quit every day, then it was every week, then monthly and now it's maybe once a year.
The thing is with me that I'm not coming at this with an agenda. That's why the club has lasted. I'm a conduit – I allow other people to do things. My agenda is keeping my business going."
Meet Judy Perly in person at the Ashkenaz Festival where she will be a featured guest, speaking on Saturday September 3 at 6pm on the Fressers Summit and a not-to-be-missed special demonstration of her potato latke-making on Monday September 5 at 2pm, including latkes!
Ori Dagan is a Toronto-based jazz musician, writer and educator who can be reached at oridagan.com.