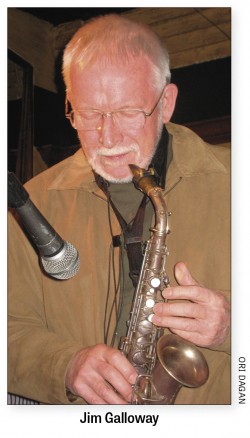 Locals are fiercely proud of the Festival International de Jazz de Montréal, and who could blame them? Now in its 36th year, FIJM is ranked as the largest festival in the world by the Guinness World Records, presenting 1,000 concerts over 10 days in 15 concert halls and 10 outdoor stages. Roughly two-thirds of the concerts are free, and a major part of the downtown core is closed to traffic for the entire run of the festival, resulting in random intoxications and increased revenue. Uniquely, even the souvenirs are memorable. T-shirts, candles, umbrellas, magnets and toys are all adorned with the festival's jazz cat logo. And then there's the music!
Attracting so many jazz greats over the years that it would seem pointless to list them, FIJM also presents annual awards – honours usually bestowed upon artists that are on the bill. The awards are named after the genre's most iconic figures, from Miles Davis to Ella Fitzgerald, Antônio Carlos Jobim to Oscar Peterson, the latter of which this year is being given posthumously to Jim Galloway. To quote the FIJM website: "One of the world's premiere soprano saxophonists, Jim Galloway built his reputation with a joyous, lyrical style and his love of swing, along with a gift for dissolving the boundaries between traditional and modern jazz. He was co-founder of the du Maurier Downtown Jazz Festival (today the TD Toronto Jazz Festival). Thanks to his many collaborations with the greatest names in jazz and his globetrotting travel, Jim was a fantastic artistic director of the Festival from 1987 until his retirement in 2009." (They didn't mention that he was a treasured contributor for The WholeNote for 17 years, but we'll forgive them).
Toronto Jazz: The richly deserved honour for Galloway will come at the same time as a special salute to Peterson himself at the Toronto Jazz Festival, which kicks off with "Oscar Peterson's 90th Birthday Celebration" at Jane Mallett Theatre, Thursday June 18 at 8pm. Narrated by Peterson's daughter Celine, the concert will feature two original members of the pianist's illustrious quartet: Swedish guitarist Ulf Wakenius and Bronx-born drummer Alvin Queen, joined by one of the world's premier bassists, Christian McBride, and Toronto's pride, Hungarian-Canadian pianist Robi Botos. VIP ticket holders will be treated to a post-concert reception with the opportunity to meet these fantastic musicians.
Josh Grossman: Following Jim Galloway's retirement as the Toronto Jazz Festival's artistic director in 2009, Josh Grossman had some big shoes to fill. Curious about the curating process, I asked him what it's like on the other side of the inbox, especially as the festival becomes more inclusive genre-wise:
"We always start with quality: we're seeking to put the best local, national and international musicians on our stages," says Grossman. "From there we aim to present a wide variety of jazz, music which has been influenced by jazz and music which has influenced – or is influencing – the development of jazz. Although it's impossible to satisfy the tastes of every jazz fan, our goal is to have, as much as is possible, something for everyone. We also work towards a great mix of free and ticketed shows; this year our audiences can experience outstanding local and out-of-town talent on a variety of free stages. Challenges abound. While we bring extensive wish lists to the programming table each year, artist availability and fee requests can sometimes whittle down the lists quickly. That said, when we land an artist we've been trying to book for years – or a newer artist who has us particularly excited – it's difficult to contain our euphoria."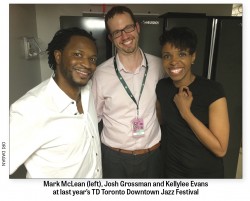 The festival's hub is at Nathan Phillips Square, which features free programming just about every day of the festival. Additional free stages are at locations across town: the Distillery District and Shops at Don Mills. The rest of the venues consist mostly of clubs, restaurants and hotels that feature live music, often all year round but sometimes only temporarily. New this year are the Shangri-La Hotel at University and Adelaide, Burdock at Bloor and Pauline and the Baka Gallery Café at Bloor and Beresford. Supporting these venues during the festival will increase the likelihood of continued live music, so please do your best, dear reader! The same goes for all the shows really – this is a difficult time for live music venues and the music industry in general. As the famous Duke Ellington blues goes, "Things Ain't What They Used to Be" and you better believe it.
Not to be missed at the Toronto Jazz Festival this year: Renee Rosnes at Jazz Bistro June 18 to 20; Ahmed Mitchel Group at Poetry Jazz Café June 21; Al Jarreau at Nathan Phillips Square June 22; Kurt Elling at Koerner Hall June 23; Suzie Vinnick at the Distillery June 24; Eli Bennett Quartet at the Rex June 25; Charles Lloyd at Jane Mallett on June 26; Jackie Richardson and Micah Barnes at the Old Mill's Home Smith Bar on June 27; Brian Barlow's Big Band featuring Heather Bambrick performing Duke Ellington's sacred music at Christ Church Deer Park on June 28; and Jamie Cullum at Koerner Hall on June 29.
One very new and welcome addition to Toronto's festival is the addition of an official jam session, which has been missing for a few years now. Exclaims Grossman:
"Hooray! One of the most regular pieces of feedback I've been given over the past six years is "we need a jam session"! We're excited to be running a jam six out of ten nights this year at the Jazz Bistro. Jam sessions are always a great opportunity to meet and greet some of the artists performing at the festival and, for local musicians, a chance to share the stage with out-of-town guests. Primarily under the direction of Chris Gale and Morgan Childs, this year's official festival jam is going to be a lively, welcoming affair. I hope to be attending as much as possible, so do come and say hello.
Full festival listings are available at torontojazz.com.
Beaches' Bill King: On more than one occasion I have told someone that I'm performing at the Toronto Jazz festival and they asked if it was in the Beaches! The popular Beaches International Jazz Festival embarks on its 27th season this summer. Aside from being a festival popular amongst Toronto residents, it is one that players love to play, and not merely because they get paid. All the shows are free, so it's easy to get people to come out and more often than not they buy CDs after an enjoyable performance. I asked artistic director Bill King what the curating process is like and what artists should know if they wish to be considered.
"A lot has changed in the make-up of this city and surrounding area these past 27 years since we first mounted BIJF," says King. "We are a different place with broader music tastes, an ever-growing ethnic community and a young music populace crossing all boundaries. We have hundreds of young people, most from university music programs, playing in street and main stage bands. Many have backgrounds in jazz, classical and pop. They come from York, U of T, Humber and beyond and band together and play what they want to play. We provide a forum for them and don't interfere. (There's no rock unless by accident!) I'm alerted about these bands – I may find them on YouTube or they may 'arrive' via email, and I investigate. If I see the bands are serious, developed and committed – I will find them a performance spot."
There will be three weekends this year, with one added to coincide with the Pan Am games. Says King:
"Woodbine Park is in Pan Am games territory. We wanted to make sure we could play a part in the proceedings by giving those crowding the Lakeshore a place to chill and enjoy food, music and the good life. All they have to do is cross the highway and join the festivities. We programmed that first weekend to be responsive to the type of music you would expect from countries in warm, tropical climates."
Some of the hot artists to watch at Beaches this year include the Melbourne Ska Orchestra on July 11; Andria Simone on July 12; God Made Me Funky on July 17; Parc X Trio on July 18, to name a few. Full details are at beachesjazz.com.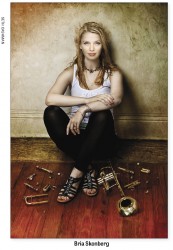 Finally, I'd like to give a nod to a few concerts worth catching if you can, starting with the sensational Bria Skonberg at the Ottawa Jazz Festival on June 21. Skonberg (briaskonberg.com) is a trumpeter and vocalist of the highest calibre. Originally from Chilliwack B.C., she is currently based in New York and taking a bite out of the big apple with her considerably impressive chops!
The iconic David Clayton-Thomas of Blood, Sweat & Tears fame recently released Combo, an album of standards which finds him in the superb company of Mark Kieswetter on piano, George Koller on bass, Ben Riley on drums, Ted Quinlan on guitar and Colleen Allen on saxes. The recording is a throwback to the singer's roots on the Yonge Street Strip in the 1960s. Now in his 70s, Clayton-Thomas (davidclaytonthomas.com) delivers ballads with smooth tenderness and can still wail the blues like nobody's business. Don't miss him at the Huntsville Festival of the Arts on July 30.
Touring the country from coast to coast will be JUNO darling Christine Jensen (christinejensenmusic.com) and her 19-piece jazz orchestra featuring Ingrid Jensen on trumpet. The music is as dark, bold, complex and energizing as black coffee of the highest order! Stops include a free lunchtime show at the Toronto Jazz Fest on June 25 and an evening concert at the Ottawa Jazz Fest on June 28.
When you do discover your new favourite artist, buy the CD and get it signed while you still can – they haven't figured out how to autograph digital downloads just yet. Happy Summertime and here's hoping yours is full of live music!
Ori Dagan is a Toronto-based jazz musician, writer and educator who can be reached at oridagan.com.