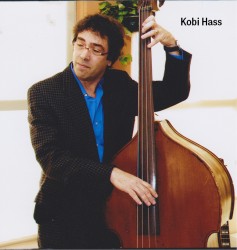 On Wednesday March 18 starting at 6:30pm at The Rex Hotel Jazz & Blues Bar it will be difficult to find a seat. At the Spotlight on Israeli Culture event the bill will feature three headlining acts, each exciting for different reasons. The biggest name of the three is Anat Cohen, a seven-time Jazz Journalist Association Clarinetist of the Year and internationally acclaimed saxophonist, known for her virtuosity on various instruments, the richness of her tone and an utterly enchanting stage presence. It will be Cohen's first appearance in Toronto as leader.
Then there is the precocious Guy Mintus Trio, of which two musicians are America-Israel Cultural Foundation scholarship winners. Twenty-two-year-old Mintus is the recipient of ASCAP's Herb Alpert Young Jazz Composer award and a full scholarship student at the Manhattan School of Music. Following appearances at the Kennedy Center, the Apollo Theater and the Metropolitan Museum of Art, the trio makes its Canadian debut.
The third headliner is Kobi Hass, whose quartet will be opening the show, and who is a wonderful recent addition to our city's musical landscape. Since moving to Toronto in 2010, the Tel-Aviv-born bassist and composer has mostly worked as a sideman, bringing many positive vibes to live music here with his emotionally charged musical versatility. The original songs to be performed at The Rex have been described as "soulful compositions" in the press release, to which Hass adds:
"The people I will play with are local musicians with whom I perform from time to time – Barry Livingston, pianist, who writes beautiful and soulful tunes, Ernie Tollar, saxophones and flutes, who is in charge of the more experimental writing, and Paul Fitterer, who turns keeping time into a very imaginative and surprising process. Each of us brings in his own tunes, we 'try them out,' and I feel that we've developed our own sound and atmosphere.
"I find it hard to characterize the music, but I like what was written in the press release. Indeed the music is based on 'soulful compositions' that each of us contributed to the quartet. The forms are relatively open, yet the compositions are very classically written. There is a certain harmonic colour that we all like and it helps the quartet developing its own sound. The improvisations do not stay in the traditional jazz idiom, and we try things as we go. Playing the acoustic bass in this format is a very challenging process for me, being an e-bass pop-rock player for many years."
Hass got his break on the Israeli music scene soon after he picked up the instrument:
"After my military service I moved to Tel Aviv to study choir conducting in Tel Aviv University. Somehow I got a hold of an electric bass and started playing with a neighbour of mine, a jazz piano player. It was just for fun. However, not long after I started playing the bass I received a phone call asking me to play a few gigs with Ofra Haza, a very well-known Israeli singer. One thing led to another, people started hearing about me, and in no time I played in the biggest shows of those days – Yossi Banai, Gali Atari, theatre shows and more. I was a lucky guy!"
If the name Hass rings a bell, a few years back you may recall that at the age of 15, cellist Daniel Hass (son of Kobi) won the Marta Hidy prize among other prestigious awards; turns out the apple doesn't fall far from the tree.
"It was a family decision to move to Canada and we are very happy here. It seems to me a lot is happening here musically, and I am happy to have met some people that I enjoy making music with. The city seems to be very vibrant and there is a lot of music happening. I played in a Toto Tribute Band and got to know some of the rock scene, and I played some jazz music, experiencing what the jazz scene is like."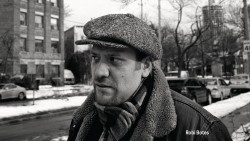 Robi Botos: There's another very exciting event happening this month, which I personally believe will be a historic night of music. On Thursday, March 26 at 9pm incomparable pianist Robi Botos will release his new recording, Movin' Forward, at Jazz Bistro with musicians that one simply must hear to believe, and for which words can do little justice. Says Botos:
"Drummer Jeff 'Tain' Watts is one of my heroes. I also play drums and I admire him greatly, so it's extra special for me to have him on this record. Both him and bassist Robert Hurst played with Wynton and Branford Marsalis whose music I grew up on, and seriously Robert Hurst has everything you would ever want from a bass player. I used to listen to this band with Kenny Kirkland on piano, who's one of my early main inspirations to play piano."
Produced by the artist in collaboration with Scott Morin, the album marks the first time Robi Botos records with American musicians, with the addition of saxophonist Seamus Blake, born in London England, raised in Vancouver Canada and currently based in New York City.
"Seamus Blake is one of the most complete musicians out there in my opinion. He is perfect for my writing, which has many different influences."
Consisting of ten original tunes and two standards, the album Movin' Forward will be available for sale in stores and online on March 24. I must say that one of the perks of the writer's job is hearing music before it is released, and quite honestly it is the most exciting jazz recording I have heard in a very long time.
"Some of the music you'll hear on this album is more recent, fresh, and some of them I wrote a long time ago," says Botos. The two standards I chose are Softly as in a Morning Sunrise and Close to You which is more of a pop tune rearranged in a groovy, funky way. I specifically chose the tunes for the group of musicians. I focused on what would feel good."
Just how is this album different from his first effort, Place to Place?
"This album represents a lot of my musical sides. From Hungarian Romani (Gypsy) music to straight ahead jazz to funk. It's also my first recording with American musicians as a leader. I really consider this as my debut album. Also, it is a childhood dream to collaborate with these amazing musicians. I'm very excited to share it and I hope people will like it!"
The event at Jazz Bistro is expected to sell out; reserve your seats as soon as you possibly can at 416-363-5299. Good luck!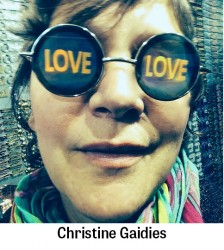 Monarch Fundraiser: On Sunday March 22 from 2 to 6pm a beautiful singer-songwriter, Christine Gaidies, will be raising funds for her new CD at the Monarch Tavern on Clinton Street, sharing the stage with a lineup of friends rallying to her cause. I was going to say it's a list too long to print. But what the heck: Sandi Marie, Diane Baker Mason, Nicole Coward, Andrew M. Smith, Dan McLean Jr, Michelle Lecce, Orit Shimoni, Chris Hess, Erin Ford, Maia Waern, Debbie Fleming, Linda Maruta, Henry Cifersons, Kevin Kennedy, Valerey Lavergne, Eunji Kim, Michelle Denis MacDougall, Kristin Mueller-Heaslip, Alan McKinlay, Niki Andre, Lesley Roylance, Harpin Norm Lucien and others to be announced!) Show some love to Christine Gaidies who could use your support at a particularly challenging time – her cancer has returned and any funding beyond completion of the CD will go towards her treatments – book your reservations through the Monarch for March 22 from 2 to 6pm and check out the GoFundMe campaign for other ways you can help.
Speaking of me! Finally, I hardly ever do this but I thought I'd let you, dear readers, know about two of my own gigs this month, especially since they are both the beginning of monthly residencies, the last weekend of every month.
Friday March 27 from 6 to 8pm I will be performing a Pay-What-You-Can dinner show with two of my favourite musicians at the 120 Diner located at 120 Church Street. The menu is very good and reasonably priced, the owners are kind to the musicians, and the acoustics are excellent – as a wise poet once wrote, "Who could ask for anything more?"
Saturday March 28 from 9:30 pm to 12:30 am I will be back at the intimate Poetry Jazz Café, a hidden gem neatly nestled in the heart of Kensington Market at 224 Augusta Avenue. Like a few other venues in town, this one does not take reservations, except for parties of ten and over, so arrive on time to get good seats. Each month I'm joined by the electric Patrick Hewan on keys, with rhythm section featuring two special guests announced mid-month on my website at oridagan.com.
Thank you for your support, genuinely. In an age when there is an abundance of entertainment available at the touch of a button, I think I speak for all jazz musicians and music venues when I say, "We hope to see you in the clubs!"
Check out Bob Ben's Mostly Clubs, Mainly Jazz for all the details.
Ori Dagan is a Toronto-based jazz musician, writer and educator who can be reached at oridagan.com