"If you don't live it, it won't come out of your horn." – Charlie Parker
Jim Galloway's way with a phrase – be it on the bandstand or on the page – was inspiring beyond words. This column is dedicated to the memory of a great artist and a true jazz ambassador whose loss is felt around the world. I'll have more to say about him later in the column.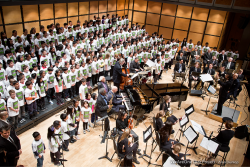 First though, I want to speak of the power music has to unite us all, as manifested in a very special event that takes place on Wednesday February 11 at the Toronto Centre for the Arts. That evening, the We Are One Jazz Project will present its sixth annual gala concert, featuring legendary jazz pianist and educator Barry Harris, multi-instrumentalist and Order of Canada member Don Thompson, a big band, a string section, an adult jazz chorus, and at the heart of it all, a children's choir comprised of 275 members from eight north Etobicoke schools.
This incredibly ambitious undertaking is the result of many days and nights of hard work by countless individuals, most notably Howard Rees, the founder and president of We Are One Jazz Project, and 85-years-young bebop pianist and jazz education pioneer, Barry Harris. The seed of their fruitful collaboration dates back to 1978, when Rees moved to New York City to study with Harris for a period of six years.
"Upon returning to Toronto, it became very important to me to both spread the wisdom that Barry shares so freely with his students and to do my part in documenting his methodologies – which to that point had been an oral tradition," says Rees. "Over the past 30 years this has resulted in the creation of Howard Rees' Jazz Workshops, celebrating its 30th anniversary this year; the Barry Harris Workshop Videos, three instructional book/dvd sets featuring Barry and dubbed the 'bebop bible' by Tommy Flanagan; an online school featuring over 200 video lessons on Barry's methodology; harmony articles for Keyboard Magazine; clinics at colleges in 10 or 12 countries, and the We Are One Jazz Voices, a choir that performs Barry's original compositions and his arrangements of standards."
In addition to bringing jazz to a wider audience and education to the general public about the jazz tradition, around 2008 Rees and Harris pondered the possibility of using jazz as a force for social change. The result was the founding of the We Are One Jazz Project as a Canadian charitable organization.
"Our purpose is to harness the beauty and power of jazz to inspire and empower young students who don't have access to high-level music programs at their schools. We accomplish this goal through an intensive four-month program that brings together the students with master musicians in an enriched learning and performance environment. We work with several hundred students in grades 3 to 6 each year. Since 2008 we have brought the Project to 2,000 students in more than 50 schools in six priority neighbourhoods of Toronto. There are many wonderful stories, such as the student who stopped stuttering after being in the program. Another where a student sang a solo at a 300-member choir rehearsal after being mute (unbeknownst to us at the time) since the beginning of the school term. When we began in 2008, the city had identified 13 areas as 'priority' neighborhoods. As of this year that number has been revised to 31. So, as for future plans, we look forward to bringing this award-winning and life-changing program to many more students for years to come."
The music performed at the concert is written and arranged by Barry Harris, and the program's success relies greatly upon its teachers, including vocal coach Rita di Ghent who has the following to say:
"Being the jazz vocal coach for the WAOJP is endlessly fascinating and rewarding. I've always taught university students so for me, teaching jazz to youngsters has added this whole lovely dimension to my teaching career. Barry Harris' tunes are stunningly beautiful and complex, but our grades 3 to 6 can sing anything you throw at them – not because they're musically trained, but because they're little sponges. They don't know that jazz music is hard! The process of watching the singers unfold over the course of five months really is magical. We get to see children of all backgrounds and psychologies become hooked by the music and the spirit of working together. It changes their lives. And so it changes mine."
A new addition to the staff this year is children's choral conductor Sophia Perlman, responsible for rehearsing the choir and making sure that We Are One sings as one.
"Because I grew up with so much choral background in my own early musical life it has been really nice to see it reinforced," says Perlman. "For me personally it's interesting to see the way that choral training can reinforce jazz – I don't think it's a connection that necessarily gets made all of the time. For example, as an improviser, if you have to follow harmony, you're going to have an easier time if you've had to be responsible for singing the inner parts of a harmony in a choir such as this one."
Perlman also emphasizes the profundity of having Barry Harris work directly with the children.
"Kids in schools are not taught to necessarily connect composers with living people – generally if you ask kids who are some composers, they will name mostly dead composers. And so for these kids to learn these songs for weeks and weeks and then to sit there and learn the songs from the person who wrote them, and the fact that he will be playing the songs with them on the eleventh, it connects them to the music and the fact that music is made by people, and I think that's really important."
NOW BACK TO GALLOWAY ……………………………………………………
It's fitting to focus on guitarist, arranger and bandleader Martin Loomer, whose 14-piece outfit, the Orange Devils, would likely not exist were it not for the encouragement of one wee yet powerful jazzman:
"I met Jim Galloway in the late 1970s," remembers Loomer. "His cornetist with the Metro Stompers, Ken Dean, was the father of saxophonist Alex Dean, who was in the band I was in at the time, Shox Johnson and his Jive Bombers. Jim wanted to organize a band like the National Jazz Repertory Orchestra that Chuck Israels was leading in the U.S. Ted O'Reilly booked the proposed band for a CJRT Science Centre concert, forcing us both to get moving. I wrote arrangements by transcribing numbers from tapes Jim gave me, and he organized the personnel and logistics.
Jim introduced me to any number of great bands and artists whose recorded work I continue to mine for pieces the Orange Devils can recreate and perform live once again. He gave me the opportunity to transcribe any arrangement I thought suitable for the band, and to get it played as soon as it was ready. I also met and worked with many great musicians, not only from Toronto, but elsewhere, like Jay McShann, Fraser MacPherson and Clark Terry. Certainly his influence changed the direction of my musical career and most of my endeavors for the past 25 years."
These days Martin Loomer and the Orange Devils make for happy ears and happy feet when they perform at private functions, from dance halls to weddings, as well as every second Monday of the month at the Monarch Tavern on Clinton Street.
"The band loves playing at the Monarch Tavern," says Loomer. "The management and staff are great supporters and super co-operative. They've been very patient and allowed us the chance to try and develop a following. And they have that great rarity, a grand piano, which they maintain quite well! The ambiance is perfect for what we do. It's kind of like having a paid rehearsal with a bunch of friends dropping by to listen and party with us. Relaxed and fun. Because of our size and style, we haven't been able to play many other venues. We've done several concerts, notably for the Duke Ellington Society, which are wonderful, but they don't have the same relaxed atmosphere as being in a club, not to mention the availability of alcohol."
In addition to reed players such as Merlin Williams, Tom Skublics and Andy Ballantyne, soloists include Scott Suttie on trombone, John MacLeod on trumpet and Richard Whiteman at the piano, to name a mere few. In addition to playing instrumental charts by the likes of Fletcher Henderson, Benny Carter, Jimmy Lunceford, Count Basie and Duke Ellington, each gig features a handful of vocal tunes delivered charmingly by Rita di Ghent. Says di Ghent:
"Being the band vocalist in the Orange Devils is a dream gig. Who wouldn't want to sing on stellar arrangements with A-list players that swing like crazy? And Marty is a dream bandleader. He knows my voice and chooses repertoire accordingly: a lot of bluesy material like Fine Brown Frame and Going to Chicago and complex ballads like Ellington and Strayhorn's Daydream. He consults with me on every tune. He's so kind and talented. I'm delighted that his tireless work has paid off and that the Orange Devils are quickly becoming the 'it' band with the swing dance crowd."
Indeed, what has made the monthly Mondays especially marvellous of late is an increasingly loyal following of swing dancers. Says Loomer:
"I have to say, I'm always mindful of the fact that the music we play was originally conceived to be played for dancers. So we're all very pleased when it can serve its original function and inspire swing dancers to get out on the floor and show their finest Lindy Hop moves. If the dancers are in the mood, then the band falls in the groove and we feed on each other's energy."
Monday February 9 will be the next gig for Martin Loomer and the Orange Devils. Ten dollars at the door is the best deal in town, and while enjoying these fantastic arrangements performed by stellar players and joyously interpreted on the dance floor, I challenge you not to smile!
Ori Dagan is a Toronto-based jazz musician, writer and educator who can be reached at oridagan.com.