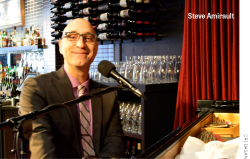 Pianist Steve Amirault is a welcome addition to the Toronto music scene. The critically acclaimed Acadia-born musician has been based in Montreal for most of his career; he also lived in New York City from 1990 to 1993 where he worked with Dave Liebman, Sheila Jordan, Eddie Henderson, Joe Chambers and Eddie Gomez. In this country he has had the pleasure of working with Ingrid Jensen, Christine Jensen, Kirk MacDonald, Mike Murley, Seamus Blake and countless others; and since September of 2014 he has been happy to make Toronto his new home, already having performed at Jazz Bistro, The Rex, as well as the Savoury Sweet restaurant in Niagara Falls and the Jazz Room in Waterloo.
"I love it here and have found the scene, fans and musicians very welcoming," says Amirault.
Known primarily as a pianist with an energetic, thoughtful style, in the past decade he has added vocals to his act, revealing a smooth and sensitive vocal instrument.
"I sang a lot of pop and rock music in high school, but when I went to the University of St. Francis, I put singing aside and concentrated on the piano. Then in my early 30s I became interested in vocal music and I started writing lyrics. It seemed natural to put words to my music and I have always thought myself to be more of a songwriter than jazz composer. I wasn't planning on becoming a singer, but about seven years ago I started singing one song per set on my shows, to see how it felt, and fell in love with it. I recorded my first vocal CD, One Existence, a few years ago, and I'm now preparing a standards recording."
On December 11 at 8pm Steve Amirault will perform a solo show at Toronto's most intimate venue, Musideum.
"I'll play a mix of original pieces, both vocal and instrumental, and some new arrangements of standards that will be on my next recording. I'm really looking forward to playing my music in this lovely space."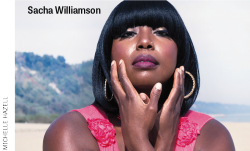 There's no mistaking that soulful vocalist Sacha Williamson sings directly from her heart, taking listeners on a journey that is frequently spiritual and always expressive. While one can hear jazz, blues and R&B in her delivery, Williamson's original sound mixes contemporary traditions including new soul, hip hop and electronica. On Sunday December 7 at Hugh's Room, Williamson celebrates the release of her latest collection of originals.
"I'm all over the place but I think it blends nicely," she says. "One song is a down tempo soul tune that goes into a bossa nova…another one starts with hip hop beats with Billie Holiday-esque vocals on top. It's called Love Life and these songs are all about elements of my love life and places I've been in love – everything from the joy and the heat of it, to anger and the uncertainty of a relationship."
With music that often relies on extensive production, one of Williamson's challenges is in translating it into a live performance.
"You need to have a very highly skilled band – and my thing is with this kind of music I need to have a pianist who definitely knows more than one kind of genre – he needs to know Odyssey Arp and 808 sounds – synth sounds – I guess you can say he needs to have gone through the Herbie Hancock school."
Joining Sacha Williamson at Hugh's Room on December 7 will be keys wiz Michael Shand, along with bassist Andrew Stewart and drummer Maxwell Roach.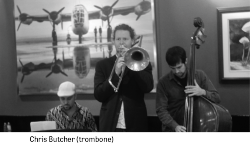 Trombonist Chris Butcher keeps himself busy with a variety of projects these days, including the Heavyweights Brass Band, The Lula All Stars, Changui Havana, Roberto Linares Brown, as well as his own quartet, which just wrapped up a residency at the Bellwoods Brewery. This month he is excited about playing a gig with Jay Douglas and his All Stars featuring the patriarch of Jamaican jazz, 82-year-old Ernest Ranglin, who was Bob Marley's guitar teacher as well as one of the most prolific record producers in Jamaica's history.
"The last time he was in town he played the main stage of the Luminato Festival on the week of his 80th birthday," remembers Butcher. "Age has not slowed him down and he is still a pervasive and individual voice on the guitar."
Ranglin, along with Jay Douglas and his All Stars, will perform an afternoon Sunday Jam at Seven44 (formerly the Chick'n Deli) on December 14 at 4pm. Tickets are $50 at the door or $40 in advance and can also be purchased at Henry's Records in Scarborough, 130 Shorting Road, or at Crasher and O'Neil Barbershop at 169 Eglinton Ave. W.
In addition to Butcher's busy performance schedule he hosts Dig! On CIUT 89.5FM every Wednesday from 12 to 2pm.
"The show is largely geared as a jazz show but I have an eclectic taste and deep love for many styles of music so expect to hear anything I've been digging on lately. I try and keep the show very connected to the Toronto scene on the ground level. That means you're going to hear tracks by local artists or people coming to town before they're released and before the big radio boys in town are playing them. I also have artists in for interviews and features at least on a weekly basis. This means you may hear a renowned musician with an international following like Elizabeth Shepherd or Adonis Puentes or you may hear a local guy like James McEleney, the bassist in my quartet, down playing tracks and talking music. You can tune in worldwide at ciut.fm."
Speaking of James McEleney, he just let me know of an exciting weekly residency he has been enjoying with The Breakmen Trio for the past few months in Toronto's west end, Thursday nights at the Passenger located at 2968 Dundas Street West.
The Breakmen Trio is chordless: Bobby Hsu on saxophone, James McEleney on bass and Sly Juhas on drums.
"I have an affinity for this formation," says McEleney, "because of classic Sonny Rollins recordings like Way Out West and Live at the Village Vanguard, Toronto's own Time Warp (which is now a quartet but still without chords) and as I player I find it feels very open and free."
Of his sidemen, McEleney says: "I work in a variety of settings with Bobby Hsu including his group A Sondheim Jazz Project. He and I have very similar tastes in music and he is well-versed in the world of chordless trios, in particular the aforementioned Sonny Rollins records. Sly Juhas is a no-brainer for this gig. He swings, he has very focused ideas and has a way of pushing everybody's playing up to a higher level. In the past year or so the three of us started to get together regularly to play tunes and work out some musical ideas so we've been really excited to share our work. Any day where I get to play music with these two is a great day."
The Passenger is an intimate space with a cool vibe, great food including some late night snacks, a special cocktail menu and a wide selection of craft beer. There's no cover for this series, which they call "The J-Train." Join the Breakemen Trio at The Passenger on a Thursday night for some jazz in the Junction.
Ori Dagan is a Toronto-based jazz musician, writer and educator who can be reached at oridagan.com.