"These Are a Few of My Favourite Clubs"
Preamble: Sugarcoating the sad truth would be a disservice. As a member of the Metro Jazz Society recently said, "We're do-ing everything we can to keep this music alive, because it's dying." Live music is an art form said to have healing properties. This season and year-round, to help Toronto's jazz scene survive, heal, grow and prosper! This community still mourns The Colonial, Bourbon St., Basin Street, East & 85th, The Bermuda Onion, George's Spaghetti House, The Montreal Bistro and The Top O' the Senator. Clubs have tumbled and music policies continue to downsize. Jazz today is tough to market for so many reasons; most establishments that operate for any length of time are labours of love rather than get-poor-quick schemes. Attention Readers: the musicians that play this music in this city would greatly appreciate your support in the form(s) of attendance, attention, applause, feedback, eating, drinking and tipping. Thank you for listening.
"What is your favourite jazz club in Toronto and why?" I posted this question to my Facebook, Twitter and Myspace profiles and instantly received some interesting responses, including:
"That one. Because it's the only one there is."
"Trick question."
"…There only is the one. Some places sometimes have jazz, but
we've only got the one actual jazz club."
The Rex Hotel Jazz & Blues Bar (194 Queen Street West, 1 minute walk from Osgoode Station) is dedicated to serving up"More Great Jazz than anywhere else, all the time!" Proudly passionate about its dedication to the music, two additional slogans appear on the website: "Where jazz musicians come to hear jazz" and "Where jazz lives". With "18 shows a week, nearly 1,000 per year," The Rex is a favourite amongst jazz lovers not because of incredible acoustics or a ritzy menu; it's a place where JAZZ is spelled with capitals. December highlights: Marsalis brother Jason on vibes leads his quartet December 9 & 10 at 9:30pm; retired WholeNote columnist/jazz listings coordinator and very active musician, vocalist Sophia Perlman makes her Rex debut as leader the first three Thursdays of this month at 6:30pm.
The Home Smith Bar (21 Old Mill Road, 5-minute walk from Old Mill Station) is a romantic and elegant room at the heart of one of the city's most historic getaways, The Old Mill Inn. Established in 1914, this luxurious landmark has been a fervent supporter of jazz music for decades; its intimate Home Smith Bar is ideally suited for deep listening. No Cover charge, but a $20 minimum food and drink order is required. Go ahead, spoil yourself! Best bets this month: inventive Adrean Farrugia's piano trio is made complete by aces Steve Wallace on bass and Terry Clarke on drums December 12; powerhouse vocalist June Garber is joined by masterful Mark Kieswetter on piano and marvelous Ross MacIntyre on bass, December 18. All shows 7:30-10:30pm.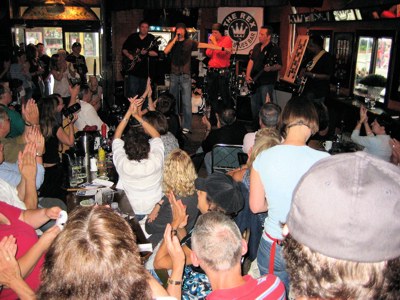 Chalkers Pub (247 Marlee Avenue, 5-minute walk from Glencairn Station or 7-minute bus ride from Eglinton West Station) is a unique and worthy destination. Classy yet casual, this is a large space with two stages, 15 pool tables, a dance floor and an acoustic piano. The musical line-up features not only jazz but also blues, R&B, top 40 and pop. In 2007 the club welcomed Lisa Particelli's Girls Night Out vocalist-friendly jazz jam, a critically acclaimed event which has been featured in The National Post and was recently named one of the Top 100 Reasons to Live in Toronto. On January 20, Lisa Particelli's GNO celebrates 5 years since the open mic debuted in Cabbagetown in 2005. Coming up in December at Chalkers: Every Thursday blues band Raoul and the Big Time tear it up big time for ten bucks. On Sunday December 13, a real steal: brilliant bassist/composer Al Henderson leads an all-star quintet for only $10 CDN. January is Don Thompson month with details TBA.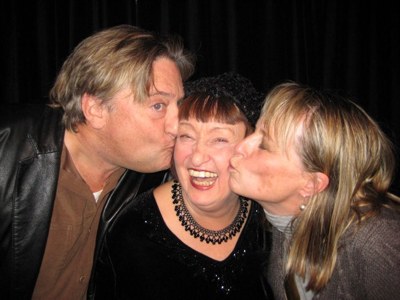 Ten Feet Tall (1381 Danforth Avenue, 3 minute walk from Greenwood subway) Armed with a tastefully eclectic menu, décor that's full of charm and yam fries to die for, it's no wonder Ten Feet Tall is ever-growing. This critically acclaimed restaurant is a delightful find in Toronto's east end. As part of the Mill Street Brewery's presentation of a long-time running Jazz Matinée, Toronto's finest jazz artists perform live every Sunday from 3:30-6:30pm, no cover. Saturday nights are usually reserved for R&B, Motown, Funk and Soul. The East End Open Stage, hosted by Dunstan Morey & the Fingerstyle Guitar Association, happens on the second and fourth Monday of every month. Don't miss the powerful pipes of Pat Murray with Mark Kieswetter on keys, Sunday December 20.
The Trane Studio (964 Bathurst Street, 12 minute walk or 4 minute bus ride #7 from Bathurst Station) is a room with much potential. There is live music, mostly jazz, most nights of the week. The food, stage and acoustics are good. Cover is typically $10-15, unusual for a jazz room without a piano. Every second Monday of the month at the Trane Studio beginning Mon Dec 14, guitarist Margaret Stowe's AllStar ECLECTIC-ELECTRIC Band, incomparably summed up as "jazz/bluesy/global/funky/folky/ambient/chill/café."
The Reservoir Lounge (52 Wellington Street East, 5-minute walk from King Station) offers a unique atmosphere, good location, decent food and exquisite martinis. The music policy consists of regular weekly acts, mostly swing, jump blues and boogie-woogie. Neatly tucked below ground level, the dimly lit, rather touristy club is alluringly illuminated by red Christmas lights all year round.
Gate 403 (403 Roncesvalles Avenue, 10-minute walk or 4-minute street car ride #504 from Dundas West Station) features live jazz and blues every night. The ambience is actually quite nice and the food okay. Not the best piano, but it's authentic and although the stage set up is weird to say the least in this haunting Parkdale haunt, the Gate can swing nicely with the right booking and an audience. Please tip generously, especially here.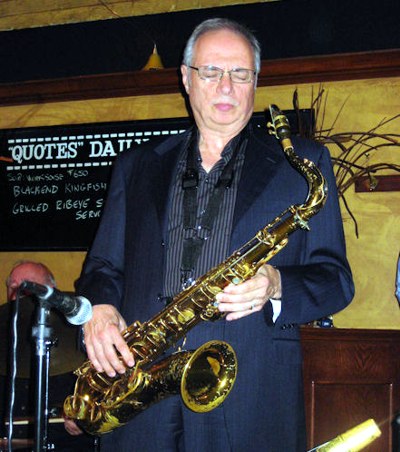 Honourable Mentions in random order: The Pilot on Cumberland, Harlem on Richmond, Alleycatz at Yonge & Egg, Tequila Bookworm at Queen near Bathurst, Mezzetta and Ellington's on St. Clair West, Joe Mama's, N'Awlins and Quotes at King & John and two listening rooms that regularly present plenty of good music, jazz or otherwise: Lula Lounge and Hugh's Room, both on Dundas Street West.