"Little" slip
Thank you to the dozens of readers who took the time to contact us about last month's "Little" slipup in my interview piece with Fay Olson. I discovered the editing error myself via a gracious email from Ms. Olson herself: "Other than the incorrect cutline under the picture of my husband Don Vickery and me, I thought you captured the essence of our interview very well … There is one more correction I'd appreciate your noting. Although Don Vickery is Music Director for Quotes Bar & Grill, guitarist Gary Benson is founding Musical Director and leader of the Canadian Jazz Quartet."
Ten Feet Tall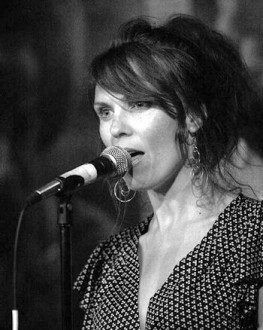 Speaking of husband and wife teams, seasoned chef Andy Wooley and Carin Redman, both musicians, are the proprietors of bistro, café, bar and live music venue Ten Feet Tall (www.tenfeettall.ca) now in its 7th year of glory just steps away from the Greenwood subway stop. Danforth and Beaches locals are regularly treated to an inviting atmosphere of eclectic menu items, friendly service, vibrant decor and a tasty variety of live music.
Their Mill Street-sponsored Jazz Matinee takes place every Sunday from 3:30 - 6:30pm, with never a cover charge. Sometimes humbly referring to herself as "The Cook's Wife", Carin Redman is herself a professional vocalist who has been singing pop, jazz and R&B for over 15 years; she runs the restaurant and also books the room. I got a chance to catch up with Ms. Redman over a scrumptious Pad Thai ($14) and a pint of Mill Street Organic Lager ($5.50).
OD: What kind of reaction has your music policy received?
CR: The reaction we received was a very warm one.  The people in our neighbourhood have been great supporters.  They love that we have music at the end of the street...we are part of the TD Canada Trust Jazz Festival every year and I'm continually thanked during that festival for us being here. It's like a big party!  The music over here has been a wild success and I've enjoyed it so much.  I've met so many people and made some great friends as well.
OD: Were you surprised by this reaction?
CR: I have a little bit of a background in marketing so I knew that this would be a great area and time slot for jazz - no one was doing it around here.  Although I felt strongly that it would work, I was still pleasantly surprised.
OD: Ten Feet Tall is one of the few rooms in town that guarantees that the musicians are paid in a no cover/pay-what-you-can situation.  Is it especially challenging for your business to make money?
CR: I book people that can fill a room. Number one, they have to have talent and be good musicians...it took a while to have our "jazz regulars" which we now have. We still do rely on our bands having some sort of following, but I'm never worried any more because I've figured out how to book this room.
OD: Who are some of the highlights in the month of November?
CR: On November first we are proud to present Steve Cole & Russ Little. I mean, the names speak for themselves. We've had them here before and they are just unbelievable musicians…On November 22nd we are proud to welcome back Kingsley Etienne. If anyone reading hasn't seen Kingsley, you simply must come out because it's like a religious experience!
JAZZ PICK OF THE MONTH: Laura Hubert Band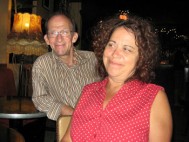 (www.laurahubert.com) at the Cameron House (408 Queen West), every Monday "9:30ish-Midnightish" Pay-What-You-Can. With a honed horn-like delivery she infuses her song with ample feeling, phrases daringly, and bends notes with ease. Always present in any given moment, Laura Hubert is a very convincing musical actor. To really get what she's about, you have to witness the facial expressions, body language and stunning presence every Monday night, accompanied by Peter Hill and top-of-the-heap horn players including Chris Gale, Shawn Nykwist, Bob Brough or Ryan Oliver. Live jazz does not get much better than this!