Here are some recommendations for you, dear reader, for Jazz Appreciation Month (which in case you didn't know, this is):
Dora Mavor Moore award winning cabaret performer Paula Wolfson is a brilliant singer, actor and entertainer who along with multi-instrumentalist Kirk Elliott will present "Strings Attached" at the Flying Beaver Pubaret on Friday, April 5 at 7pm. Wolfson's appearances are a rare treat so reservations for this show are highly recommended; if you'd like a preview of Wolfson's talent, check out her promotional video on YouTube or visit paulawolfson.com
Closest in timbre to the human voice, the trombone is considered a difficult instrument to master. As such, it's not every day that one hears a whole choir of them on a given stage. At The Rex on April 9 at 9:30pm, trombone master Al Kay leads his Trombone Orchestra as part of an annual fundraiser for Humber College's Jerry Johnson Scholarship. To read more about Johnson (1949–2005) and his life and music, visit jerryjohnsonplays.com
A valued collaborator and arranger with vocalists such as Sophie Milman and Susie Arioli, Montreal-based saxophonist Cameron Wallis, a hard-swinging player with a sweet tone, has recently released his first quartet recording Calling Dexter. Dedicated to the inspiring spirit of the legendary Dexter Gordon, the album features an even mix of originals and standards, with Wallis performing on soprano, alto, tenor, baritone and c-melody saxophones! His Toronto CD release is on April 13, 9:45pm at The Rex. Visit cameronwallismusic.com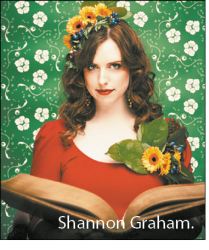 Saxophonist, vocalist, violist and composer Shannon Graham is a young musical visionary whose debut album, Shannon Graham and the Storytellers, will be released on April 17 at 8pm (see listings section A) at Gallery 345, the perfect space to experience Graham's artful, classically-influenced, ambitious brand of modern jazz, with her nine-piece band. Visit shannongraham.ca
Vocalist Gillian Margot has recently returned from a contract at the Shangri-La Hotel in Singapore and as of June will have a similar deal in Shanghai for the summer. Hers is a rich, supple voice that shines with elegance. Catch her at the Old Mill Inn's Home Smith Bar on Friday, April 19 as part of the Something to Sing About series with Stuart Harrison, piano, and Ross MacIntyre, bass. Visit
gillianmargot.com
The endlessly imaginative and deeply playful piano stylings of Adrean Farrugia are truly one of a kind. He can frequently be heard with a variety of acts including Matt Dusk, the Brad Goode Quartet, the Ernesto Cervini Quartet and Tim Shia's Worst Pop Band Ever, to name a few. This month he leads his own quartet on at least two occasions: Saturday, April 27 at 8:30pm at The Jazz Room in Waterloo, and in Toronto on Monday, April 29 at 9pm at The Emmet Ray. A brilliant talent! Visit adreanfarrugia.com
On Sunday April 28 from 4–8pm, the Dominion on Queen will house "Toast and Jam," a special birthday party for singer Debbie Fleming. Perhaps best known for her a cappella group Hampton Avenue, Fleming can sing everything from R&B to Rachmaninoff, folk, jazz and her own originals. She will perform a set with Bill King on piano, Russ Boswell on bass, Tony Quarrington on guitar and Daniel Barnes on drums, and will then open the stage for jamming by her friends. Come by and raise a glass! Visit debbiefleming.ca
Happy JAM, and here's hoping to see you in the clubs! 
Ori Dagan is a Toronto-based jazz musician, writer and educator who can be reached at oridagan.com