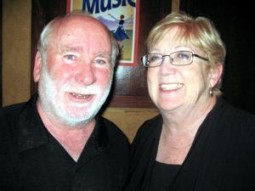 Fay Olson has worked in the public relations field for over 30 years, spending much of that time focused on music and sports sponsorships specifically. In her heyday, Fay played an instrumental role in launching what used to be known as the du Maurier Downtown Toronto Jazz Festival; she has since fought hard for arts funding since tobacco sponsorships were ruled illegal.
Semi-retired now, Olson books an admirable three nights of jazz a week at the historic Old Mill Inn, located steps from the Old Mill subway stop. Every Thursday night is a house gig for Russ Little, the famed trombonist previously associated with the Woody Herman Orchestra, the Count Basie Band and the Boss Brass.
In booking a brand new Friday night series at the Old Mill called "Something to Sing About!" this month Olson has chosen a refreshing mix of choice singers, veterans and rising stars: Sophia Perlman, Cal Dodd, Laila Biali, Arlene Smith and Trish Colter. "We didn't want people to think we were 'singer-phobic'," she jokes. The Saturday Piano Masters Series continues, this month spotlighting the trios of Paul Read, Joe Sealy, Don Thompson, Bill King and Paul Hoffert. All performances take place at the elegant Home Smith Bar at The Old Mill Inn, where an atmospheric experience for all senses easily merits the minimum $20 food/drink expenditure.
Meanwhile, the Canadian Jazz Quartet's "Fridays at Five" with-featured-jazz-instrumentalist series, initiated by Olson in 2006 as a response to the Montréal Bistro's closure, is still the talk of the town. The formidable "no cover, no reservations" series runs Fridays from 5-8pm at Quotes Bar & Grill, located right under Barootes at 220 King Street West. The CJQ is: quartet founder Gary Benson, guitar, Frank Wright, vibes, Duncan Hopkins, bass, and Don Vickery on drums, pictured here with Fay.