Call it jazz-theatre fusion if you must. Stephen Sondheim's music inspired saxophonist Bobby Hsu to dream up and assemble "A Sondheim Jazz Project."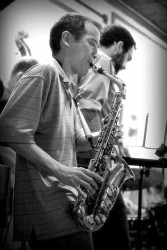 "His songs are not only musically complex and lyrically highly sophisticated but beautifully melodic and singable," Hsu asserts. "For me, one of the most fun things about the band is factoring dramatic and narrative aspects of the lyrics into the musical decision making, something which as a jazz player I'd always ignored before. Also, this band allows for 'crossing over' in both directions: exposing these songs to jazz people, and presenting a fresh take on them to people familiar with musical theatre." Hsu's sensitive arrangements aside, his alto work has never sounded better. Rounded out by pianist D'Arcy Myronuk, bassist James McEleney and drummer Morgan Childs, the band focuses the spotlight firmly on a force of nature, effervescent singer Alex Samaras.
In the bandleader's words, "Alex is the only singer I know who, besides having an incredibly beautiful voice, is able to pull off the balance between the 'jazzy' and the dramatic elements of the arrangements." Serious Sondheimites, reserve now: March 5, 8-11pm at Ten Feet Tall and March 11, 5-8pm at Gate 403.
Preview here: www.myspace.com/asondheimjazzproject.
Winters' Warmth
March 22 (Stephen Sondheim's birthday), Winters College at York University is hosting a fundraiser to celebrate more than 20 years of vibrant fine arts, with hopes of raising money to improve college performance spaces. College Master Marie Rickard puts it thusly: "A university college is where students spread their wings. At Winters, they come together in a way that is totally distinct from how they perform in their courses. This is where they experiment, take risks, pool their talents and work as a community of young artists. As their advocate, I want to draw attention to the fact that two of our most loved and well-used college spaces really need a little TLC – better lighting and acoustics, for a start." Appearing at the fundraiser will be York's Oscar Peterson Chair in Jazz Performance, trombone master Ron Westray (who will be releasing a new CD at The Rex on March 2 and 3); alumna jazz vocalist/composer and faculty member Rita di Ghent; the York Gospel Choir; a cappella group WIBI, and many other York faculty, alumni and students. Tickets are $50 ($40 in advance), and $10 for students.
To reserve, email wcmaster@yorku.ca.
Kirk's Works
The great American songbook has been a grand compositional influence on saxophonist Kirk MacDonald, whose "Songbook Vol. 2" recording has just received a Juno nomination. "Typically when I work as a leader I prefer to play my own music because it offers more of a personal statement, and so, over the years I've developed my own repertoire… Many years ago I came across the music of Spanish composer, Albéniz. He once said that when you start with something, if you follow the thread of that thought, it takes on a life of its own; you have no idea where it's going to take you. That really stuck with me." There are plenty of chances to hear Kirk's works performed. He's literally jazzed about next month's "Deep Shadows," a debut CD Release for the Kirk MacDonald Jazz Orchestra, featuring big band arrangements of his compositions, April 2 at Humber College Auditorium. You can also find him this month in a far more intimate configuration with a three-night stint March 3-5 at Chalkers Pub alongside bass ace Neil Swainson and out-of-town guest drummer, Dennis Mackrel, music director of the Count Basie Orchestra. www.kirkmacdonald.com
Walker's Chalkers Date
Speaking of Chalkers, under the category of grand, the venue is now home to a brand new Shigeru Kawai SK-3 6' 2" piano! Perfect timing for a CD release by one of the country's most acclaimed jazz pianists and composers, Nancy Walker, her sixth as leader. "New Hieroglyphics" gathers together a dozen original compositions. Alongside bassist Kieran Overs and drummer Ethan Ardelli, Walker welcomes a new addition to her group, guitarist Ted Quinlan.
"I love the sonic possibilities that the guitar offers: colours, textures, the ability to be treated as a "horn-like" voice as well as a harmonic one," she explains. "Writing for a quartet configuration that includes guitar allows me to make use of all those sonic possibilities in combination with the piano, which I find exciting and inspiring." Why Quinlan? "Not only is Ted a world class guitar player with killer chops, but he's so open, flexible and adventurous, he's game to try anything."
Walker's adventurous music is enriched with a captivating depth of feeling, especially in live performance. Reserve now for March 19 from 6-9pm at Chalkers Pub.
Two Mics Are Better Than One!
Though their voices are entirely different, jazz artists Heather Bambrick and Julie Michels have much in common, from vocal versatility to a sizzling sense of humour. In late 2008, a fantabulous version of "Moondance" (find it on YouTube) inspired the two, along with their mutually adored accompanist Diane Leah, to plan a duet show.
"I've been waiting for this concert for years!" exclaims Michels. "I think it's because Heather and I are both crazed, fuzzy-haired, scatting women who love to sing and laugh. I can push myself when we sing together and that's a wonderful feeling."
"Anything we do involves laughter, spontaneity, adventure, vocal antics, and of course great music," promises Bambrick. "And we chose the best source for duets: Show Tunes!"
As for the seated member of the trio – the two singers couldn't be fonder of pianist Diane Leah. As Bambrick points out, "I swear, she knows every tune ever written. Her sense of humor is second only to her incredible sense of musicality." Collectively the three broads settled on the title "Broadsway." It will premiere on Saturday, March 26, 8pm at the Metropolitan Community Church of Toronto as part of the Leading Ladies Concert Series.
Tickets are available here: www.mcctorontochoir.com.