This article appears in The WholeNote as part of our collaboration in the Emerging Arts Critics program.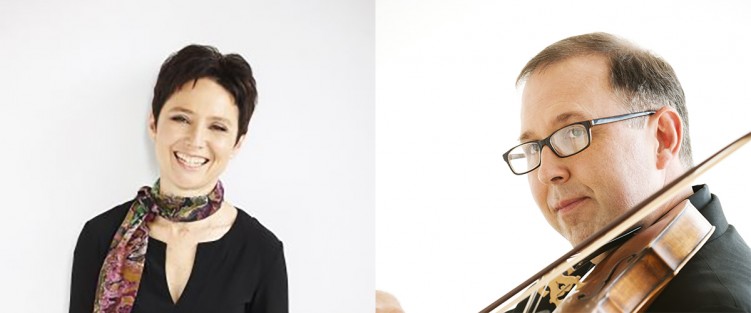 For many, working from home on June 17 meant another day at the well-worn computer desk. For the players of Tafelmusik, it meant presenting Caprice, the spirited fourth video broadcast in their ticketed Tafelmusik at Home online series. Showcasing lesser-known 18th-century composers, players from the ensemble gave both educational commentary and performance, all delivered from their own living rooms. Though the video series came about because of the COVID-19 pandemic, the project is a serendipitous fit for Tafelmusik – so much 18th-century chamber music was written to be performed and heard at home, and this digital platform gives audiences new access to that intimate experience.
The program opened with four selections from William Herschel's Twenty-Four Caprices for Solo Violin (ca. 1760), performed by violinist Thomas Georgi. After more than 30 years in the ensemble, Georgi announced that this performance would be his last for Tafelmusik before entering retirement. Despite sharing a title with Paganini's Caprices, Herschel's offerings emphasize sensitivity over devilish showmanship. They are as charming as they are brief – even at a relaxed tempo, Caprice No. 7 burned through its entire 22 bars in less than a minute. Making the most of what's there, Georgi performed with a consistently sweet sound, carefully shaping long notes during the plaintive theme of Caprice No. 9. In Caprice No. 13, Georgi sensitively controlled the density of his tone to differentiate ornamental filigree from delightfully lengthy cadential appoggiaturas.
Only the first few bars of Caprice No. 14 were performed, solely to illustrate their unusually disjointed melody. This felt like a missed opportunity, since the brevity of the caprices already meant that more time was spent speaking than playing. Georgi's commentary was concise and engaging, however, and there's much to say about William Herschel: despite a significant musical career, Herschel is remembered today primarily as the astronomer who first identified Uranus as a planet.
Double bassist Pippa Macmillan and cellist Felix Deak performed next, giving a solid account of the Sonata per il contrabasso et violoncello (1790) by the Austrian bassist and composer Johannes Matthias Sperger. Sperger's writing often sent Macmillan venturing far into the instrument's highest tessitura for dazzling arpeggiations and rocketing scales. Though she performed these pyrotechnics well, their position in the extreme high register of the instrument came across sounding thin. This sometimes allowed Deak's thoughtful accompaniment to advance too much into the foreground – something a different microphone setup might have addressed. The Sonata itself is enjoyable, if slightly inconsistent in terms of style. The first movement's flourishes sound more baroque than classical, ending curiously with both parts in rhythmic unison like a snippet of viol consort music. The second and third movements were more identifiably Classical, marked by bravura cadenza performances by Macmillan.
Violist Patrick Jordan and cellist Margaret Gay finished off the broadcast with a trio of works in the galant style, by the Bohemian composers František Kočvara (1731–1791) and Václav Pichl (1741–1805), as well as C.G. Vanheelen (fl. 1785), about whom not much is known (and which might have been concocted as a pen name). Galant music is rarely serious, and Jordan and Gay gave an appropriately jocular performance, though never at the expense of nuance. Kočvara is perhaps best-known today for his ignoble death but this Sonata (op. 2, no. 1) showcases a skilled composer, at least within the scarce 18th-century viola repertoire. Vanheelen's music made a less favourable impression but was helped along by the artistry of the performers; during the work's brief chromatic cadenza, Jordan piqued interest by adding playful glissandi.
The standout performance of this portion was Pichl's Duetto in C Major, op. 14 no. 1. Unlike the previous two sonatas, this duet gave Jordan and Gay opportunity for a more equal musical repartee, with seamless switching between accompaniment and melodic roles.
Early in the broadcast, Jordan made a comment about how rondos tend to have "goony" themes. The final rondo of Pichl's Duetto falls into that category, but it certainly gave both players ample opportunity to have fun. The setting of a vintage dining room helped create the atmosphere of an 18th-century social gathering, but what really sold it was a sense of musical wit, conversation, and humour in the playing. Jordan and Gay exchanged frequent glances with animated body language, allowing musical risks like delayed phrase endings, sudden dynamic shifts, and on-the-fly changes in articulation.
It was encouraging to see this well-executed artistic response to the COVID-19 lockdown. Tafelmusik at Home presents a side of the players that many audience members won't have experienced before. With close camera shots and a live chat feature for audience members to converse with one another, it was a surprisingly intimate setting for a digital concert experience. One can easily imagine this project continuing successfully in a post-pandemic era, where live and digital performances coexist side-by-side.
All the same, despite exemplary performances by the Tafelmusik players, the question remains whether these works were deserving of the spotlight right now, as systemic racism and sexism in classical music are increasingly discussed and exposed. It may well be that composers like Sperger and Vanheelen undeservedly fell through the cracks of music history – but if forgotten composers are to be reintroduced, it is perhaps more urgent to hear voices excluded from the historical canon because of their race or gender. Freed from the conventions of the concert hall, novel platforms like Tafelmusik at Home could use this opportunity to make even bolder programming choices.
Tafelmusik presented Tafelmusik at Home: Caprice on Wednesday, June 17, 2020 on YouTube.
Arlan Vriens works in Toronto as a writer and violinist, with roots in the performing arts communities of Montreal, St. John's, and Edmonton. He is currently completing his Doctor of Musical Arts (Violin Performance) degree at the University of Toronto, researching topics in contemporary music and historical performance.