What does Elvis Presley's Can't Help Falling in Love have in common with a song by 18th century composer Jean Paul Martini? Or the musical Kismet with Alexander Borodin? Or Gounod's Ave Maria with Bach? If you know the answers, you've already tapped into a musical phenomenon that stretches in a long continuum back to ancient times: out of existing music emerges new music — which is to say that throughout musical history, composers have seized upon a good tune when they've heard one and known how to capitalize on it in ways appropriate to their time and purpose. This is one of November's themes.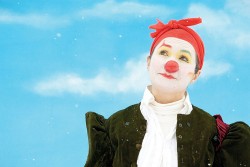 Scaramella: Scaramella's upcoming concert "Hit and Run" is built upon this well-known and widespread practice, taking some of the baroque era's "good tunes," beloved and popular in their day, and revealing how 16th century composers have transformed them into new pieces. Artistic director Joëlle Morton explains: "In some rare instances, the new pieces were spoofs — making fun of the original tunes. But in most situations, the new composers referenced the older pieces in a respectful way by quoting the text, resetting an old melody or bass line with completely new parts, composing additional lines that could be added to the older work or creating elaborate virtuosic showpieces out of one or more of the original lines."
Thus you'll be able to hear Diego Ortiz's gamba-inspired flights of invention on the melancholy song Doulce Memoire, by earlier composer Pierre Sandrin, as well as how a ciacona (or chaconne) has been treated in three ways: the first two in 15th and 16th century settings, the third by contemporary composer (and recorder virtuoso) Matthias Maute — a recently completed tribute to the late wife of a dearly-respected man.
Running concurrently with the musical presentation is another delight: a clown, who will dramatize the texts involved, in the manner of the commedia dell'arte movement, which was so popular at the time.
"Hit and Run" takes place on November 26 at Scaramella's usual gracious venue, Victoria College Chapel.
Ensemble Chaconne: A related theme, seen in several concerts this month, is that of the interrelationships between music, words and drama. In Shakespeare's England these were well and flourishing, as popular tunes, both their melodies and text, were so familiar that musicians used them as the basis for sets of variations; also, poets set new verses to known tunes, often based on news of the day. The Bard himself assiduously incorporated well known songs into his plays and wrote poems for new songs. And many composers from Shakespeare's own time — Thomas Morley, for example — and from every era since, have contributed music for specific use in his plays.
A group which is perhaps not well known to Southern Ontario audiences brings a colourful programme entitled "Measure for Measure — the Music of Shakespeare's Plays" to our area this month. Ensemble Chaconne is dedicated to vivid, historically informed performance of renaissance and baroque music on period instruments. Based in the Boston area, it has a 25 year history and has concertized widely. Its core ensemble is a trio, whose distinguished members play renaissance/baroque flutes, viola da gamba and lutes/theorbo/early guitars; for the upcoming pair of concerts, so replete with song, they've added mezzo-soprano voice.
If you're in the Kitchener-Waterloo area on November 17, you can hear them at the Kitchener-Waterloo Chamber Music Society concert; if you're in Hamilton on November 18, you'll find them performing at McMaster University.
Academy Concert Series: The Academy Concert Series' season opener features interwoven themes of music and drama too. Its centrepiece is a love story, which unfolds in a trilogy of Vivaldi chamber cantatas (one having only recently been discovered in Vienna) collectively known as L'Amore per Elvira. We witness the declaration of love, the lover's sad news that he must go away, the return amid fears and hopes and finally, the lovers' reuniting — all poignantly expressed in both words and music.
Along with this is another parallel but modern day love story, placed in Vienna, woven throughout the performance and enacted by actor Vanessa AvRuskin. And interspersed between the cantatas are chamber pieces by Vivaldi that highlight the violin — the instrument on which he was known for his excellent playing.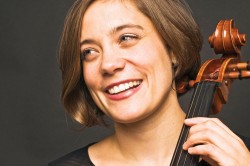 The evolution of what might be called a musical love story is the story of the Academy Concert Series itself. Founded over 20 years ago, it has been constant in its mission to bring historically informed chamber performances to Toronto's audiences. After a 16 year run as artistic director, multi-instrumentalist Nicolai Tarasov has now decided to largely hand over the reins to talented cellist/baroque cellist Kerri McGonigle — a passionate and accomplished musician, who I'll bet will bring fresh life to an already lively series.
"Vivaldi Visits Vienna" takes place on November 12 at Eastminster Church.
A diversity of others
• November 13: In Kitchener, Classics At The Registry presents "Guitarra Barroca: A tour of baroque music for the guitar," featuring a guitarist known for his musicianship and versatility, Kevin Ramessar, in collaboration with Larry Larson, trumpet and Graham Hargrove, percussion. (Note: This information arrived too late to make it into the printed listings; see the online listing at www.thewholenote.com. Click on "Just In," and see New Listings–Beyond the GTA or go to the searchable Concert Listings and click "Concerts Beyond the GTA");
• November 18: In Kingston, the Melos Choir and Chamber Orchestra presents a concert for St. Cecilia's Day and celebrating the 300th anniversary of the birth of William Boyce. Programme includes Purcell's Cecilian ode Welcome to all the Pleasures, Te Deum and Jubilate by Boyce, and other lovely music;
• November 19: "Glory – Sounds of Baroque Exultation" is the aptly-chosen title of a concert by the Larkin Singers, featuring Handel's sacred motet Nisi Dominus as well as Vivaldi's Gloria and Bach's cantata Wachet Auf.
• November 19 and 20: In Toronto and Hamilton, Capella Intima presents "Venice and Beyond," highlighting composers of the Venetian school who left Venice later in their careers: Grandi, Merula, Agostini, Sances, Valentini and Milanuzzi. Music for tenor and baritone voice, baroque guitar, organ, harpsichord and gamba.
• November 23: "In the Shadow of the Volcano," traditional music of southern Italy including the villanelle, tarantella, fronna and tammurriata, is presented by the Vesuvius Ensemble as part of the Canadian Opera Company's Richard Bradshaw Amphitheatre series.
• November 25: In the first of four concerts honouring Bach, spread throughout the season, Music at Metropolitan presents "BachFest I: Christmas Oratorio, Parts 1–3."
• November 26 and 27: The 16-voice a cappella choir Cantemus Singers presents their annual Christmas celebration, "Nowell Sing We," with carols and motets from the renaissance and baroque periods, Giovanni Gabrieli's Hodie Christus Natus Est for double choir, Telemann's Deutsches Magnificat in G for choir, soloists and orchestra, and other works.
• November 27: In Kitchener, there's a treat of two wonderful Bach cantatas (Wie schöen leuchtet der Morgenstern and Lobet den Herrn), in Spiritus Ensemble's programme "Bach Vespers for Advent."
• December 1 to 4: Tafelmusik Baroque Orchestra is joined by guest director and oboist, Alfredo Bernardini, to present "Baroque Splendour – The Golden Age of Dresden," with stunning and virtuosic music created for Dresden's remarkable court orchestra by Zelenka, Fasch, Pisendel, Telemann and Vivaldi.
Simone Desilets is a long-time contributor to The WholeNote in several capacities who plays the viola da gamba.She can be contacted at earlymusic@thewholenote.com.