The Early Music scene isn't called "early" for nothing; the season is barely under way, and already there are some very interesting presentations to tell you about.
Hildegard von Bingen and the Labyrinth
The ancient labyrinth has long been used as a pathway toward achieving a contemplative state. Music is an important accompaniment in the winding journey that one takes from circumference to centre and out again, providing a soundscape that can aid in shutting out the bustle of life. In recent times, composers such as John Burke have found the labyrinth an apt companion in their efforts to create music that touches the soul; and I well remember the haunting sounds of the traditional Japanese flute, the shakuhachi, helping me along as I walked a labyrinth, a decade ago.
But it is the exquisite music and poetry of the 12th-century mystic, abbess, philosopher, physician, scientist, Hildegard von Bingen, that will accompany you if you choose to walk the labyrinth on her feast day, September 17. Hildegard composed ecstatically soaring vocal lines to express her poetic visions, each composition of one melodic line designed for limited instrumental accompaniment which was not written down, but left to the performers to improvise. In the upcoming event, performers include soprano and Hildegard scholar Krystina Lewicki; Mike Franklin, woodwinds and voice; Ann-Marie Boudreau, voice, sitar, ngoni, harp; and others who contribute the sounds of diverse instruments. Walking the labyrinth is not mandatory but only for those moved to do so; otherwise, one can remain seated and enveloped in this exalted poetry and music.
The performance takes place inside the Church of the Holy Trinity behind the Eaton Centre, September 17 at 8pm, and is presented in collaboration with the Labyrinth Community Network of Toronto. The labyrinth itself is patterned on the medieval style of the one set into the floor of Chartres Cathedral, in the 13h century.
Primadonnas and The Colours of Music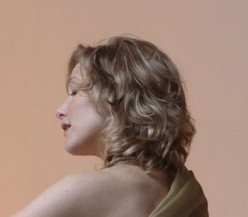 Soprano Suzie Leblanc is a completely delightful artist whose specialties range from baroque repertoire to lieder, to French mélodies and Acadian folk music, to modern music and improvisation. Her versatility made her a prime choice as the first Singer-in-Residence at Barrie's Colours of Music Festival (as the Festival's indefatigable artistic director, Bruce Owen, told me). In this role, her activities will include concert collaborations with several other Festival artists, as well as giving workshops to elementary and high school students in the area – something Owen is very enthusiastic about, as for many students these will be rare exposures to the joys of music-making.
The early music component of Leblanc's performances in Barrie is a concert entitled "Primadonnas of the Renaissance," in which she will be joined by the singers and musicians of The Toronto Consort. What could be more natural than to repeat this concert at the Toronto Consort's own series? – and so, you can hear it in Barrie on October 1, and in Toronto on October 2 and 3.
And ah! the music is from the Italian Baroque, when opera was new; when a ground bass and a few colourful instrumental touches supporting a melody could express all the fire, all the tenderness, that any primadonna could hope for. Monteverdi, Castaldi, Frescobaldi, Strozzi and others will lead you into their world of love (requited and unrequited), laments, entreaties, smiles and tears.
An all-too-brief mention of several other upcoming performances:
September 3, 7pm: Toronto Music Garden presents "Bach at Dusk – with Claudia." Cellist Winona Zelenka continues her annual exposé of Bach's Solo Cello Suites in a performance of No. 4 in E flat, joined by dancer Claudia Moore.
September 13, 2:30pm: "Tartini meets Hagen", virtuoso music of the 18th century for violin and lute, is presented by the newly-formed Beaches Baroque, with baroque violinist Genevieve Gilardeau and lutenist Lucas Harris.
September 23 to 27: In the first of their season's concerts, Tafelmusik is joined by Montreal's Arion Baroque Orchestra to present "Handel: Royal Fireworks," a programme that also includes music by J.C. Bach and Rameau.
September 26, 8pm: Toronto Masque Theatre reprises "Purcell: Dido and Aeneas / Aeneas and Dido," a double-bill of Purcell's masterpiece and TMT's commission by James Rolfe and Andre Alexis.
October 3, 7:30: Cantemus, a newly formed choir whose focus is secular choral music of the Renaissance, presents "Fairest Isle – A Celebration of Early English Choral Music," with music by Gibbons, Byrd, Taverner, Purcell and others.
And don't forget the 25th annual Early Music Fair held on September 12 from noon to 5pm at Montgomery's Inn, where you can encounter all sorts of early music performances, instruments, books and enthusiasts throughout the afternoon.
For details of these and many other upcoming events, see The WholeNote's daily listings.
Purcell and the Hart House Viols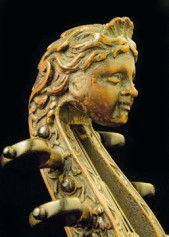 On October 30 and 31, The Toronto Consort will present a very special pair of concerts – very special, in that the music presented is an iconic oeuvre in the history of music (Purcell's complete Fantasias for viols); and in that they will be performed on a unique set of instruments – the Hart House viols.
More will be said about the Purcell Fantasias in the next Early Music column. But for now, it's worth noting that Toronto is very fortunate to be called home to the six instruments known as the "Hart House viols." Ranging in dates from c.1598(!) to 1781, they have recently been re-appraised and restored fully to playing condition, and are now recognized as a collected treasure of great historical and artistic value.
It's a bit of a mystery how they turned up in Vancouver in the late 1920s, housed neatly in a large wooden chest thought to be a dowry chest. Around 1930, the Massey Foundation presented them as a gift to Hart House, where they have resided ever since.
Their public appearances have been relatively few. Local musicians Leo Smith and Wolfgang Grunsky played them during their early residency, and Peggie Sampson's Hart House Consort used them in performance during the 1970s and 80s; more recently Joëlle Morton secured the loan of two of the viols for one of her innovative Scaramella concerts. Now we have the chance to hear all of them in The Toronto Consort's October offering  – incomparable Purcell played by Les Voix Humaines – a musical experience to look forward to indeed.
With this column I take over the early music beat from my colleague, Frank Nakashima, who has faithfully researched and reported the early music scene over the past eight and a half seasons. I will try to follow in his able footsteps and will very much enjoy chronicling the fascinating spectrum of early music performance.