Mooredale Concerts, under artistic director Anton Kuerti, is second to none in bringing artists of the highest standard from Canada and beyond to its main concert series. As well, it's a nurturing force for young musicians through its Mooredale Youth Orchestras and Music and Truffles concerts. The next programme well illustrates the series' various facets: on March 7, Mooredale will bring Les Violons du Roy to town.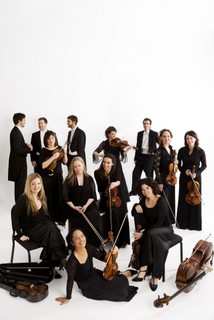 Now in its 25th-anniversary season, this chamber orchestra was founded by music director Bernard Labadie and is based in Quebec City. Through its many concerts, broadcasts, recordings and much touring the orchestra has developed an international reputation for the energy and vitality of its performances. Its repertoire is wide ranging – from baroque to present day – and always performed in the stylistic manner most appropriate to each era. When playing music from the baroque and classical periods, the musicians use modern instruments, but also copies of period bows to conform with the performance practice of the era.


Their March 7 concerts are dedicated to the vibrant string concertos of Vivaldi. You'll hear why this group is so renowned: each of its members is a soloist in his or her own right, and almost all of them will be featured as such in these concerts.


Yes, I do mean the plural – "concerts." A unique and charming feature of Mooredale Concerts is Music and Truffles: a one-hour, interactive version of the 3:15pm concert, taking place at 1:15pm and designed for children. But you don't have to be a child to attend; all you need is the curiosity to learn more about the great music and artists being presented that day.


Please note, too, that there's yet another chance to hear Les Violons du Roy in the southern Ontario area this month, as they'll be presenting the same programme in London on March 6. You'll find the details in our Beyond GTA listings.


… and more!


It's hard to know how to continue describing the early music scene this month, as March is turning out to be such a treasure trove of riches. Some of this has to do with the approaching Christian holy days of Easter weekend, which have inspired an enormous wealth of musical creativity throughout the ages. You'll discover music (most often involving voices) that is not heard at any other time of year. Several other concerts this month have to do with Bach, as his devotees have a penchant for celebrating his birthday (March 21) by performing his music.


Here are some concerts you might not want to miss:


The music of the early German Baroque is replete with magnificent sacred works for massed forces of voices and instruments. The Toronto Consort presents heartfelt works of anguish and redemption from this era in their programme "From Praetorius to Bach: Visions of Darkness and Light." You will revel in the sounds of a large ensemble of rarely heard instruments including sackbuts and cornetti, as well as singers (even in works for double choir), strings, lutes and keyboards, in music by Praetorius, Schütz, Schein, Bach and others.


The Tallis Choir with its conductor Peter Mahon take us to the Royal Convent of Madrid during Holy Week, 1611, to hear some of the most glorious polyphonic music ever written for voices. Tomás Luis de Victoria's "Tenebrae for Good Friday" is from a magnificent collection of music he wrote for this portion of the Christian liturgical year – choral music of unparalleled dramatic expressiveness. It will be performed in the enveloping acoustical setting of St. Patrick's Church.


If you seek drama as well as poignant music in the re-telling of the Easter story, there's no better place to find them than in Bach's St. John Passion. Chorus Niagara with conductor Robert Cooper presents this trenchant work twice, in Grimsby and in St. Catharines.


Tafelmusik Baroque Orchestra and Chamber Choir present Bach in Leipzig, an imaginative journey to 18th-century Leipzig where Bach lived and worked from 1723 till his death. This is the latest of several acclaimed presentations designed by Tafelmusik's own Alison Mackay, and one that is sure to bring to life a colourful array of characters and a vigorous community, as well as highlighting the variety and breadth of the music Bach composed during his long tenure in that city.


Toronto Early Music Centre's Musically Speaking presentation is entitled "The Grand Tour." This tradition Flourished in the 1660s as the customary English gentleman's post-Oxbridge cultural education, serving as a rite of passage. You'll hear music that such a traveller might have heard during Purcell's lifetime, taking the Grand Tour from England through France to Italy.


In Port Dover, Arcady and its artistic director Ronald Beckett present "A Baroque Miscellany," with works by Bach, Sammartini, Handel, Corelli, Telemann and Beckett played on violin, recorder and keyboard.


Aradia Ensemble presents "The English Orpheus." In Greek mythology, the god Orpheus is credited with being the inspiration for literature, poetry, drama and music. Who might be his counterpart in later times but Purcell, who set poetry to music so brilliantly and wrote so much wonderful incidental music to plays? Aradia Ensemble under its artistic director Kevin Mallon explores some of this, presenting the original text alongside the music for plays such as Don Quixote (with excerpts from Thomas D' Urfey's play) and for Bonduca, or The British Heroine (with excerpts from John Fletcher's play).


An enchantress she is, and a passionate explorer of all kinds of repertoire. In Tafelmusik's programme entitled "Enchantress," soprano Karina Gauvin displays her lovely virtuosity in music by Vivaldi and Handel; the orchestra does the same in complementary pieces by Vivaldi and Locatelli.


If you go to Kingston you can have a crash course in baroque music everyone should know, as the Kingston Symphony Orchestra presents "Classics 101." You'll hear such beloved pieces as Vivaldi's Four Seasons, Handel's Water Music Suite, Pachelbel's Canon and Bach's Brandenburg Concerto No.3. Gisèle Dalbec, the orchestra's concertmaster, is the featured soloist.


Buxtehude's Passion oratorio Membra Jesu Nostri is an amazingly daring outpouring of grief, seven cantatas each based on a medieval hymn, that meditate on the feet, knees, hands, side, breast, heart and face of the crucified Christ. Scored generally for five soloists, choir, two solo violins and continuo, the emotion is softened by the appearance of a quintet of viols in the sixth cantata, "To His Heart." Composed for Passion Week of 1680, it will be presented by the Toronto Chamber Choir with its conductor Mark Vuorinen.


If you go to Kitchener you can hear Bach's monumental B Minor Mass, performed by the Grand Philharmonic Choir and the Kitchener-Waterloo Symphony – a performance especially notable as it will be one of the last conducted by the Choir's director of 38 seasons, Howard Dyck. The featured soloists are an impressive quartet of Canadians: soprano Suzie Leblanc, mezzo Laura Pudwell, tenor Michael Schade and baritone Russell Braun.


Simone Desilets is a long-time contributor to The WholeNote in several capacities, who plays the viola da gamba. She can be contacted at: earlymusic@thewholenote.com.