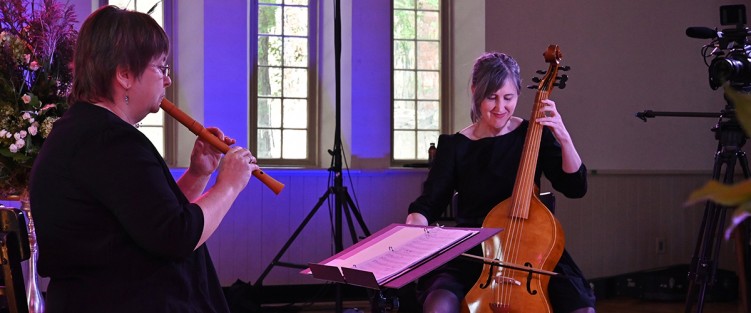 Over the last few issues of The WholeNote, this column has explored some of the ways that presenters, festivals, orchestras and other performing groups have pivoted and adapted to 2020's unexpected and unforeseen challenges. With the arrival of a second pandemic wave, a surge in case numbers and consequent public health interventions – most recently through the implementation of a second lockdown here, Toronto-area performers have had to dig in their heels even deeper and continue to use technology to bridge the gap between themselves and their audience.
As announcements of vaccine developments are released and plans for mass distribution are devised by governments around the world, it appears more likely that the waning of the pandemic itself is on the not-too-distant horizon, a hopeful and encouraging revelation after months of uncertainty. Far less likely though is that the return to concert halls will be suddenly reinstated as before, not with the technological advances made by so many through livestreaming and the broadcasting of pre-recorded material.
And why should it? Although the maintenance and operation of remote viewing technologies is another line on the expenditures sheet, it is also an opportunity to increase audience bases (and revenue) by engaging with audiences that would otherwise be unable or still reluctant to attend in-person concerts. The Internet has no borders and is the perfect vehicle for making both domestic and international connections without in-person touring by planes, trains and automobiles, especially for those unable to fund such globetrotting ventures. This pandemic has brought the future closer to us, accelerating the development of technologies that support interpersonal connections and introducing us to different ways of meeting and greeting our friends, acquaintances, and even complete strangers, and it is very unlikely that we will simply revert to our old ways once COVID-19 is relegated to the history books.
EarlyMusic.tv
Even before the arrival of the pandemic, streaming services were hugely popular, allowing anyone with a compatible device and an Internet connection to access a near-infinite variety of entertainment. Within this vast expanse of material, classical music occupies a miniscule slice of the market, primarily through Medici.tv and a few other, smaller services, which present a wide range of performances and documentaries for enthusiasts everywhere, performed by an equally wide range of musicians, orchestras and ensembles. Last month the Toronto Consort joined the party by launching EarlyMusic.tv, an on-demand online streaming service devoted entirely to the Consort and featuring a variety of audio and visual material.
Although still in its infancy, this service clearly has great potential and is a commitment on the part of the Consort to remain active and present, regardless of external circumstances. While classical musicians can occasionally be rather backwards-looking, EarlyMusic.tv engages with the majority of available technology and is accessible through web browsers, apps on iOS and Android, streaming through Apple TV, Amazon, and Chromecast, as well as a soon-to-be-released RokuTV app. This means that no matter your choice of device, operating system and mode of access, EarlyMusic.tv will be available for viewing everywhere that there is an Internet connection.
When looking at a streaming service, the two fundamental questions that must be answered affirmatively are: "Is the interface intuitive?" and, "Is the material good?" In the case of EarlyMusic.tv, both questions can be answered with a resounding "Yes." The online interface is very straightforward, if not slightly understated, and content is easily explored, filtered and toggled through. Visitors are able to choose between video presentations, searchable by period, composer and arranger, as well as the Consort's album library and individual audio tracks, which are also able to be searched and filtered.
The Android app is similarly streamlined, a mobile-friendly reduction of the online website, with identical options to the desktop site. In addition to the aforementioned filtering options, the app contains a universal search function, which returns all applicable video and audio results for the search thread, such as "Byrd" or "Guerrero." The well-thought-out nature of the EarlyMusic.tv app is particularly appreciated, as it makes the process of accessing content straightforward and simple, with easy access to both audio and video.
If the mode of accessing content is particularly good, the content itself is exceedingly so, with high-quality video and CD-quality audio across the streaming service. The audio tracks are taken directly from the Consort's previous recordings, providing the listener with a superb auditory experience. The videos are brilliantly done, enhancing the traditionally static concert experience by providing close-ups on soloists and ensemble members throughout, with lighting and acoustics that enhance, rather than detracting from, the musical works themselves.
For anyone with a passion for early music, EarlyMusic.tv is a terrific resource to reconnect with one of Toronto's finest performing groups. The streaming service is straightforward enough that even the least tech-savvy person can navigate it, and the content itself is both engaging and satisfying. With a variety of material already available and more to come as Consort invites contributions from other early music practitioners, is there a better way to whittle away the winter months than immersing oneself in some of the best music from the medieval, Renaissance and Baroque eras?
Sing-Along Messiah – The 2020 Edition
A Sing-Along Messiah addict can be identified in one or more of the following ways: multiple dog-eared Watkins-Shaw scores, with the orange covers dyed brown through time and repeated use; multiple recordings of said work, from barn-burning massed-choir singspiels to lean-and-mean, historically informed interpretations; and one or more special outfits, worn once a year, specifically designated for maskless communal singing Messiah.) For all such addicts, this December will be a time of painful withdrawal, as public health restrictions continue to prohibit large gatherings, particularly those involving singing.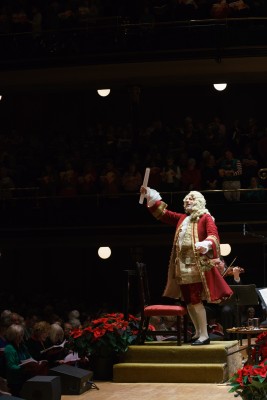 While in-person sing-alongs will be verboten for the foreseeable future, Tafelmusik releases their Sing-Along Messiah on Screen this December, directed by the inimitable Herr Handel himself. As Tafelmusik Chamber Choir conductor (and Handel doppelgänger) Ivars Taurins writes, "for over three decades, George Frideric Handel has stepped onto the stage to lead Tafelmusik and an audience chorus of thousands through his timeless masterpiece, Messiah, in a sing-along version. This year we must come together in spirit rather than in person. So, until we can join our voices once again to 'raise the roof,' I sincerely hope that our Messiah sing-along film presentation, and Handel's music, will rekindle the flame of all that is best within us, bringing joy, peace, and hope to your homes."
Captured live at Massey Hall in 2010, this video of Messiah excerpts features soprano Suzie LeBlanc, countertenor Daniel Taylor, tenor Rufus Müller, baritone Locky Chung, the Tafelmusik Baroque Orchestra and Chamber Choir, and a chorus of 1000 enthusiastic audience members. This video will be released on YouTube on December 17 at 7pm, and available until December 27. For those without multiple scores on their bookshelves, choruses will be available to download directly from the Tafelmusik website in the days prior to the video launch. While there is nothing that can compare with an authentically interpersonal singing experience, this is a wonderful opportunity to bridge the gap between our annual traditions and what is currently permitted; with such resources available to help us through what will undoubtedly be a strange and unfamiliar holiday season, we wait with anticipation for the joy of coming together, live and in-person, next year.
It is encouraging to see the development of such high-quality online content as a way of combating the widespread isolation imposed by the pandemic. If you come across a technological marvel produced by one of Toronto's early music performers that you think deserves a place in this column, let me know at earlymusic@thewholenote.com. "See" you next year!
Matthew Whitfield is a Toronto-based harpsichordist and organist.