Summer is a time when everything seems to move a little slower, the days are longer, and there is more fun to be had than at any other time of year. For musicians, however, the ending of the formal concert season in May or June doesn't necessarily signal a slowdown, as festivals and special events, frequently featuring exciting masterworks, begin to fill the calendar. Whether you're looking for a concert in downtown Toronto, scenic Collingwood, or further east in Montreal, this year's "second season" has something for everyone.
June
June is a transitional month, offerin season-ending performances by organizations across the city, grand finales showcasing great ensembles and equally great musical works. And as these seasons end, others begin.
The Tafelmusik Baroque Summer Institute (TBSI), a world-renowned training program for advanced students, pre-professional musicians and professionals, in instrumental and vocal Baroque performance practice, is led by some of the world's finest musicians in the field. This year's TBSI runs from June 10 to 23 and features five separate performances by faculty and students at venues across the Bloor-Annex corridor, including Jeanne Lamon Hall and Walter Hall, with the grand finale slightly further north at Grace Church on-the-Hill. As a former participant in this superb training program, I cannot speak highly enough of the quality of repertoire and tutelage each participant receives, and strongly encourage lovers of early music to attend at least one of these performances. Keep the program, too – you'll be amazed at how many names return as fully formed performers in following years.
If you are planning a trip to Montreal in June, make sure to explore the Montreal Chamber Music Festival, taking place from June 7 to 16. This season marks the beginning of a three-year project by MCMF to celebrate the life of the great Ludwig van Beethoven – Beethoven Chez Nous – featuring cycles of complete works by Beethoven over the course of the 2019, 2020, and 2021 Chamber Music Festival seasons. Highlights this year are the Beethoven Violin Sonatas performed by James Ehnes and pianist Andrew Armstrong, and the Beethoven Symphonies as transcribed for piano by Franz Liszt, with six outstanding pianists from across the world. Although the "early music" classifier is often used for music written from the medieval era until approximately 1750, as time progresses and musical art forms develop in new ways, the works of classical composers such as Haydn, Mozart and Beethoven grow older and, by relation, "earlier" within the scope of music history. Fortunately for lovers of this wonderful repertoire, events such as the Montreal Chamber Music Festival provide opportunities to hear superb performers interpreting works from this pantheon of musical history and ensure that, while this music may be from ages past, the sounds it makes are as revitalizing and sublime as ever.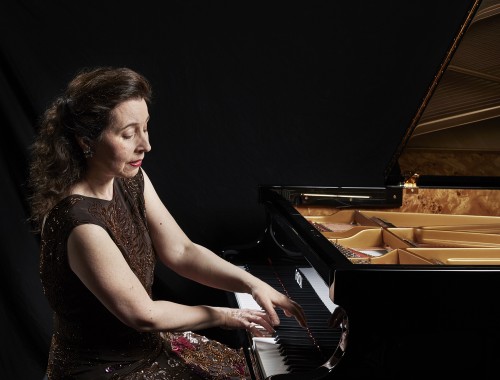 July
Angela Hewitt is an Ottawa-born Canadian favourite and one of the top pianists on the scene, especially for fans of Johann Sebastian Bach's music. Hewitt comes to Toronto this July as part of the 2019 Toronto Summer Music Festival in a performance of Bach's mind- and finger-bending Goldberg Variations. Being a Canadian pianist makes taking on the Goldbergs an even more daunting task, the legacy of Glenn Gould looming large over this particular conglomeration of notes and rhythms. Audiences are, of course, able to understand that different performers bring necessarily different interpretations to musical works, a combination of nature and nurture that is almost impossible to define, yet readily perceptible to the ear, especially in the case of Gould! And that individual performers' take on particular works evolves over time. Hewitt has lived with the Goldberg Variations for a musical lifetime, including recordings in 1999 and 2015, and we look forward to hearing her current approach to the work, as a continuation of her exploration of Bach's keyboard works and follow-up to last year's performance of the complete Well-Tempered Clavier. Both the Well-Tempered Clavier and the Goldbergs are astonishing masterpieces and this will be a rare and memorable opportunity to experience one the world's most profound works of creativity performed by one of today's leading Bach interpreters.
Nestled in cottage country north of Toronto, Collingwood is perhaps best known as the gateway to Blue Mountain ski resort. This year, however, Collingwood becomes a hub for summer music through the inaugural Collingwood Summer Music Festival, filling a gap in the community that has been there since 2011 when Douglas Nadler's Collingwood Music Festival ended its 11-year run. Featuring the Elmer Iseler singers performing Beethoven's Choral Fantasy, the Gryphon Trio and the Rolston String Quartet, the classical music component of this multifaceted festival will be a delightful escape for those already fleeing the hectic city for a more serene locale.
August
This July and August, Ottawa Chamberfest presents an all-star lineup of Canadian performers, including James Ehnes, pianists Janina Fialkowska and Angela Hewitt, as well as a noteworthy celebration of Baroque composer Barbara Strozzi's 400th birthday. Strozzi (1619-1677) was an Italian singer and composer who studied with famed composer Francesco Cavalli. Renowned for her poetic ability as well as her compositional talent, Strozzi was said to be the most prolific composer – man or woman – of printed secular vocal music in Venice in the middle of the 17th century, a time when the publishing of original material was in itself a remarkable accomplishment for a female composer.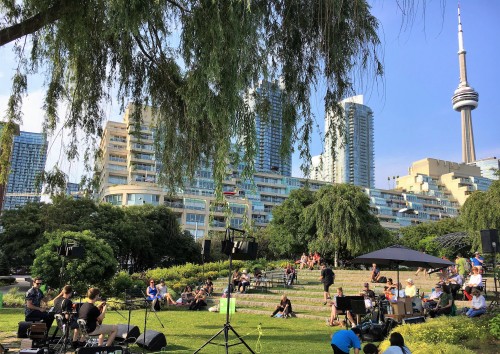 Although August marks the beginning of the end of summer and back-to-school ads appear earlier and earlier each year, the music continues by Toronto's waterfront. Tucked away in Toronto's waterfront, the Toronto Music Garden was conceived by internationally renowned cellist Yo-Yo Ma and landscape designer Julie Moir Messervy in partnership with the City of Toronto's Parks and Recreation department. Through its labyrinthine landscape, the garden interprets Bach's Suite No.1 in G Major, BWV 1007 for unaccompanied cello. Each summer the Toronto Music Garden is home to Summer Music in the Garden, presenting a tremendous range of chamber and world music at 7pm most Thursdays and 4pm most Sundays throughout the summer. On August 25, Baroque cellists Elinor Frey and Phoebe Carrai present "Duetto Violoncello," with works by Bach, Cirri, Thomas and Dall'Abaco. These free concerts provide a fine opportunity to take in music that may be new or unfamiliar, or to explore the sounds of instruments that one does not hear frequently, such as the Baroque cello.
Other Performances
In addition to the larger multi-event festivals taking place, there are also a number of interesting early-music concerts this summer occurring outside the festal realm:
On June 9, fans of Bach's choral music will be delighted to hear the Ascension Oratorio, a dramatic work structured in 11 movements in two parts: approximately the same size, layout, and duration as Bach's two-part church cantatas. (Parts 1–6 were performed before the sermon and 7–11 after the sermon.) Presented by contralto Jacqueline Gélineau in Heliconian Hall, and featuring a solo vocal quartet and harpsichordist Brahm Goldhamer, this chamber-sized, keyboard-and-voice performance will be of interest both to those familiar with the master's works and those wanting to dig a little deeper and explore Bach's music on a smaller scale.
On June 16, the Tudor Consort presents "The Song of Songs and Songs of Love" at Historic Leaskdale Church in Leaskdale. Featuring works by Schütz, Monteverdi, Marenzio, Palestrina, and Verdelot, this concert provides a window into the Italianate stylings of the Late Renaissance and Early Baroque eras.
On June 30, Westben presents "Viva Vivaldi! The Four Seasons and Gloria," featuring two of Vivaldi's masterworks. The Four Seasons, a captivating and expressive set of four concerti is interpreted by violinist Amy Hillis, while the Westben Festival Orchestra & Chorus tackle the Gloria. Make sure to check it out – not only do you get to hear one of the masters of the Italian Baroque, but you get to do so in a barn!
As anyone who has travelled to an unfamiliar place knows well, navigating is often the trickiest part of going somewhere new. This issue of The WholeNote serves as your musical road map, helping you traverse the winding roads of summer music in all its forms without a GPS shouting "Recalculating!" With so many opportunities to hear splendid music, it is impossible to make a wrong turn and I encourage you to delve into some of these magnificent concerts and festivals.
If you have any questions or want to hear my two cents on anything early music this summer, send me a note at earlymusic@thewholenote.com. See you in September!
Matthew Whitfield is a Toronto-based harpsichordist and organist.