A concert series which has a unique and vivid perspective on the world of early music is Joëlle Morton's Scaramella, now beginning its fifth season. I've been struck by the imaginative eclecticism of this series: each concert offers a totally different fare from the others, with "new" music often mixed with "old," and a varied group of musicians and instruments on stage – although a common thread running through it all is the voice of the viol.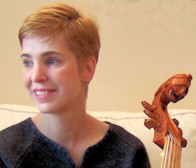 This is not surprising. Although Joëlle's initial training and performing were on the modern double bass, she subsequently studied the viol and viol repertoire. "I became hooked," she explains, "by the sheer beauty of the music, by a vast quantity of previously unexplored repertoire, and by a process of making music that allowed me to make my own decisions about style and interpretation. After a couple of years, I found myself feeling 'more like myself' on the viola da gamba, and 'less like myself' on the modern double bass." And she's now a full-fledged performer on a wide variety of Renaissance and Baroque bowed stringed instruments.
Of the initial impetus for her series, Joëlle tells me: "When I started Scaramella in the fall of 2005, I had in mind the idea of bringing together some good friends with whom I'd worked in various different places, and of collaborating with them to explore how early music could be presented in unusual and stimulating ways, to reach a broader audience. Over the years, I've gotten to know a lot of phenomenal musicians, who play all manner of kinds of music, though our 'common ground' is historical performance. I wanted to incorporate some of their kinds of music and approaches to 'expand the boundaries' of my own knowledge."

As for the first concert of this season, entitled A Merry Company, the brochure promises it will be "expressive, entertaining and eccentric." It includes – unlikely as it may seem –   excerpts from Handel's operas (transcribed for small instrumental ensemble during his lifetime), also quirky sonatas by Parcham and Mercy, virtuosic divisions, and the continental influences of Valentine, Matteis and Paisible. "Virtuosic" should also be added to the description of the concert, with the spectacular playing of the musicians involved: Alison Melville (recorders/ baroque flute), Nadina Mackie Jackson (baroque bassoon), Lucas Harris (theorbo), Borys Medicky (harpsichord), and Joëlle Morton herself (violas da gamba).
You can hear it on November 28, 8pm, in the lovely, intimate setting of Victoria College Chapel.
Tafelmusik and Purcell's King Arthur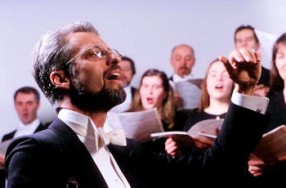 2009 has been a particularly fecund year for significant anniversaries in the musical world. The iconic, energetic Tafelmusik seize one last opportunity to honour Purcell in his 350th anniversary year, with concert performances of King Arthur.
A collaboration between Purcell and the playwright/poet John Dryden, the first performances of this "dramatic opera" were in 1691. Much of the drama is spoken, while the music is mostly incidental, intended to colour or comment on the action. You'll discover Purcell's unique genius for melody and form at work in the many dances, aires and choruses. Indeed, you'll find music here to marvel at: I draw your attention to the extraordinary shivering lament of the Cold Genius, wakened unwillingly by Cupid from his icy sleep and longing only to be allowed to "freeze again to death" – an astonishing and endearing piece, even if it evokes images of pending weather.
This tale of a king, his foes and his fair maid, spells cast and battles fought, will be told in spoken word and music by an accomplished band: R.H. Thomson, actor; Suzie Leblanc, soprano; Charles Daniels, tenor; Nathaniel Watson, baritone; with the Tafelmusik Baroque Orchestra and Chamber Choir, directed by Ivars Taurins. Performances take place November 12 to 15.
Of course, as with 2009, every year has its share of anniversaries. A bit of research has revealed that 2010 is replete with significant anniversaries too. Among other things, it is: the 600th anniversary (estimated) of the birth of Ockeghem; the 550th anniversary of the death of Binchois; the 500th anniversary of the births of Diego Ortiz and Andrea Gabrieli; the 350th anniversary of the birth of Alessandro Scarlatti; and the 300th anniversary of the births of W.F. Bach, Pergolesi and Arne. Which of these composers will be celebrated during the coming year? It all remains to be seen …
November 7, 3:00 in Hamilton, November 8, 2:00 & 8:00 in Toronto: The new early music chamber ensemble Capella Intima brings glorious sacred music to two churches and to the Heliconian Hall, in their thrice-presented concert Celestial Sirens – Music of the Benedictine Nuns of 17th-century Milan. Performers include Bud Roach, tenor and founder; Dawn Bailey and Erin Bardua, sopranos; Vicki St. Pierre, alto; Sara-Anne Churchill, portative organ; and Kate Haynes, cello.
November 15, 3:00 in Waterloo: Greensleaves (Marilyn Fung, viola da gamba; Shannon Purves-Smith, viols and recorders; and Magdalena Tomsinska, lute) and guest artists present a CD Launch Concert of little-known music of the Polocki manuscript from the mid-17th century, discovered in 1960 in Krakow, Poland. Traditional period pieces (pavanes, galliards, canzonas, etc.) as well as dances and songs with a clearly Polish flavour – at times elegant and touching, at times rustic, boisterous, and humorous – are arranged by Michael Purves-Smith.
November 15, 3:30 in Kitchener: Folia presents Messengers of the Stars: Gods, Goddesses and Galileo. This fascinating programme of music and spoken word looks at the heavens as seen both by the new science of Galileo, and in music and song of his time. You'll hear music by Caccini, Cavalli, Leonarda and others, performed by Meredith Hall, soprano; Linda Melsted and Julie Baumgartel, baroque violins; Terry McKenna, lutes/baroque guitar; Laura Jones, gamba/ cello; with Tamara Bernstein, host.
November 21, 8:00: Academy Concerts presents Glamour and Grace: French chamber music from the last decade of the Ancien Régime, a programme of refined, elegant and joyful music of Pre-Revolutionary France, presented on 18th-century original instruments and performed by historical performance scholars. Sharon Burlacoff, fortepiano; Nicolai Tarasov, clarinet; Anthony Rapoport, viola; and Robin Howell, bassoon play works by Tapray, Devienne, Dalayrac and Bréval.
November 29, 8:00: Did you know that Toronto has a flourishing Community Baroque Orchestra, founded in 2004? You have a chance to hear them in performance, playing music by Purcell, Buxtehude and Corelli on period instruments, with guests: violinist (and coach) Patricia Ahern and harpsichordist David Sandall.
For full details of these and many other concerts, see our concert listings; you can also search the listings by musical category by clicking here.
Simone Desilets is a long-time contributor to The WholeNote in several capacities, who plays the viola da gamba. She can be contacted at earlymusic@thewholenote.com.