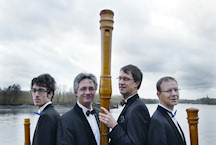 Last month, Tafelmusik co-produced a marvellous concert program, "The Galileo Project," with The Banff Centre — an immersion in the stories, people, and times of the 16th century, through a fusion of arts, science, and culture. It was in 1609, you see, that Galileo Galilei's first demonstration of the telescope took place, and Monteverdi's Orfeo was published. So, 400 years later, it was a natural to jointly celebrate Galileo's work and the music from that period. The collaboration included the Orchestra, astronomers, a stage director, a filmmaker, a set and lighting designer, astronomical photographers, and a recording engineer. It was the kind of sensory experience that gives us a context for our musical relationship with the world, and a reminder that "the music of the spheres" is not a phrase to take lightly.
This month, celebrating their 30th anniversary, and just returned from their Carnegie Hall debut, Tafelmusik features a suite from Rameau's Dardanus and Handel's Water Music (February 18 – 22). Website: www.tafelmusik.org / www.myspace.com/mytafelmusik
Meanwhile, the Academy Concert Series also presents Handel (February 7) – his charming Trio Sonatas performed by Nicolai Tarasov (baroque oboe), Rona Goldensher (violin), Laura Jones (viola da gamba), Paul Jenkins (organ). website: www.academyconcertseries.com
A couple of days later, and a short way down the road, the ensemble known as Folia (Linda Melsted, baroque violin; Terry McKenna, lute and baroque guitar; Justin Haynes, viola da gamba; Borys Medicky, harpsichord) explores The Chocolate Road, featuring the music of chocolate-loving 17th century composers from Mexico, Spain, Italy, France and England, accompanied by tasty readings about chocolate from period diaries, letters and recipes (February 9). In this historical exploration, the fusion is not music and astronomy, but love, passion, chocolate addiction, and music. Chocolate has been blamed for many things, but was it the cause of Baroque music? Perhaps members of the Florentine camerata were "under the influence" when they invented opera!
Speaking of love, Scaramella's "Lettera Amorosa" (Love Letter) program brings the sweet harmony of Monteverdi and his Venetian contemporaries (February 14) with special guests, the Toronto Continuo Collective and their plucked and bowed instruments. Katherine Hill (soprano), Lucas Harris (lute, theorbo), Julia Seager-Scott (triple harp), Joëlle Morton (violas da gamba), Valerie Sylvester (baroque violin), Sheila Smyth (baroque violin), and Linda Deshman (viola da gamba) all perform. www.scaramella.ca
Sine Nomine explores another perfect relationship their program of Medieval musical on February 20). The relationship of earthly and heavenly time was a subject of great fascination to cosmologists of the Middle Ages. See the Sine Nomine Ensemble for Medieval Music website: www.pims.ca/amici/sinenomine.html
Nymphs and shepherds cavort in song when The Musicians In Ordinary perform a concert entitled "Fair, Cruell Nymph: Songs and Dialogues from 17th Century England" (February 28) with tenor Darryl Edwards joining soprano Hallie Fishel and lutenist John Edwards. These songs are a strong reminder of the importance of communication in a good relationship. Settings by Ferrabosco (of texts by Ben Jonson), and Henry Lawes (of John Milton), are exemplary of this period's refined marriage of music and words. Visit www.musiciansinordinary.ca
Making a Canadian stop on their North American tour, The Flanders Recorder Quartet presents "Banchetto Musical" (February 27, 28). The Toronto Consort (www.torontoconsort.org) proudly presents the world's foremost recorder quartet in a program which includes virtuoso recorder music from many centuries, including works by Johannes Ciconia, J.H. Schein, and J.S. Bach. The FRQ was presented not too long ago by the Women's Musical Club of Toronto (www.wmct.on.ca). If you missed their previous appearance, be sure to catch this one. By the way, the WMCT is presenting the inimitable and phenomenal Red Priest which is, sadly, sold out.
Capella Intima, the newest member of Toronto's early music community, is an ensemble of singers and musicians specializing in the sacred music of the 17th century. Their debut program, "Music from the Collegium Germanicum," will include motets for three voices by Cavalli, Sances, Valentini, as well as a Mass by Giocomo Carissimi (February 21, 22, 25). Bud Roach (tenor), Joseph Levesque (tenor), and Neil Aronoff (baritone) are accompanied by Sara-Anne Churchill (organ) and Lucas Harris (theorbo).
Frank T. Nakashima (franknak@interlog.com) is the President of the Toronto Early Music Centre, a non-profit charitable organization which promotes the appreciation of historically-informed performances of early music.