If you were a court "musician in ordinary" during Tudor and Stuart times, you'd be required to provide music for the Royal Household on any occasion, on call at any time of the day or night. And if you played the lute or sang, your duties would be in the Privy (private) Chambers, as purveyor of the gentler, more intimate music appropriate to this setting.
Toronto's own Musicians in Ordinary have been inviting audiences into the Privy Chambers of kings and queens for many years now, to listen to the gentle and heartfelt music of John Dowland and others of the 17th and 18th centuries. And core members Hallie Fishel, voice, and John Edwards, lute and guitar, bring a wealth of scholarly activity to their performances. Fishel is in demand as a coach and lecturer on performance-practice and the place of music in early modern culture at universities and colleges across North America; Edwards is a Fellow of the Centre for Reformation and Renaissance Studies at the University of Toronto, and has given lectures and demonstrations throughout North America.
In the first concert of their eighth official season (though they've been together as performers for much longer than that), the Musicians in Ordinary explore, in words and music, the many facets of a condition as relevant to commoners as to royalty, and as pervasive in the 21st century as it was in the 17th: melancholy (or depression, as we today might perhaps think of it). Two famous personnages are represented: English composer John Dowland, who expressed deeply felt emotions with exquisite originality in his songs for voice and lute; and Robert Burton, vicar in Oxford and then rector of Seagrave, who published in 1621 the first version of his book The Anatomy of Melancholy.
Apparently both men were subject to bouts of despair. But fortunately, both also had a spectacular sense of humour, and the dark and tragic aspects of melancholy were by no means the only ones they dealt with. The Anatomy abounds in all sorts of unexpected references, from goblins to the geography of America, and is obviously a very entertaining treatise to read. Dowland's lute songs display a wide range of temperaments and are collectively one of the pinnacles of 17th-century English song. We can fully expect that the Musicians in Ordinary will present a wide-ranging spectrum in their concert.
Fortunately too, Fishel and Edwards have David Klausner as their collaborator in this performance. Klausner, who is a professor in the University of Toronto's Centre for Medieval Studies and Department of English (and who was one of the original members of the Toronto Consort), will read from The Anatomy of Melancholy. His delivery of the text is described by Edwards as "stentorian."
The performance takes place on October 10 at 8:00pm in the Heliconian Hall.
Purcell's Fantasias for Viols
In the autumn of the 350th anniversary of Purcell's birth, the Toronto Consort presents music he wrote in the spring of his life: the Fantasias for viols. These were almost all composed in the summer of 1680 (some dated precisely); and as far as one can tell, came into being as Purcell's challenge to himself, to affirm his mastery of what was by then an archaic form. They are masterpieces of contrapuntal writing in the old style, a summing up of what had gone before and was now abandoned in favour of newer styles. This is not music for casual enjoyment. Be prepared to enter an introspective world of rare sonic palate (from three to seven viols), music that will reward you for listening intently to its great beauty.
Les Voix Humaines and friends perform on the beautiful Hart House viols (featured in last month's column). The concerts take place on October 30 and 31, 8:00pm, at Trinity-St. Paul's Centre.
Some of the many other interesting early music performances this month are:
October 3, 7:00pm: The Elmer Iseler Singers, with guests the Nathaniel Dett Chorale, present what seems like a lovely programme, Gibbons to Gospel, including music by Byrd, Tallis, Gibbons, Whitacre and Tomkins, as well as gospel repertoire.
October 10, 8:00pm: In their own take on melancholia, the ever-daring I Furiosi Baroque Ensemble presents In Corpore Sano with guests, oboist Marco Cera and Jonathan Addleman, harpsichord.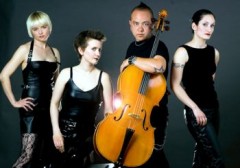 October 15 to 17 at 8pm, October 18 at 3:30: Taflemusik's Sizzling Strings offers music by Corelli, Vivaldi and C.P.E. Bach, and reaches into the 19th century with music of Mendelssohn. Violinist Aisslinn Nosky is the featured soloist.
October 17, 7:30pm in Barrie: Barrie Concerts presents Baroque Gypsies. Montreal's Ensemble Caprice perform music from their repertoire, which no doubt will include samples from their 2009 Juno award-winning Vivaldi CD. Their members are shining lights in the early music world: Matthias Maute, recorder, baroque flute and composer;
November 3, 12:10pm: You have a chance to hear samplings of the Toronto Masque Theatre's work, in U of T's Voice Performance Class series – a free concert in Walter Hall.
To avoid melancholy one must avoid idleness, states Robert Burton; so grab a friend and heigh yourselves off to some of these concerts, and others that will be presented this month. Full details can be found in The WholeNote's daily listings sections both in print and online.
Simone Desilets is a long-time contributor to The WholeNote in several capacities, who plays the viola da gamba. She can be contacted at earlymusic@thewholenote.com.