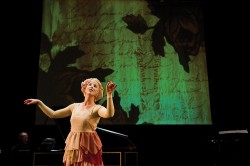 Last season, I attended an absolutely beguiling production of a double bill: two Molière comedies, Le Bourgeois Gentilhomme and Le Malade Imaginaire, performed as masques, with acting, dance, and their respective music by Lully and Charpentier played by a period instrument orchestra. Though presented in 21st century Toronto, these pieces had all the charm, wit, inventiveness and sparkle that one could imagine in 17th century French comedy. The presenting company, Toronto Masque Theatre, has another pair of masques upcoming: the story of Orpheus and Euridice as told in the 17th century by M.A. Charpentier and in the 21st century by James Rolfe (music) and André Alexis (text).
I posed a number of questions to TMT artistic director Larry Beckwith. Here's a little of what he told me:
So what is a masque? "Our wide-ranging definition of a masque is: music theatre that involves some combination of the performing arts – music, dance, poetry – and pieces that explore a common theme or story from different points of view."
Your three artistic directors (Beckwith, Marie-Nathalie Lacoursière and Derek Boyes) are a goldmine of complementary talents! How did you find each other and get together to produce masques? "I've known Marie-Nathalie Lacoursière for close to 15 years now and think she's an absolute genius. She was in the great Elaine Biagi-Turner's network of dancers and we worked together a few times, back when I played with Arbor Oak (baroque trio). In addition to being a meticulous dancer, she has a deep knowledge of music and theatre, a terrific sense of humour and fun, and when she's working she really goes for it. I met Derek Boyes on an Opera Atelier tour to Singapore about 12 years ago and we hit it off. He's a very special actor. There's a powerful humanity to all of his work. We work very well together. I feel tremendously lucky to be working with them on a regular basis!"
Any thoughts on how masque is, and is not, related to opera? "I think masque is very closely related to what opera was in its beginnings. Thinking of Monteverdi's Orfeo (another amazing version of the story) of 1607, you have a strong literary base, lots of room for dancing and an intimate and charming setting. Of course, most people now think of opera as being very grand and larger than life, which also relates to one of the goals of masque, which is to take the audience out of their own lives for a little while and beguile them with a combination of art forms."
How have Toronto audiences responded to your productions? "I am amazed and delighted at the extent to which Toronto has embraced TMT. Our audience continues to grow and we offer gentle educational talks and material to give them a context for what they are seeing. At the end of our seventh season, we look back and are very proud of what we've accomplished so far, and look forward to building on our strengths as we move forward. Touring is definitely in the plans!"
Masques of Orpheus takes place on May 5 and 6 (there's a student matinee on May 4), with what Beckwith calls an "amazing cast": Lawrence Wiliford, Shannon Mercer, Teri Dunn, Peter McGillivray, Alex Dobson; the whole production is directed by Marie-Nathalie Lacoursière. You won't be disappointed if you go.
Feast of Bach
Bach wrote some of his greatest works for the Christian feast days of Good Friday and Easter Sunday which are approaching.
You can hear the Mass in B Minor twice this month: On April 3, the Elora Festival Singers, conducted by Noel Edison, presents it in Guelph; on April 10, the Georgetown Bach Chorale with music director Ron Greidanus, gives a period performance of the work in Georgetown. The St. Matthew Passion (for me the most profoundly touching of all Bach's music), will be performed on April 15, 16 and 17 in Oakville, with Masterworks of Oakville Chorus and Orchestra and their conductor Charles Demuynck. The St. John Passion can be heard on April 22, with the Grand Philharmonic Choir under director Mark Vuorinen in Kitchener.
On April 3 in the Royal Conxervatory's Koerner Hall, revered pianist Leon Fleisher presents Bach from the standpoint of his own long life as an artist. He'll play "Sheep May Safely Graze" from Cantata No. 208; Capriccio in B-flat Major, "On the Departure of a Most Beloved Brother"; and "Chaconne for the Left Hand" from the Violin Partita in D Minor, among other works.
Some Others, In Brief
• April 8: One of the world's premier male voice choirs, currently touring, makes one Canadian stop at Toronto's Grace Church on-the-Hill. Christ Church Cathedral Choir of Oxford England presents English sacred music by Taverner (Christ Church's first music
director), Tallis, Gibbons, Bach, Purcell and Handel.
• April 10: Toronto Early Music Centre's Musically Speaking series presents A Modern Troubadour. Benjamin Stein sings and plays on lute and theorbo: baroque and renaissance songs from France, England and Italy, and his own theorbo transcription of a Bach
cello suite.
• April 15: Vesuvius Ensemble presents I canti a Maria: Music for the Madonna, celebrating (with voice, baroque and renaissance guitars, chitarrone, hurdy-gurdy, percussion and rustic Neopolitan instruments) a rich folk heritage: ancient dances, rhythms, feasts, processions and pilgrimages which recall seasonal traditions repeated today.
• April 16: Grace, passion and elegance characterize The Musicians In Ordinary's À Sa Lyre: musical settings of 16th century French poetry and dances for lute from the country that would invent ballet.
• April 29: "Greenness" is the overriding theme of Sine Nomine Ensemble's final concert of the season. O viriditas! The greenness of life's rising is celebrated with music from medieval times.
• May 6, 7 and 8: The Toronto Consort has among its members a contingent of wonderful female singers. Their beautiful sound and virtuosity are displayed in Songs of the Celestial Sirens, a program of music by and for women from 17th century Italy.
• May 7: Never a group to be left behind in the dust, I Furiosi Baroque Ensemble presents Baroqueback Mountain. With music by Handel, Geminiani and Rosenmueller, they urge you to "Park your horses outside, remove your Stetsons, sit back and enjoy the view."
• May 7: Handel composed his four magnificent Coronation Anthems for the coronation of King George II and Queen Caroline in 1727. Their power to enthrall has never waned, nor has their popularity; you can hear them performed by The Tallis Choir under its director Peter Mahon, with guest artists The Talisker Players.
• May 7 and 8: Saints and Sinners mingle in this pair of concerts by Cantemus Singers, with some saucy English, French and German songs from the 16th century, balanced by Palestrina's Missa Papae Marcelli and motets by Byrd, Hassler and Clemens non Papa.
• May 3 to 8: Classical Music Consort's second annual Springtime Handel Festival brings to light some of Handel's rarely performed works in six concerts at Trinity and Victoria College Chapels. n
Simone Desilets is a long-time contributor to The WholeNote in several capacities, who plays the viola da gamba. She can be contacted at earlymusic@thewholenote.com.