Locations might be taken as a theme that loosely ties this month's events together, in an oblique sort of way. To start with, Toronto is the lucky location of several appearances by visiting artists I'd like to tell you about.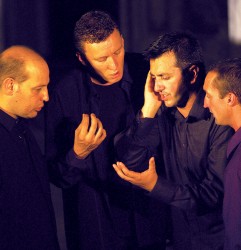 On March 12, The King's Singers appear at the Royal Conservatory's Koerner Hall. This six-voice male ensemble from England hardly needs an introduction; their unique blend of impeccable intonation, flawless articulation, incisive timing and British humour have ensured their fame around the world for over 40 years. I myself fondly remember a performance of theirs at U of T Faculty of Music in November 1973 – I unearthed the program (this is true), which reveals that they did Renaissance motets by Victoria, Jacob Handl and Byrd, Italian madrigals and French chansons from the 16th and 17th centuries, 20th century works and some lighter fare too. Of course, no one in that early group still remains in the present incarnation some 37 years later; but it's sure that the versatility and aplomb which have always characterized their performances have remained constant through all the changes in personnel. At Koerner Hall their artistry and expertise in early music will be evident in works by Bennet, Tomkins, Palestrina and Striggio; more contemporary works are on the programme as well.
A concert not strictly of early music but of a world premiere inspired by the music of 12th century musician and mystic Hildegard von Bingen takes place at St. Anne's Church on March 23. It brings to Toronto an extraordinary women's vocal trio from Norway, Trio Mediæval, who, with The Toronto Consort, will perform James Rolfe's new commissioned work Breathe. This presentation of Soundstreams offers an added bonus on March 21: a free "Salon" at the Gardiner Museum, at which you can hear Trio Mediæval perform excerpts and talk about Rolfe's composition.
The pure and expressive voice of Daniel Taylor, one of the world's most sought-after countertenors, will grace the Tafelmusik stage in performances from March 24 to 27 (Trinity-St. Paul's Church) and again on March 29 (Toronto Centre for the Arts). His is an amazingly busy life – his website tells us "Professor of Voice at the Conservatoire de musique in Montreal and at the University of Ottawa, Adjunct Professor at McGill, visiting scholar at the University of Victoria, Artist-in-Residence at the Banff Centre, Artistic Director and Conductor of the Theatre of Early Music, which performs over 30 concerts every year all over the world" – and this description doesn't even mention his many appearances as recording artist and performer in opera, oratorio and concerts. In Toronto he'll be singing Bach (the ravishing solo Cantata 170 Vergnügte Ruh – Contented Rest) as well as virtuosic Italian arias. Definitely a desirable place to be on one of those dates!
Each season, The Toronto Consort introduces a guest ensemble to its audiences. But this April, it brings two: the richly-flavoured Montreal-based Constantinople, an instrumental ensemble inspired by musical traditions of the Middle Ages, the Renaissance, the Mediterranean and the Middle East; and Barbara Furtuna, a remarkable male vocal quartet from Corsica that specializes in the centuries-old traditions of polyphonic Coriscan singing. To listen to Constantinople is to travel back to ancient places and times when Eastern and Western cultures blended and influenced each other's arts and philosophy; to listen to Barbara Furtuna (the name means "cruel fate") is to hear stories of the long, troubled and impassioned history of their island. Together, they'll take the audience on a voyage from the heart of the Mediterranean where lies the island of Corsica, to ancient Persia and medieval Europe. "Canti di a terra" is presented on April 1 and 2 at Trinity-St. Paul's Church.
Other locations – Sweden, Leipzig, restoration London, coffeehouses, ladies' boudoirs – are also within reach, and once again there's too much to do justice to:
Meeting friends for coffee is always an enjoyable way to spend a couple of hours. You can do this in the 18th century European way on March 4, as Baroque Music Beside the Grange invites you to Heliconian Hall for "The Coffeehouse Collective," music by Telemann, Bach and others, played in an informal but attentive atmosphere with an array of instrumental colours, and served with coffee and cider. An hour-long version of this concert will be presented on March 6 in the lovely acoustic of Church of the Holy Trinity, the latest in Toronto Early Music Centre's "Musically Speaking" series.
As lutenist/guitarist John Edwards explains, pre-Revolution France was an era "where men like the encyclopaedist Diderot, liberal thinkers like Rousseau and even a pre-imperial Napoleon would gather, literally, at the foot of the bed of great ladies. After they finished describing their hard work or how the plotting of the Revolution was progressing, chamber music would have offered a perfect diversion." Music that might well be heard then is performed on March 12 by The Musicians In Ordinary in a concert called "Rococo!" with soprano Hallie Fishel, baroque guitarist John Edwards and guest violinist Christopher Verrette.
Also on March 12, you can hear a touch of Sweden at Victoria College Chapel, in Scaramella's "Fiddle Me This," as three bowed instruments are showcased – the Swedish nyckelharpa, the hurdy gurdy and the viola da gamba. There'll be a mix of folk-inspired music and music coming from the high art tradition, especially pieces associated with the 17 th century Swedish Queen Kristina. Of special interest: a newly-composed piece for these three featured instruments, by hurdy gurdy and percussion player Ben Grossman.
Church of Our Lady Immaculate in Guelph is the location of Tactus Vocal Ensemble's concert "Il Mio Sole" on March 12. With organist Christian Teeuwsen, this eight-voice ensemble will perform works by Allegri, Marenzio, Monteverdi, Palestrina and Sanders.
In Kitchener on March 13, Nota Bene Period Orchestra takes you back to "Bach's Leipzig," presenting music by Bach and his contemporaries including Telemann, Kuhnau and Rosenmüller. The trip is further enhanced with a slide show of Leipzig's historic beauty and maybe even a little strudel.
With music ranging from restoration London to 21st century Toronto, Music at Metropolitan presents "Shakespeare in the City" on March 26 – a cross-cultural jam session on the lyrics of Shakespeare featuring singers, dancers and instrumentalists including composer/saxophonist Daniel Rubinoff and composer/theorbist (and The WholeNote's choral columnist) Benjamin Stein.
On March 27, there's a unique opportunity to celebrate the Age of the Enlightenment and its legacy with music, talks and readings of inspiring historical texts. Amnesty International and the Windermere String Quartet present "The Age of Enlightenment and Human Rights." String quartets by Mozart and Beethoven will be performed on period instruments, and the location is First Unitarian Congregation.
THIS JUST IN: In the wake of the exciting news reported last month, of Aisslinn Nosky's appointment as concertmaster of the prestigious Handel and Haydn Society in Boston, a solo violin recital arises. Nosky will perform three works: Bach's Partita No. 3 in E Major (a very famous and joyful work); Ysaÿe's second solo sonata "Obsession" (a work "obsessed" with both the above Partita and the Dies Irae); and the world premiere of Stand Still, a new commissioned work by Michael Oesterle. Presented by I Furiosi, "The Good, The Baroque and The Ugly" takes place on April 2 at Church of St. Mary Magdalene. A recital "not for the faint of heart," Nosky says, and this is certain; but I think it must also be a celebration of hope and joy in the prospect of a bright future.
Simone Desilets is a long-time contributor to The WholeNote in several capacities, who plays the viola da gamba. She can be contacted at earlymusic@thewholenote.com.