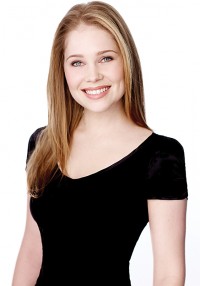 As well as bringing some of the best pianists and string quartets to Toronto, Music Toronto also supports young talent with its three-concert Discovery Series. The second Discovery concert of the season will be a recital on January 20 by soprano Laura Klassen, with collaborative pianist Megan Chang.
I asked Jennifer Taylor, the artistic and administrative director of Music Toronto, how she selects young artists for the three annual Discovery Series concerts. She told me it's not by a formal process, but rather by getting out and hearing performances and sometimes even by reading about young musicians who sound interesting. She first heard Laura Klassen in a student opera at the University of Toronto a few years ago. Klassen made an impression, not only on her but also on some of her subscribers, and a year or so ago, when programming the 2010-11 season, Taylor invited her to participate.
There are various bits of biographical information about Klassen on the Music Toronto website: she has ARCT diplomas in both piano and voice, has a Master's degree from the U of T Opera School, received the Canadian Opera Volunteers Committee Borowska Distinguished Graduate Award, and sings with the Canadian Opera Company Chorus and with the Orpheus Choir. But who is the person behind all this good news? What kind of person earns the opportunity to give a solo recital presented by Music Toronto's prestigious Discovery Series?
In corresponding with Klassen, I was astonished to learn that it wasn't until her second-last year of high school that she started to sing. "I went to an arts high school to play the flute and we all had to sing solos as a 'music project,'" she said. "In grade 12 I got the lead role in our school musical, Once Upon a Mattress. I was terrified, but my love of acting helped get me over my fright pretty quickly!" With that under her belt she started taking private voice lessons from her high-school teacher just in time to be ready for university auditions.
What she had been doing musically since the age of two was playing the piano, which undoubtedly helped her to progress quickly with singing. "My mom was my first and only piano teacher. When we were kids, it was made clear that all three of us would become proficient pianists. I thank my mom so much for it all now! I sing often with my mom at the piano, and she has really encouraged me with all of my performing."
Asked why the voice rather than the piano is her instrument of choice, she said that she has found it much easier to perform as a singer than as a pianist, and that singing just came naturally. "I'm really thankful that I started out on the piano, though, because I feel that I have a solid musical background. Also, it's handy to be able to play my own accompaniments when practising!"
I asked Klassen how her years of music have shaped her character. Not only has work in music fostered her creativity but it has also helped her to channel her competitive nature. "University was very competitive, and I learned to be more focused on competing with myself rather than with others." What led to this was the realization that there will always be someone out there who's better than her, which put things into perspective.
Now, with university studies behind her, she is fortunate that all her work is music-related: "I enjoy it so much, and I think that makes me a really happy person. I've started singing in the Canadian Opera Company Chorus this year, and though it probably won't enhance my solo career, it's a great job. It's a lot of fun, and I feel like I've learned a lot just being able to sing on the same stage as the amazing singers who have the lead roles. It's also very interesting to be able to view all that goes on behind the scenes of such a large company."
As for the future, her plan is to do her best and sing for as many people as she can. "So far, all of my big opportunities haven't come from auditions, they've come from other performances that I've done. Of course I'll keep on auditioning and see where it takes me! Every performance is an audition, and you need to be fully prepared. I just make sure that I'm as prepared as I can be for every performance and then just try to do my best. You never know who's going to be in the audience."
I was intrigued by her programme for January 20: it's varied, covering four centuries and a variety of genres. "I wanted a very diverse programme," she commented, "different languages, different periods, different styles. I wanted it to be interesting. I mostly chose songs that I absolutely love, and I hope that comes through in my performance."
I'm sure it will – along with an energetic and practical personality with more than a tinge of idealism. I think it is true to say that behind every great singer there is a great person, a person who has risen to the challenges both of music and of life. Brava Laura!
Laura Klassen's Music Toronto recital, January 20th CANCELLED!
For health reasons: Ms Klassen recently had emergency surgery and  has been advised she will need 4-6 mnths for complete recovery. To inquire about a ticket exchange or refund tickeholders should contact the box office 416-366-7723
Elsewhere in the News
Superstar soprano Renée Fleming will sing with the Toronto Symphony on December 8 as will the Canadian mezzo Marie-Nicole Lemieux on January 22 and 23, in performances conducted by Bernard Labadie.
On December 10, Sinfonia Toronto will be joined by Spanish trumpet player Vicente Campos, who will perform the Hummel Trumpet Concerto. On January 21, violinist Judy Kang will perform Affairs of the Heart by Canadian composer Marjan Mozetich.
The Royal Conservatory's Koerner Hall is making an enormous contribution to the musical life of the city. In December, along with a number of other performers in genres covered elsewhere in The WholeNote, it is bringing us the Canadian-born violin superstar Leila Josefowicz to do a solo recital on December 10, and on December 12 the highly individual American pianist Simone Dinnerstein. January is particularly busy, with the RCM Orchestra conducted by Peter Oundjian on the 21st, pianist Hélène Grimaud on the 23rd, the RCM Piano Competition Finals on the 26th, the Banff String Quartet Competition winners, the Cecilia String Quartet, on the 27th, and flutist Kathleen Rudolphe and collaborators on the 30th.
Mooredale Concerts will bring us trombonist extraordinaire Alain Trudel, and organist also extraordinaire Patrick Wedd, at Yorkminster Park Baptist Church on January 16. And two days later, on January 18, the co-founders of the CCC Toronto International Piano Competition, Lu Wang and Lang-Ning Liu, will perform as the Juilliard Duo at the Glenn Gould Studio.
All this is, of course, just scratching the surface. Read the listings to get the whole story!
Allan Pulker is a flautist and a founder of The WholeNote who currently serves as Chairman of The WholeNote's board of directors. He can be contacted at classicalbeyond@thewholenote.com.