It's that time of year when memories of the summer linger – of two or three days at a stretch when life can revolve around listening to music, when one makes a transition from the usual mode of things to a way of being in which music becomes the language of life.
In some sense, Toronto's musical life could be seen as offering the opportunity for festival-like immersion all the time. Pretty well every night, and even every day of the week, there are concerts, frequently several at the same time. The WholeNote, of course, is like the festival programme, giving musical tourists all the information they need to plan their music festival experience in advance.
So this month's column starts with a look at festival-like musical weekends, carved from WholeNote listings, in and near Toronto, beginning with a Friday evening event and ending on Sunday afternoon. (You could, of course, do the same thing with consecutive weekdays, but this gives you the idea.)
The first weekend of October offers build-your-own festival opportunities in Toronto and an actual festival, Colours of Music, in Barrie, about 100 km north. If you can get to Barrie on Friday morning so much the better – there are concerts at noon, 2:30 and 7:30, so you can immerse yourself right away in the festival experience. Saturday also offers three contrasting concerts: jazz at noon, violin and piano at 2:30 and, in the evening, Sinfonia Toronto with pianist Anya Alexeyev in an all-Chopin programme. Sunday offers one more concert at 2:30 in the afternoon: London's Primus Men's Choir with Brassroots brass ensemble. It sounds like a really glorious grand finale for the festival.
Were I a "musical tourist" in Toronto, that weekend offers an enticing opening to October; Friday, October 1, offers ten concerts in a dizzying range of genres: the Royal Canadian College of Organists' "Organ Spectacular," the Toronto Symphony, Sinfonia Toronto, chamber music, Cuban salsa, Somali hip-hop and the boundary-crossing Montreal musician Gabe Levine – something for everyone. (And having chosen one, you can keep going till last call by consulting our jazz listings on page 48 for after-concert fare.)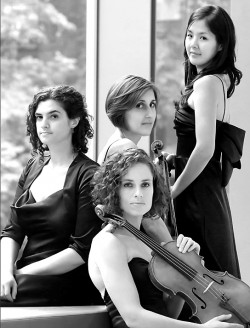 Your Saturday could begin with the Canadian Opera Company's Aida at 4:30 in the afternoon, followed by dinner at one of Toronto's many fine restaurants and then a choice of 15 concerts, or indeed a whole night's worth, as that evening is the annual Nuit Blanche night of music and art installations. Among the Nuit Blanche performers will be the Cecilia String Quartet, the first-prize winners of the 2010 Banff International String Quartet Competition and the first recipient of the Glenn Gould School Quartet Residency Fellowship for 2010-11. They'll perform R. Murray Schafer's Concerto for String Quartet and Orchestra with the Royal Conservatory Orchestra in Koerner Hall that evening.
Digressing briefly, there will be two other opportunities, to hear the Cecilia Quartet: October 7 at noon at the Canadian Opera Company's Richard Bradshaw Amphitheatre (co-presented by the COC and Jeunesses Musicales) and on October 13, performing quartets by Haydn and Mozart for the Mozart Society. Digressing even further, on
Friday, October 29, Mooredale Concerts has on offer the Afiara String Quartet, which won the second prize in this year's Banff String Quartet Competition, as well as the Székely Prize for best performance of Beethoven or Schubert. The Afiara, which incidentally is composed entirely of Canadians, is currently the Graduate Resident String Quartet of the prestigious Juilliard School of Music in New York. And there will be an opportunity to hear the Afiara Quartet this month at the Richard Bradshaw Amphitheatre as well, at noon on Thursday October 14, exactly a week after the Cecilia String Quartet. I should also point out that the Banff Competition, at which these two Canadian quartets won the top two prizes, is an elite international competition – an extraordinary tribute to the level of music education in Canada.
But returning to our "weekend-as-festival" theme, on Sunday October 8 there are 15 further concerts to choose from in our GTA listings alone, and a further eight in "Beyond the GTA" (starting on page 46). Pick your predilection, and chart your course!
The Thanksgiving Weekend (October 8 to 11) is a bit of an exception to the "every weekend is a festival" rule. Nevertheless Tafelmusik, The Toronto Symphony Orchestra and the Canadian Opera Company all have events. But the October 15 to 17 weekend is back up to speed again. As is the next, and indeed every weekend (bar three) from now till June and, yes, the start of the official festival season once again. So to summarize, if, as the days get shorter and colder, you're looking to compensate with consecutive days of summer-like musical immersion, there's no better "festival guide" than the WholeNote listings.
On another, and more personal, note, looking ahead to the first weekend of November, a former harmony teacher of mine, John Kruspe, his wife, Cathie, and two children, Jamie and Emily, will be performing together on Friday November 5, 7:30pm, at Walter Hall. John, an accomplished pianist, frequently performs as a solo recitalist – most recently in an all Chopin programme on September 23 in Walter Hall. Cathie, a violinist, maintains  a thriving private teaching studio, and performs as an orchestral and chamber musician. Jamie, who is 21 and also a violinist, is entering his last year of the undergraduate performance programme at U of T, studying with Jacques Israelievitch. His chamber group (a trio) won the Galimir award for the top ensemble at U of T this past academic year; and for the past two years was chosen for the Banff spring chamber music programme. Emily, who is 19 and also a violinist, is entering her second year of the same programme, studying with Erika Raum. This past winter she won the President's Trophy at the Toronto Kiwanis festival, and like Jamie was a Banff resident this year.
This may be the last opportunity to hear the Kruspe Family ensemble, as it's likely that soon both Jamie and Emily will be off to graduate schools and careers that might well take them far from home.
Also in early November, a very exciting new event to be aware of is the first Chinese Cultural Centre of Greater Toronto International Piano Competition, which begins on November 1 with the opening reception and a draw for performance order.  The first two rounds, November 2 to 3 and 4 to 5, and round three (six semi-finalists) November 7, all take place from 1 to 8pm at the CCCGT's extraordinary P.C. Ho Theatre, 5183 Sheppard Ave. E. For the final, Monday, November 8, 7:30pm, three finalists will perform with the new Toronto Concert Orchestra conducted by Kerry Stratton, at the Royal Conservatory's Koerner Hall.
The competition offers a total of $28,000 U.S. in prizes. Twenty-four young pianists from ten countries have been selected to participate.
I'll finish with a little story. Quite a few years ago I met Laurel Fay, a New Yorker who was the author of a new biography of Shostakovich. I was introduced to her as the (then) publisher of The WholeNote magazine (which she had evidently already discovered in her short time in Toronto). In that typical not-beating-about-the-bushes New Yorker way she said to me, "Come to New York. We need your magazine there!" I rather suspect there's more music in New York, but thanks to The WholeNote, Toronto very likely has more music for "musical tourists" to discover.
Allan Pulker is a flautist and a founder of The WholeNote who currently serves as Chairman of The WholeNote's board of directors. He can be contacted at classicalbeyond@thewholenote.com.