In December 2006 Cynthia Steljes, co-founder of Quartetto Gelato, died after a short but intense battle with an asbestos-related form of lung cancer. After a two-year period of reconstruction, now with two new members, and with the next two seasons planned, including an autumn 2009 Asian tour, the ensemble has been re-incarnated. Its other co-founder, violinist, tenor and Cynthia's widower, Peter DeSotto, brings continuity; and management is provided by entrepreneur and graphic designer Darlene Kulig. The group celebrates its rebirth with CD launch concerts at the National Gallery of Canada in Ottawa on March 19 and at Toronto's Glenn Gould Studio on March 21.
Allan Pulker talked to Peter in mid February about the ensemble, its meteoric ascent, the tragic loss of Cynthia, its members, way of working and the new CD and concert.
Allan: How did you find the strength and the will to keep going after Cynthia's death? It was a devastating loss, for you as her husband, of course, but also for the other members of the quartet as well.
Peter: I have a lot of trouble talking about it. Cynthia was a real sweetie. But I made a commitment to her that I would keep the group going; and it's also a commitment to myself as an artist. This is what makes life worthwhile.
A: You had been doing this for over fifteen years when Cynthia died. Is this what you wanted to be doing?
P: Yes, we were deliriously happy and we were lucky like no other group was. We had just amazing opportunities and we used them well. Her death was very unexpected. Everything was going just great, then suddenly she was hit and in six months she was gone. She had surgery in which her lung was removed and two weeks later she started playing again, with one lung, and she sounded great. We were all celebrating; we thought we had won…she can play with one lung, no problem, we're thrilled, let's go …then two weeks later we found out that the cancer had spread to the other lung, and that was the end.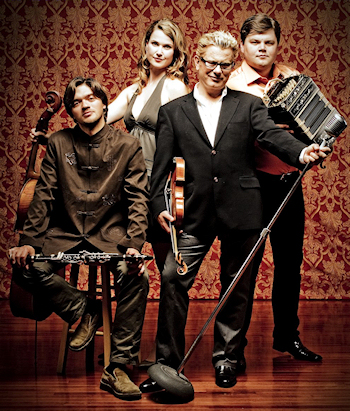 A: Not many people have had to endure what you've endured.
P: I have amazing friends, fans and family, people who really carried me through this whole thing. With their help I was able to do it. But, you know, it's these experiences that make you a great musician, a person who actually has something to say. You don't live a passive life, a life without anything happening to you and come out with profound performances.
A: Let's go back to Quartetto Gelato's beginnings. How and when did it get started?
P: We always say that we started the day we started our bank account in 1993; but we were actually performing for at least a year before that.
In 1992 I was a member of the Toronto Symphony Orchestra. I went to Gunther Herbig and told him that I was going to need some time off. He asked how much and I said I needed seventy concerts off. His reply left no doubt that this was the point at which I had to make a decision whether I was going to be a Toronto Symphony player or a Quartetto Gelatian!
A: So you took the plunge.
P: By this point we were booked to do the Debut Atlantic tour – forty engagements. We won the NPR Artist of the Year Award, and then immediately everybody in Canada started booking us like crazy! Immediately after that IMG Artists in New York got wind of us, and they signed us on and suddenly we were all over the United States. We sold 50,000 copies of our first CD, which was unprecedented – we were actually outselling the three tenors.
A: You can't have known it was going to take off like this!
P: No idea. It was music to entertain ourselves. We did the repertoire we wanted to play, the way we wanted to hear it. I wanted to do my operatic arias, of course, and I had been a strolling violinist to put myself through school. So, I said, I'll do some strolling violin, and Cynthia wanted to do some virtuosic showpieces, so virtuosity and tenor arias became the group's themes. We added folk music, then tango and it just went on and on.
A: Was there a role model, a group that was an inspiration for you?
P: The Canadian Brass, our mentors. They were the first and we were the second classical crossover entrepreneurs. They make a living at it and so do we; like us, and unlike most other chamber ensembles, they don't have a residency to fall back on.
A: Tell me about the other members.
P: Our cellist is Carina Reeves. Carina is very theatrical, flamboyant, beautiful, both to look at and a great musician. Our clarinetist, Kornel Woleck, is the fastest clarinetist I've ever heard. He came here to study with Joaquin Valdepeñas - the clarinet guru of the world - who told me he was the most talented student he'd ever had. We snatched him up, and are lucky to have him.
As for Alex [Sevastian], there are very few accordionists who can play the way he plays. He's a four time world champion – he wins competitions for a hobby!
I really like this combination of people. I'm feeling so confident with them, and we're getting audience reaction like we've never had.
A: How do CDs fit into the business?
P: CD sales have dropped off substantially since the MP3 and musical downloading, but at the same time more people are coming to our concerts and we're getting a broader audience.
A: Is that related to the internet?
P: Absolutely. I feel it's just good advertising. But we still do sell CDs, especially after concerts; and in fact we're always among the top sellers in the country. We're on MySpace and YouTube, which are great ways to reach a younger audience and to build sales. There are just so many ways now to sell that didn't even exist twenty years ago. The benefits of the internet far outweigh the reduction in CD sales.
A: Tell me about your upcoming CD launch concerts.
P: The program and the CD are called "Musica Latina." A member of the new Cuban community in Toronto, the pianist Hilario Duran, has done most of the arrangements. We've been known for the romantic pieces, our soft approach, so were looking for more rhythmic and up-tempo repertoire. Hilario performs on the first track of the CD, but won't be with us in the concerts. For the first time ever we've added percussion, and in "Suite Latino Americano" we've added the Penderecki String Quartet. The singing is more in the style of the modern tenors, like Andrea Bocelli or Josh Grobin.