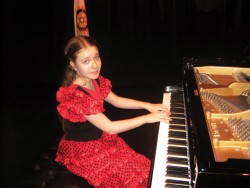 Last November in The WholeNote I interviewed Christina Petrowska Quilico about the many international piano competitions in the world today, and the abundance of pianists vying for the opportunity to compete. Almost as if to prove my point a message arrived in my inbox yesterday telling me that a twelve-year old Toronto pianist, Anastasia Rizikov had just been awarded the first prize in the adult pianists' class of the Concurso International de Piano Rotary in Mallorca, Spain, the youngest pianist ever to win this award. Needless to say, this will be the first time many readers will have heard of Ms. Rizikov, who, I expect, has a brilliant career ahead. I doubt it will be the last. Hopefully we will have the opportunity soon to hear her play again in Toronto.
Another Toronto pianist, whose name is not yet well known outside the piano competition circuit, is Ilya Poletaev. He came to Toronto from Russia via Israel at the age of fourteen, continuing his piano studies at the Royal Conservatory of Music. Some years later he completed a Bachelor of Music degree at the Faculty of Music at U. of T., moving on to Yale University, where he did his Master's and Doctorate.
Just last July he captured First Prize at the International Johann Sebastian Bach Competition in Leipzig and, as the winner, will appear in recital at the Leipzig Gewandhaus. He won first prize in the 2008 Concorso Sala Gallo Piano Competition in Monza, Italy, where he also received the Audience Prize, the Bach Prize, and the Orchestra Prize. He also won First Prize at the 2009 Grieg International Competition, is a laureate of the 2008 National Stepping Stone Competition in Canada and joined the Astral Artists roster as a winner of its 2009 National Auditions. But it was way back in 1997 that he got his start in Toronto when he won the TSO Volunteer Competition which gave him the opportunity to perform Brahms' Concerto in D Minor with the TSO.
Unlike most pianists, Poletaev manages to find time in his day for harpsichord and fortepiano, intending to include them in his performing career along with the modern piano. "What is important to me is not so much playing various instruments as being able to speak each musical language fluently. I have done a lot of continuo playing on the harpsichord. Doing this you can't help but see the connection between the continuo and the text, which informs the musical rhetoric. Interestingly, I have found it possible to transfer something of this to my mainstream piano playing to make it more rhetorically vivid."
In addition to all this he also finds time to pursue his interest in music history with a focus on the less well-known works of well-known composers. He has recently completed a project unearthing largely unknown works of the twentieth-century Romanian composer George Enescu, and with violinist Jennifer Curtis has recorded Enescu's complete works for violin and piano, scheduled for release soon by Naxos. Not surprisingly, with abilities as both a performer and as a scholar, he has recently been appointed an assistant professor at McGill University.
A little closer to home I asked harpsichord wrangler extraordinaire Dawn Lyons of Claviers Baroques about Ilya Poletaev: "… He is a really, really nice guy who can play the piano and the harpsichord very well … I mean very, VERY well … stupendously well, in fact. Den [Den Ciul, her partner in Claviers Baroques] says he is one of the ten best harpsichordists on the planet who can do 'magic'."
Where this is all leading is to the good news that we will have the opportunity to hear this accomplished Torontonian on June 4, when he will play the rarely-performed Piano Concerto No. 3 by Nikolai Medtner, with the Toronto Symphony Orchestra, conducted by Peter Oundjian.
The choice of this concerto would appear to reflect Poletaev's musicological interests and perhaps his Russian background. Nikolai Medtner, who was Russian, lived from 1880 to 1951, and was trained at the Moscow Conservatory as both a concert pianist and as a composer (he studied composition under Taneyev). From a Canadian perspective it is interesting that in 1924 he toured the United States and Canada. A slightly younger contemporary of the much better known Russian composer and pianist, Sergei Rachmaninoff, he dedicated his second Piano Concerto in c minor, Op. 50 (1920–27) to Rachmaninoff, who dedicated his own Fourth Concerto to Medtner. The third Piano Concerto (in e minor "Ballade", Op. 60, 1940–43) was written towards the end of his life when he was living in London. Medtner recorded his three piano concertos with the Philharmonia Orchestra in 1947.
"I first became acquainted with Medtner's music when I was sixteen" Poletaev writes. "Something that makes him a very special composer is that he was able in a very original way to put together both his Russian and his German roots. What makes it Germanic is its coherence, the way unity is built into it in a very organic way. This was not an important feature of Russian music. What seems Russian to me is his thematic material, which while not overtly "Russian," is somehow psychologically charged in that it contains a quality of remembering the essential. It is definitely not cliché, but when you hear it you feel as if you have heard it before but then forgot. Unlike Rachmaninoff, his music is hard to follow on first hearing. It is denser, more polyphonic and almost overloaded. While it unfolds very logically it requires an effort on the part of the listener. To me Rachmaninoff's appeal is more immediate but Medtner's is more lasting."
MUSIC MONDAYS
In an editorial in the May issue of The WholeNote David Perlman observed that one of the biggest changes to occur in the Toronto music scene over the past fifteen years has been the emergence of a summer music season in Toronto. I remember more than once commenting in the June or July issues on the migration of musicians to small towns and rural areas, which came alive with the sound of music while the music almost stopped in the city.
I say "almost" because a series of weekly concerts beginning in late May and continuing until Labour Day was growing and flourishing all through that time. The series, still flourishing and which is now celebrating its twentieth anniversary season, is Music Mondays. The visionary behind the series was Margot Linken, the administrator (a position she still holds) at Holy Trinity Church, the series' venue. For the first ten years the artistic director of the series was the organist and harpsichordist, Paul Jenkins, who moved on to other things and was replaced by the series' current director, Sue Crowe Connolly.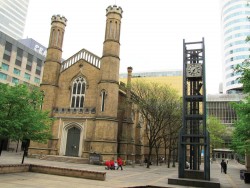 The venue, the venerable Holy Trinity Church, an heirloom from a Toronto now long gone is almost as much a part of the performance as the roster of excellent performers that Ms. Crowe Connolly assembles for the series. Sheltered from Yonge and Dundas Streets by the Eaton Centre, it stands like an oasis of memories of things past. This impression becomes all the more intense when you go inside and are enveloped by the smell of the aging pine interior, the light mellowed by the stained glass windows and a silence that can remind you of an almost forgotten quiet place inside yourself. When the music begins it comes out of that silence, surrounds you and fills you at the same time, as if it had always been there and always will be there. We don't know how lucky we are that this beautiful building, this beautiful idea, was saved from the wrecker's ball – but that is another story.
Besides providing a weekly concert Music Mondays has provided opportunities for emerging artists such as Autorickshaw and violinist, Jasper Wood and many others. I was also surprised to find out that its fame has crossed the Atlantic and requests to perform come regularly from abroad. Among these have been the Polokwane Choral Society from South Africa, Italian early music singer and instrumentalist Viva Biffi Biancaluna, organists Reinhard Seeliger from Germany and Henri Ormieres from France, and German French horn player, Manfred Dippmann.
To mark the anniversary, Music Mondays has extended its season to the end of September and will also host a celebrative reception after its June 6 concert. I hope to see some of you there!
BROTT FESTIVAL IN JUNE
Another musical visionary in our midst is Boris Brott. In response to the lack of cultural activity in the Hamilton area way back in 1988 he put together the first Brott Summer Festival, which was eleven days long. This year the festival begins in June and ends in August. The very next year, with support from the Ministry of Labour Brott started National Academy Orchestra, as the official Orchestra of the Brott Music Festival. The orchestra gave the festival something most summer festivals don't have, a resident symphony orchestra, and additionally provided what amounted to an apprenticeship programme for young orchestral musicians. What a stroke of brilliance!
The 2011 Brott Festival begins in Burlington with four performances by the National Academy Orchestra on June 11, 18, 25 and 30 with an impressive array of soloists and conductors.
MUSIC AT SHARON
Started in 2007, the current incarnation of the Music at Sharon concert series is a relative newcomer to the early summer music season. By the time you read my column the first concert in the series will probably already have taken place, but four others remain – June 5, 12, 19 and 26.
Needless to say, there are many other wonderful performances waiting to be discovered in our listings. I hope you get out to some of them.
Allan Pulker is a flutist, a founder of The WholeNote, and serves as Chairman of The WholeNote's board of directors. He can be contacted at classicalbeyond@thewholenote.com.